POSTPARTUM DEPRESSION: ASSESSMENT OF CULTURAL RISK FACTORS
Amina Hanif Tarar

Government College University Lahore Pakistan

Mohammad Mohsin Ijaz

Government College University Lahore Pakistan

Muhammad Ali Tarar

Gazi University, Dera Ghazi Khan Pakistan

Munazza Batool

Dera Gazi Khan Medical College, Dera Gazi Khan Pakistan
Keywords:
Family system, Infant, Postpartum depression, Social support
Abstract
Objective: To explore the cultural risk factors influencing the Postpartum Depression of first-born infants'
mothers.
Study Design: Correlational survey.
Place and Duration of Study: Jannat Maternity Home, Dera Ghazi Khan, Pakistan, from Jan to Nov 2019.
Methodology: A sample of 101 first-born infants' mothers with ages ranging from 18 to 26 years was selected
through purposive sampling. Edinburgh Post-Partum Depression Scale and Oslo Social Support Scale were used.
Results: Results suggested significantly lower mean scores for Postpartum Depression of mothers having a firstborn baby boy (M=5.98, SD=2.44) and higher for those having a girl (M=18.33, SD=4.62). Multi-factorial analysis of variance indicated a significant main effect of Social Support and Family System on Postpartum Depression levels of first-born infants' mothers, explaining 44% and 11% variance respectively. Further, Post-Hoc analysis revealed higher levels of Postpartum Depression for mothers having poor Social Support (M=17.30, SD=6.15) as compared to those having moderate (M=9.68, SD=6.27) and strong Social Support (M=6.26, SD=2.30). Moreover, pair wise-comparisons demonstrated higher levels of Postpartum Depression for first-born infants' mothers belonging to nuclear families (M=17.61, SD=7.09) as compared to joint ones (M=9.60, SD=5.70).
Conclusion: The study establishes that first-born infants' gender, degree of social support, and nature of family
have a profound effect on the Postpartum Depression levels of mothers. These findings will extend the understanding of cultural risk factors influencing first-born infants' mother's mental health.
Downloads
Download data is not yet available.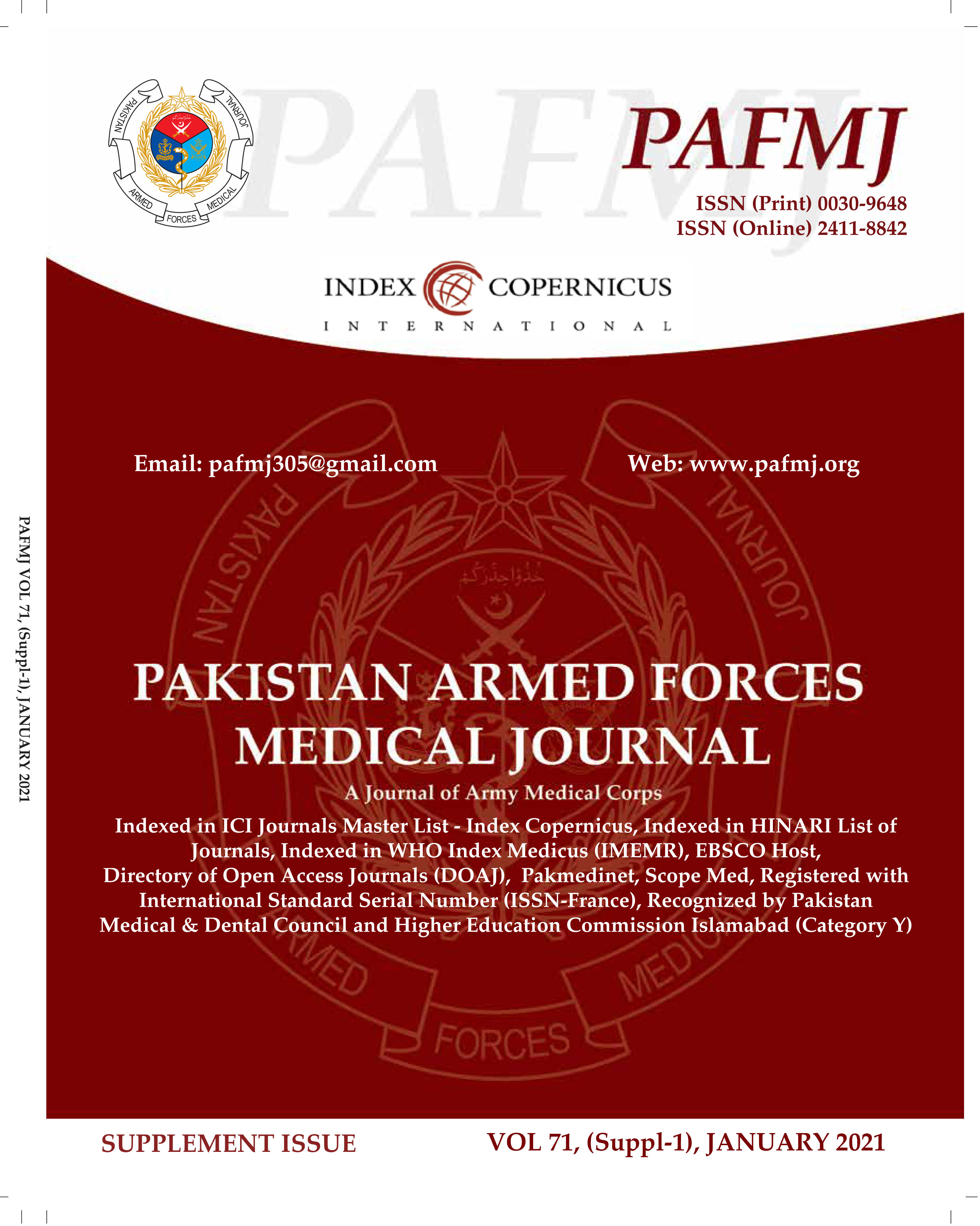 How to Cite
Tarar, A., Ijaz, M., Tarar, M., & Batool, M. (2021). POSTPARTUM DEPRESSION: ASSESSMENT OF CULTURAL RISK FACTORS. PAFMJ, 71(Suppl-1), S47-51. https://doi.org/10.51253/pafmj.v71iSuppl-1.5443
Section
Original Articles