EFFECT OF SINGLE-DOSE PREGABALIN ON POSTOPERATIVE PAIN IN DACRYOCYSTORHINOSTOMY SURGERY
Pregabalin Effect Postdacryocystorhinostomy
Sana Abbas

Armed Forces Institute of Ophthalmology/National University of Medical Sciences (NUMS) Rawalpindi Pakistan

Saquib Naeem

National University of Medical Sciences (NUMS) Rawalpindi Pakistan

Amjad Akram

Armed Forces Institute of Ophthalmology/National University of Medical Sciences (NUMS) Rawalpindi Pakistan

Beenish Abbas

Foundation University, Islamabad Pakistan

Rashid Iqbal

National University of Medical Sciences (NUMS) Rawalpindi Pakistan
Keywords:
Opioids, Pregabalin, Visual analogue scale
Abstract
Objective: To evaluate the analgesic potential of pregabalin in ambulatory dacryocystorhinostomy surgeries under general anaesthesia.
Study Design: Quasi-experimental study.
Place and Duration of Study: Tertiary Care Hospital Rawalpindi, from Nov 2019 to Sep 2020.
Methodology: A total of 110 patients undergoing ambulatory dacryocystorhinostomy surgery at our hospital were included in the study. Participants were divided into two groups, group A (n=55) were administered 150 mg oral pregabalin, while a placebo was given to participants of group B (n=55). Post-operative pain was assessed at recovery, four and eight hours after surgery with the help of the visual analogue scale.
Results: Mean age of participants was 43.05 ± 7.5 years. Gender wise distribution showed 62 (56.4%) males and 48 (43.6%) females. At recovery, four and eight hours after surgery the mean pain scores in group A (pregabalin) vs group B (placebo) were (2.98 ± 0.8 vs 4.98 ± 0.8, p<0.001, 2.67 ± 0.6 vs 5.02 ± 0.8, p<0.001 and 1.49 ± 2.9 vs 2.95 ± 0.8, p<0.001 respectively). Opioid administration frequency in trial versus placebo group was [11 (20%) vs 32 (58.2%), p<0.001].
Conclusion: Pregabalin has analgesic potential moreover decreased postoperative consumption of opioids and associated adverse effects such as nausea and vomiting. Hence making it a suitable agent for pain relief in ambulatory surgeries.
Downloads
Download data is not yet available.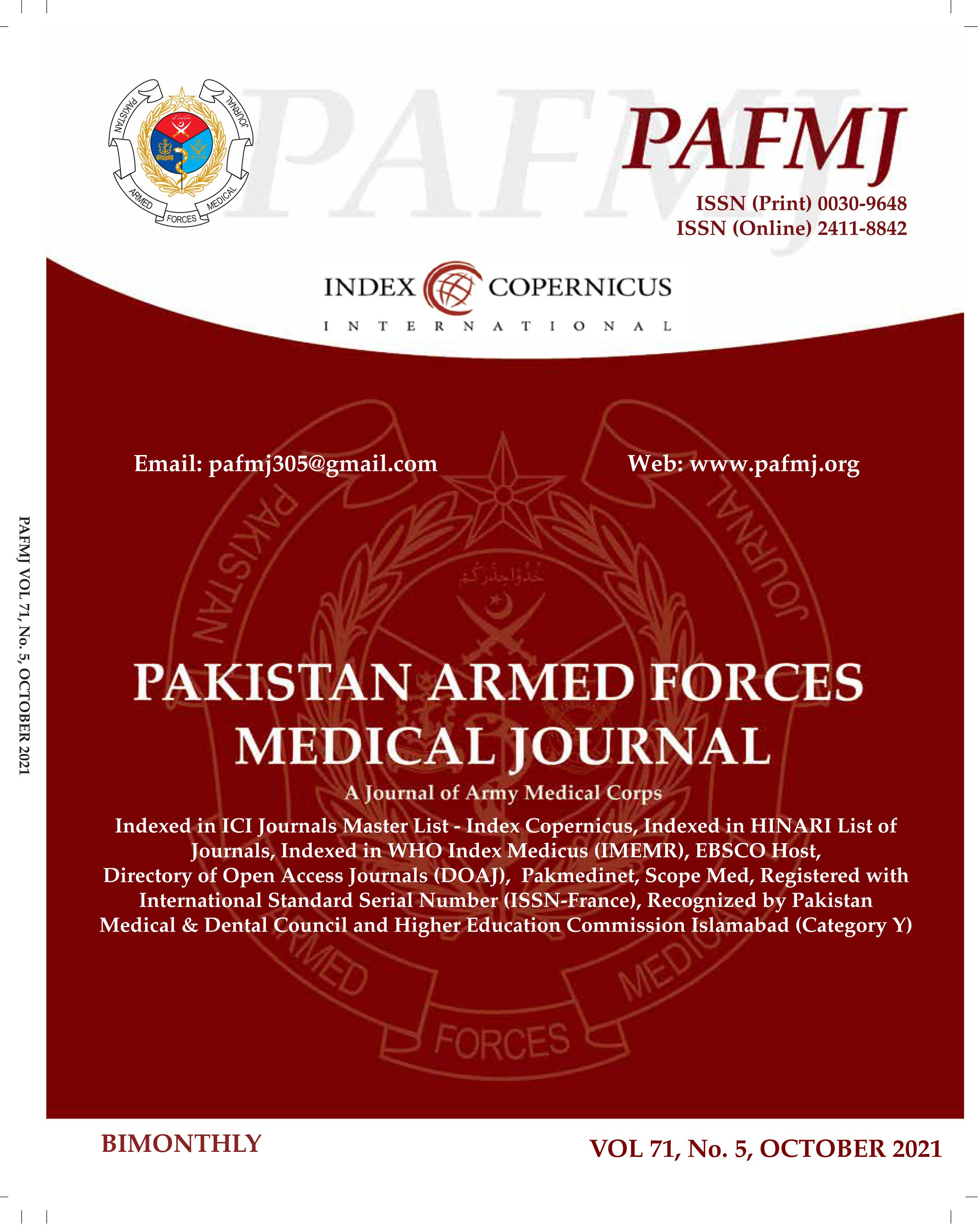 How to Cite
Abbas, S., Naeem, S., Akram, A., Abbas, B., & Iqbal, R. (2021). EFFECT OF SINGLE-DOSE PREGABALIN ON POSTOPERATIVE PAIN IN DACRYOCYSTORHINOSTOMY SURGERY. Pakistan Armed Forces Medical Journal, 71(5), 1553-58. https://doi.org/10.51253/pafmj.v71i5.5418
Section
Original Articles