STRATEGIES FOR ANESTHESIA MANAGEMENT OF CESAREAN DELIVERIES WITH ABNORMAL PLACENTAL PLACEMENT–ANESTHETIST'S PERSPECTIVE
Maqsood Ahmad

Combined Military Hospital Okara/National University of Medical Sciences (NUMS) Pakistan
Keywords:
Abnormal placental placement, Cesarean section, General anesthesia, Placenta previa, Spinal anesthesia
Abstract
Objective: To discuss problems faced in the management of emergency and elective cesarean sections with known or unknown abnormal placental placement and their management.
Study Design: Retrospective observational study.
Place and Duration of Study: Different Hospitals for the last 7 years from 2013 to 2020.
Methodology: This retrospective observational study of 120 cases was selected for data collections that underwent anesthesia. Variables under study were age, weight, type of abnormal placenta, fluid, blood/blood products given during surgery, hysterectomy done, general surgeon help required, anesthesia type, and redo of operations.
Results: A total of 120 patients were operated having abnormal placentation. The frequency of placenta previa 90 (75%), and accreta was 30 (25%). Primigravida patients were 19 (15.8%) and multigravida patients were 101 (84.1%). hysterectomy was done in 28 (23.3%) patients. Spinal anesthesia was given in 50 (41%) patients while 70 (58.3%) patients have general anesthesia. The spinal anesthesia was later on converted to general anesthesia in 32 (26.6%) patients out of 50 (41%). Only 12 (10%) patients were reopened for uncontrolled bleeding and 4 (3.3%) patients were sent to tertiary care hospital for further management. The general surgeon was called for help in 24 (20%) of patients and bladder injury occurred in 25 (20.8%) patients. No mortality was found during this period.
Conclusion: Abnormal placental placement is a threat to mother life as well fetus and team of dedicated doctor is required to deal with this emergency. Use of inotropes can help to save the precious lives.
Downloads
Download data is not yet available.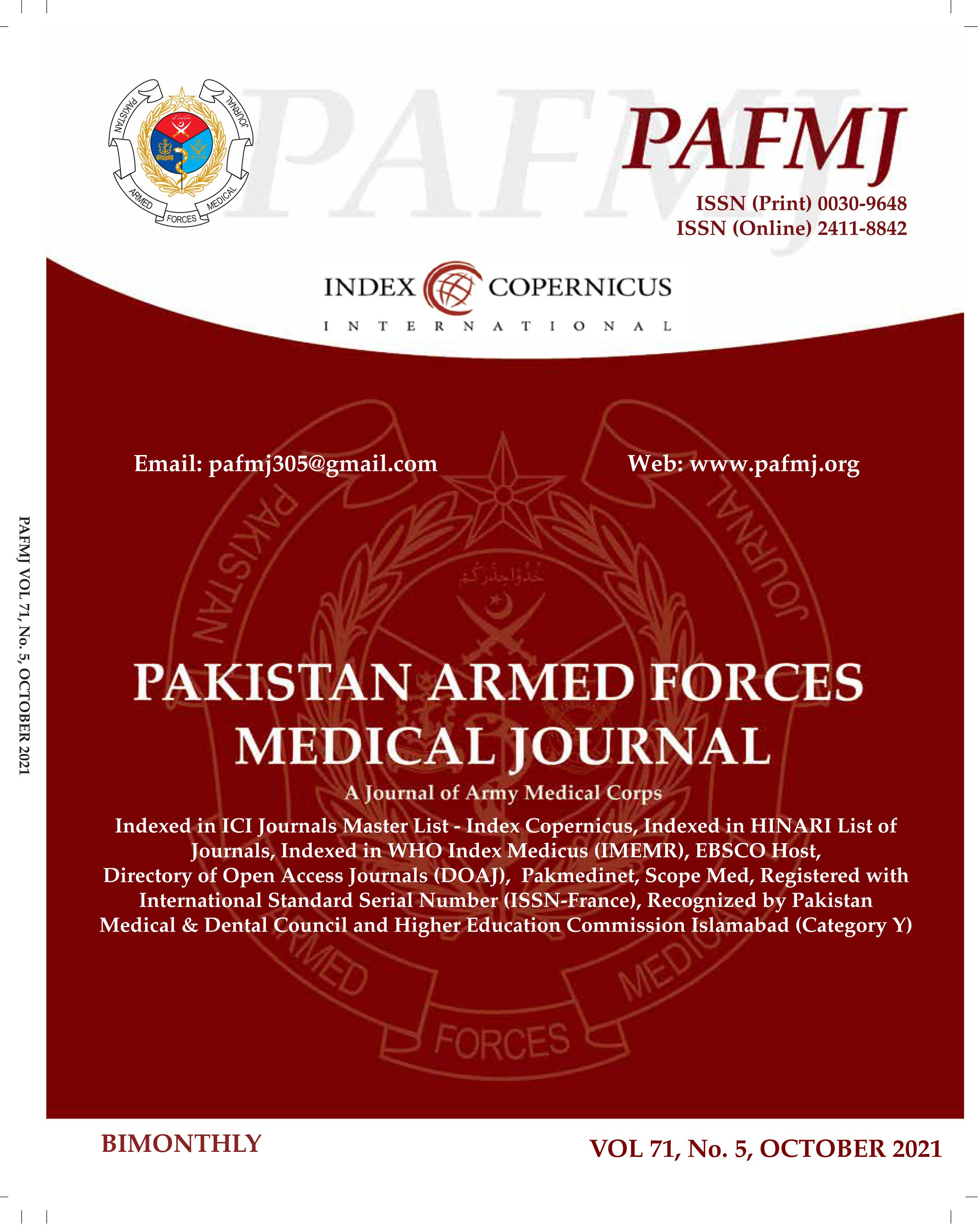 How to Cite
Ahmad, M. (2021). STRATEGIES FOR ANESTHESIA MANAGEMENT OF CESAREAN DELIVERIES WITH ABNORMAL PLACENTAL PLACEMENT–ANESTHETIST'S PERSPECTIVE. Pakistan Armed Forces Medical Journal (PAFMJ), 71(5), 1778-81. https://doi.org/10.51253/pafmj.v71i5.5381
Section
Original Articles