Blunting Stress Response During Intubation in Hypertensive Patients; A Comparison Between Lidocaine and Magnesium Sulphate
Rehana Feroze

Combined Military Hospital, Lahore Medical College/National University of Medical Science (NUMS)Pakistan

Aftab Hussain

Combined Military Hospital, Lahore/National University of Medical Science (NUMS)Pakistan

Mehwish Naseer

Army Cardiac Centre Lahore Pakistan
Keywords:
Hemodynamic stability, Hypertensive patients, Lidocaine, Magnesium Sulphate, Stress response, Tracheal intubation
Abstract
Objective: To compare blunting of hemodynamic stress response to intubation using Magnesium Sulphate versus Lidocaine in hypertensive patients.
Study Design: Prospective comparative study.
Place and Duration of Study: Anaesthesia Department Combined Military Hospital, Lahore Pakistan, from Jan to Jun 2019.
Methodology: A total of 232 hypertensive patients of the ASA status II, undergoing elective surgical procedures requiring intubation, were randomly divided into two groups, Group-L (Lidocaine) and Group-M (Magnesium Sulphate). Lidocaine 1.5mg/kg was given to Group-L 90 seconds before laryngoscopy, whereas Magnesium Sulphate 30mg/kg was given over ten minutes to Group-M before laryngoscopy. Baseline means arterial pressure was recorded. Mean arterial pressure was subsequently recorded each minute after intubation for five minutes.
Results: Both groups were similar with regard to demographic data. After intubation, both groups had an increase in mean arterial pressures. Blunting of stress response was observed in 78 patients (67.2%) in Group-L and 55 patients (47.4%) in Group-M. Two groups showed a significant statistical difference (p=0.003).
Conclusion: Both drugs are effective in blunting hemodynamic stress response to intubation in hypertensive patients, but Lidocaine is more effective than Magnesium Sulphate.
Downloads
Download data is not yet available.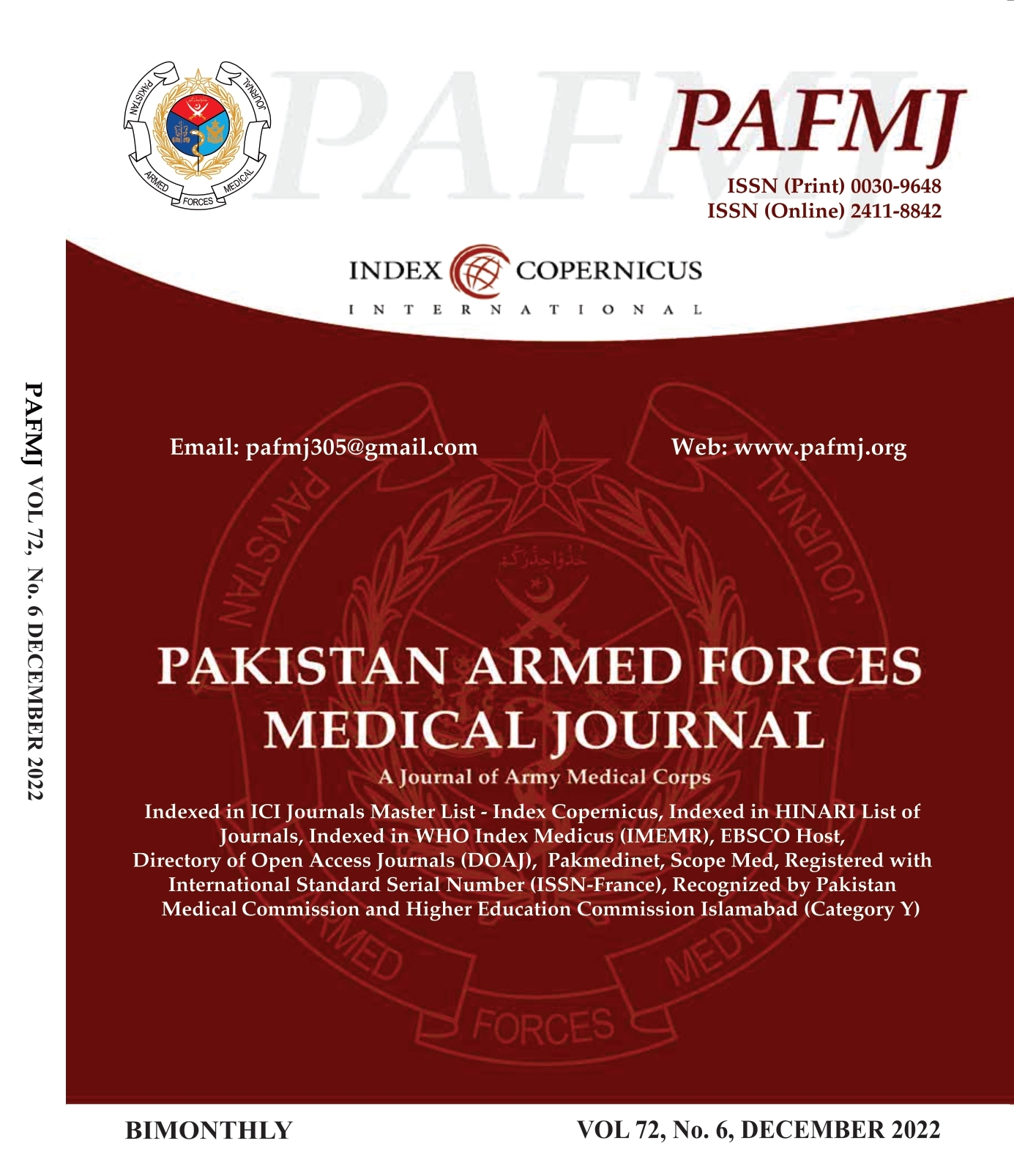 How to Cite
Feroze, R., Hussain, A., & Naseer, M. (2022). Blunting Stress Response During Intubation in Hypertensive Patients; A Comparison Between Lidocaine and Magnesium Sulphate. Pakistan Armed Forces Medical Journal, 72(6), 1916-19. https://doi.org/10.51253/pafmj.v72i6.5374
Section
Original Articles