Surgical Correction of Ectropion: Comparison Between Full Thickness Skin Grafts and Local Flaps
Keywords:
Ectroioon, Full thickness skin graft, Reconstruction technique, Local flap
Abstract
Objective: To compare the effectiveness of two reconstruction techniques, i.e., full-thickness skin graft and local flap, for patients undergoing reconstructive surgery for ectropion repair.
Study Design: Prospective comparative study.
Place and Duration of Study: Department of Plastic & Reconstructive Surgery, Dr Ruth K.M. Pfau Civil Hospital Karachi, from Feb to Aug 2020.
Methodology: The study was conducted after acquiring approval from the Institutional Review Board of Dow University of Health Sciences. Patients advised repairing ectropion were admitted to the ward prior to a day or night of the procedure. The consultant surgeon decided on the operative management, either using a full-thickness skin graft or a local flap, depending on the type of ectropion.
Results: 60 patients were recruited for the study, with 30 patients in each group. At follow-up of two weeks, one month, and three months' skin colour match and pliability were significantly better in patients who received local flap than those treated with a full-thickness skin graft. Out of 30, 2 (6.7%) patients developed ectropion recurrence when they received full-thickness skin graft coverage, whereas ectropion recurrence was not observed in patients managed with local flap.
Conclusion: Local flap appears to be more effective than full-thickness skin graft in achieving excellent aesthetic effects in patients who underwent correction of ectropion.
Downloads
Download data is not yet available.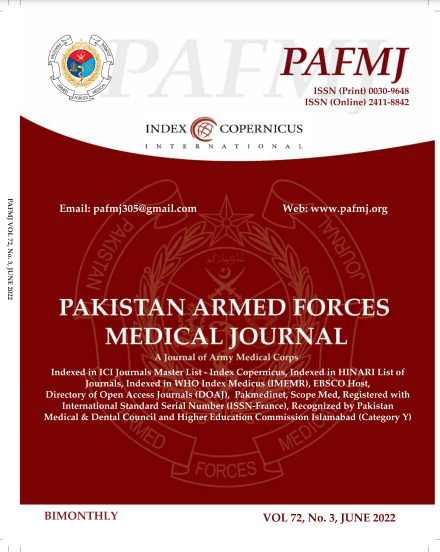 Downloads
How to Cite
Kiran, S., Ali Khan, F. A., Ali, H., Kumar, S., Sami, W., & Khursheed, R. M. (2022). Surgical Correction of Ectropion: Comparison Between Full Thickness Skin Grafts and Local Flaps. Pakistan Armed Forces Medical Journal, 72(3), 961–65. https://doi.org/10.51253/pafmj.v72i3.5348
Section
Original Articles