Sars-Cov-2 Specific Antibody Detection in Health Care Workers in Tertiary Care Hospital
Keywords:
COVID-19, Health care workers, SARS- CoV-2 Ab
Abstract
Objective: To estimate the sero-positivity of SARS-CoV-2 in health care workers based on specific antibodies in a tertiary care hospital.
Study Design: Comparative cross-sectional study.
Place and Duration of Study: Combined Military Hospital Kohat Pakistan, Jun to Jul 2020.
Methodology: 292 Health Care Workers from different departments were included by non-probability consecutive sampling. They were divided into three groups (High risk, Intermediate risk and low risk) according to the exposure risk to COVID-19 patients. In addition, serum samples for SARS- CoV-2 specific quantitative antibodies were collected. The odds ratio for SARSCoV-2 Ab risk was calculated for different risk groups and male and female health care workers.
Result: Out of 292 Health Care Workers, 243 (83.22%) were male, and 49 (16.78%) were female, with a mean age of 34.64 ± 7.25 years. SARS- CoV-2 specific Ab was detected in 43 (14.72%) individuals. The risk of sero-positivity was higher in the high-risk group than the intermediate-risk group (Odds ratio 1.171 vs 0.878) and higher in the intermediate-risk group than the low-risk group (odds ratio 1.120 vs 0.747). The risk was also higher in females than in males (Odds ratio 1.676 vs 0.878).
Conclusion: The sero-positivity of SARS-CoV-2 in healthcare workers in tertiary care hospitals is high. The results indicate that we must improve our local hygiene and protective standards.
Downloads
Download data is not yet available.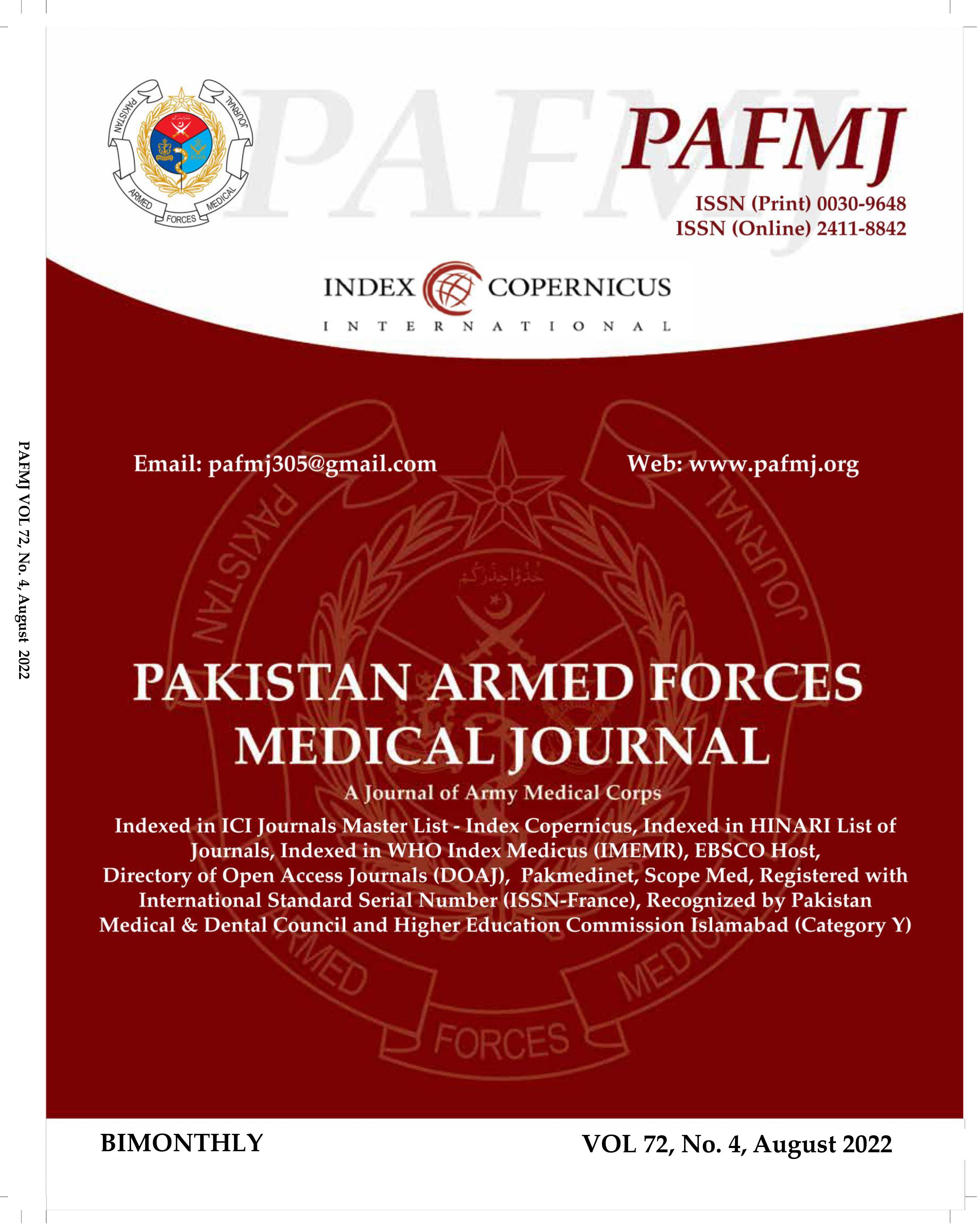 Downloads
How to Cite
Anwar, M., Javed, M. W., Parvez, N., Latif, M., & Rafiq, M. Y. (2022). Sars-Cov-2 Specific Antibody Detection in Health Care Workers in Tertiary Care Hospital. Pakistan Armed Forces Medical Journal, 72(4), 1194–97. https://doi.org/10.51253/pafmj.v72i4.5313
Section
Original Articles