EFFECT OF INTRAVITREAL TRIAMCINOLONE ACETONIDE IN REFRACTORY DIABETIC MACULAR EDEMA
Refractory Diabetic Macular Edema
Ume Sughra

Al-Shifa Trust Eye Hospital, Rawalpindi Pakistan

Anwar Ahmed Gul

Al-Shifa Trust Eye Hospital, Rawalpindi Pakistan

Kashif Habib

Al-Shifa Trust Eye Hospital, Rawalpindi Pakistan

Zeeshan Khan

Al-Shifa Trust Eye Hospital, Rawalpindi Pakistan

Ozeer Khan

Al-Shifa Trust Eye Hospital, Rawalpindi Pakistan
Keywords:
Central macular thickness, Diabetic macular edema, Diabetic retinopathy, Diabetes, intravitreal bevacizumab, Intravitreal triamcinolone acetonide
Abstract
Objective: To investigate the effects of intravitreal triamcinolone for refractory diabetic maculopathy after 03 unsuccessful intravitreal bevacizumab injections.
Study Design: Prospective observational study.
Place and Duration of Study: Retina department of Al-Shifa Trust Eye Hospital Rawalpindi, from Jun 2016 to Jul 2017.
Methodology: Total 35 eyes of 35 patients who were diagnosed with diabetic maculopathy and having history of minimum three intravitreal Bevacizumab injections were included. Detailed eye examinations included visual acuity, anterior and posterior segment examination and intraocular pressure measurement was performed in all patients. Central macular thickness was also measured. Then intravitreal triamcinolone was administered to eyes by principal researcher (Ophthalmologist). After one month, follow up examination of patient's eyes was done to assess the effects of injection.
Results: Majority of the participants were males 19 (55%) in this research. There was statistically significant difference between means of intra ocular pressure (mean difference= 4.30 ± 5.41), Visual acuity (mean difference=2.8 ± 2.4) and central macular thickness (mean difference = 236.4 ± 13) pre and post injection was found (p-value<0.05).
Conclusion: There was statistically significant difference of central macular thickness and visual acuity, pre and post intravitreal triamcinolone acetonide injection was found.
Downloads
Download data is not yet available.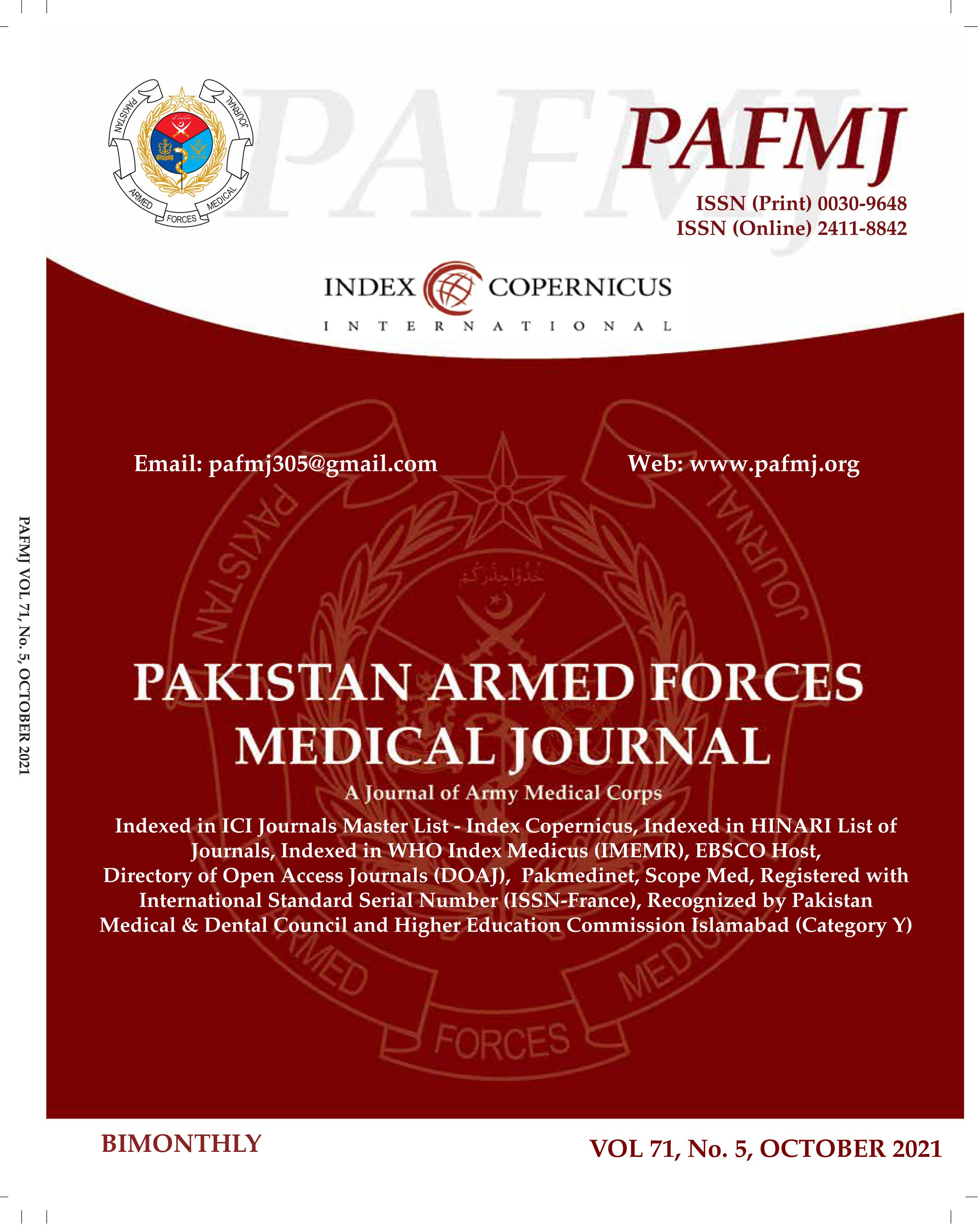 How to Cite
Sughra, U., Gul, A., Habib, K., Khan, Z., & Khan, O. (2021). EFFECT OF INTRAVITREAL TRIAMCINOLONE ACETONIDE IN REFRACTORY DIABETIC MACULAR EDEMA. PAFMJ, 71(5), 1861-64. https://doi.org/10.51253/pafmj.v71i5.5305
Section
Original Articles