CLINICAL AND RADIOLOGICAL OUTCOMES OF MANDIBULAR CONDYLAR FRACTURES AFTER CONSERVATIVE TREATMENT
Humaira Sarwar

Armed Forces Institute of Dentistry/National University of Medical Sciences (NUMS) Rawalpindi Pakistan

Irfan Shah

Armed Forces Institute of Dentistry/National University of Medical Sciences (NUMS) Rawalpindi Pakistan

Ali Akhtar Khan

Armed Forces Institute of Dentistry/National University of Medical Sciences (NUMS) Rawalpindi Pakistan

Adnan Babar

Armed Forces Institute of Dentistry/National University of Medical Sciences (NUMS) Rawalpindi Pakistan

Saad Mehmood

Armed Forces Institute of Dentistry/National University of Medical Sciences (NUMS) Rawalpindi Pakistan

Wajid Meraj

Armed Forces Institute of Dentistry/National University of Medical Sciences (NUMS) Rawalpindi Pakistan
Keywords:
Clinical and radiological outcomes, Conservative management, Mandibular condylar fractures, Maxillomandibular fixation
Abstract
Objective: To assess the clinical as well as radiological outcomes of the conservative management of mandibular condyle fractures.
Study Design: Cross-sectional comparative study.
Place and Duration of Study: Department of Oral and Maxillofacial Surgery (OMFS), Armed Forces Institute of Dentistry (AFID), Rawalpindi, from Feb 2018 to Aug 2019.
Methodology: A total of 60 patients diagnosed as isolated mandible trauma with unilateral condyle fractures were studied. All patients were assessed radiologically on orthopantomogram (OPG) before the start of treatment. They were assessed clinically for maximum mouth opening (MMO), occlusion, pain and masticatory satisfaction before the start of treatment and after conservative management. Conservative Management includes soft diet only or maxillomandibular fixation (MMF) followed by active physical therapy. After 6 months of follow up, pre-treatment and post-treatment clinical parameters and radiological finding were compared.
Results: Sixty patients were managed conservatively, among them 37 (62%) were male and 23 (38%) were female with age range of 21-53 years. There was statistically significant decrease in pain (p-value 0.002) and improvement in mastication (pvalue 0.079) before and after the conservative treatment of mandibular condylar fractures. Overall 46 (77%) patients treated with conservative management were satisfied with their mastication and 40 (67%) patients had mild pain on mastication. All the patients showed satisfactory occlusion and had no occlusal discrepancy on last follow up visit. Maximum mouth opening improved from 32.38 ± 4.54 to 40.90 ± 1.75 after treatment. The mean of preoperative ramus length difference of both sides of the mandible was 4.23 ± 2.3 mm............
Downloads
Download data is not yet available.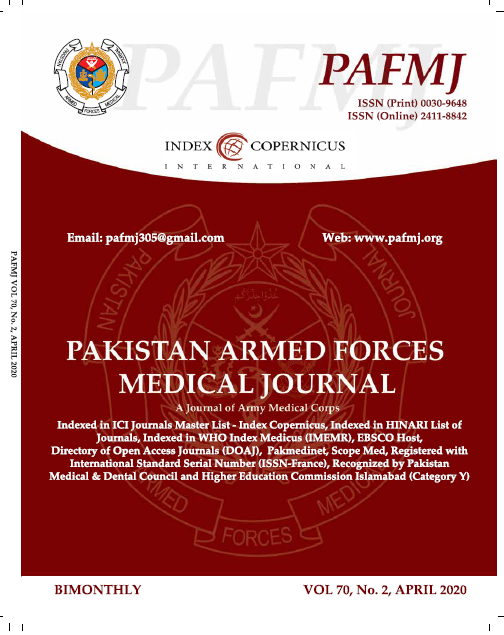 How to Cite
Sarwar, H., Shah, I., Khan, A., Babar, A., Mehmood, S., & Meraj, W. (2021). CLINICAL AND RADIOLOGICAL OUTCOMES OF MANDIBULAR CONDYLAR FRACTURES AFTER CONSERVATIVE TREATMENT. Pakistan Armed Forces Medical Journal, 71(2), 667-71. https://doi.org/10.51253/pafmj.v71i2.5251
Section
Original Articles