CORRELATE BETWEEN BIOFILM FORMATION AND AZOLE ANTIFUNGAL SUSCEPTIBILITY AGAINST PLANKTONIC AND SESSILE CANDIDA ALBICANS CLINICAL ISOLATES
Saira Salim

Khyber Medical University, Peshawar Pakistan

Raja Kamran Afzal

Khyber Medical University, Peshawar Pakistan

Shahzad Hassan

Aamir Ikram

Amir Hussain

Combined Militar Hospital Peshawar/National University of Medical Sciences (NUMS) Pakistan

Maria Khan

Combined Militar Hospital Peshawar/National University of Medical Sciences (NUMS) Pakistan
Keywords:
Azole antifungals, Biofilm formation, Broth microdilution, Candida albicans, Disk diffusion
Abstract
Objective: To assess the correlation between biofilm formation and azole antifungal susceptibility against plank tonic and sessile clinical isolates of C.albicans.
Study Design: Prospective observational study.
Place and Duration of Study: Combined Military Hospital Peshawar, from Jun 2016 to Sep 2017.
Methodology: All standard microbiological procedures were carried out according to latest Clinical & laboratory standard institute (CLSI) guidelines. After gram staining and presumptive identification on CHRO Magar Candida, the isolates were biochemically identified by API AUX Candida as C.albicans. Planktonic antifungal susceptibility was carried out by Kirby Bauer disk diffusion method on 300 C.albicans isolates. Broth microdilution method was used to determine Minimum inhibitory concentration (MICs) of plank tonic cells and micro titer assay was used for assessment of biofilm formation by C.albicans.
Results: In planktonic antifungal susceptibility, fluconazole was susceptible against 195 (65%) and voriconazole against 241 (80%) C. albicans isolates. C. albicans was found susceptible dose dependent (SDD) to fluconazole in 28 (9%) and to voriconazole in 21 (7%) isolates. Seventy-seven (26%) and 38 (13%) C.albicans isolates were found fluconazole and voriconazole resistant, respectively. Sessile antifungal susceptibility was carried out through broth micro dilution method in which 160 (53%) were susceptible, 42 (14%) were susceptible dose dependent SDD and 98 (33%) were resistance to voriconazole, and 161 (54%) were susceptible, 36 (12%) were SDD and 103 (34%) were found resistant to fluconazole. Biofilm forming isolates of C.albicans were observed to be 285 (95%).The p-value is highly significance i.e. <0.01 between......


Downloads
Download data is not yet available.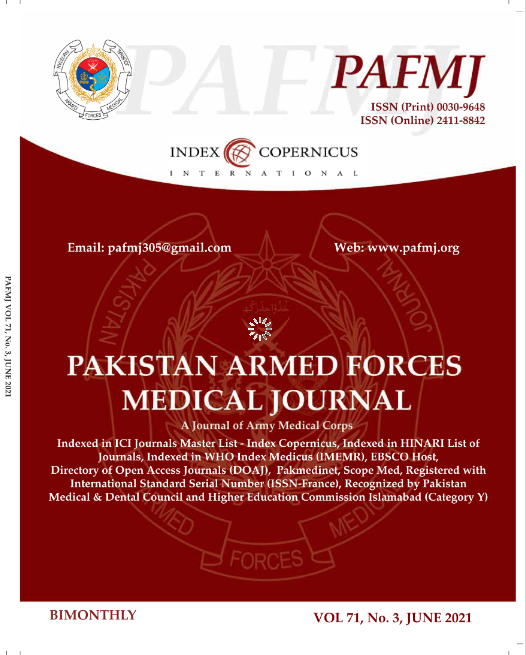 How to Cite
Salim, S., Afzal, R., Hassan, S., Ikram, A., Hussain, A., & Khan, M. (2021). CORRELATE BETWEEN BIOFILM FORMATION AND AZOLE ANTIFUNGAL SUSCEPTIBILITY AGAINST PLANKTONIC AND SESSILE CANDIDA ALBICANS CLINICAL ISOLATES. PAFMJ, 71(3), 1089-93. https://doi.org/10.51253/pafmj.v71i3.5190
Section
Original Articles