ANXIETY AND DEPRESSION IN CHILDREN AND ADOLESCENTS WITH CONGENITAL HEART DISEASE BEFORE AND AFTER SURGICAL INTERVENTION PERIOD
Kiran Azim

Rawalpindi Institute of Cardiology, Rawalpindi Pakistan

Abdul Malik Sheikh

Rawalpindi Institute of Cardiology, Rawalpindi Pakistan

Muhammad Masood Khokhar

Islamic International Medical College, Rawalpindi Pakistan

Asma Kanwal

Rawalpindi Institute of Cardiology, Rawalpindi Pakistan

Touqeer Akbar

Rawalpindi Institute of Cardiology, Rawalpindi Pakistan

Shafaq Masood

Islamic International Medical College, Rawalpindi Pakistan
Keywords:
Anxiety, Congenital heart defect, Depression, Hospital anxiety & depression scale (HADS)
Abstract
Objective: To evaluate the level of anxiety and depression in children and adolescents with congenital heart disease in pre and post-surgical intervention period.
Study Design: Quasi experimental study.
Place and Duration of Study: Rawalpindi Institute of Cardiology, Rawalpindi Pakistan, from Jan to Dec 2019.
Methodology: After written informed consent from parents and approval of hospital ethical committee 152 children and adolescents with congenital heart disease were included in the study. Demographic and clinical data was recorded on relevant proforma. In addition to clinical assessment the level of anxiety and depression were objectively measured with the help of Urdu version of Hospital Anxiety and Depression Scale by the mental health specialist a day before and 15 days after surgery.
Results: The mean age of participants was 14.5 ± 3.3 years. Out of 152 participants, 80 (52.6%) were females, while 72 (47.4%) were males. Level of anxiety and depression was found higher in the preoperative period being 44 (28.9%) and 52 (34.2%) which dropped significantly in the postoperative period to 16 (10.5%) and 8 (5.3%) respectively. Majority of the patients had Tetralogy of Fallot i.e., 52 (34.2%) followed by Ventricular Septal Defect in 24 (15.7%) and Atrial Septal Defect in 18 (11.2%). Females were more likely to have depression than males (p-value=0.01).
Conclusion: We found significant decrease in anxiety and depression in the postoperative period.
Downloads
Download data is not yet available.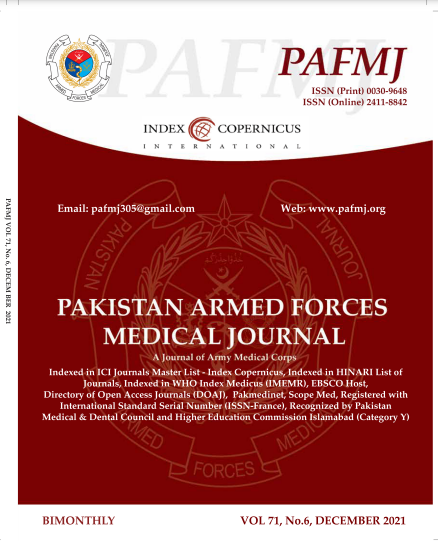 How to Cite
Azim, K., Sheikh, A., Khokhar, M., Kanwal, A., Akbar, T., & Masood, S. (2021). ANXIETY AND DEPRESSION IN CHILDREN AND ADOLESCENTS WITH CONGENITAL HEART DISEASE BEFORE AND AFTER SURGICAL INTERVENTION PERIOD. PAFMJ, 71(6), 2049-52. https://doi.org/10.51253/pafmj.v6i6.5163
Section
Original Articles