PATTERNS OF MYOINVASION IN ENDOMETRIOID ADENOCARCINOMA OF ENDOMETRIUM
Mehroosh Shakeel

Shaukat Khanum Memorial Cancer Hospital & Research Centre, Lahore Pakistan

Sajid Mushtaq

Shaukat Khanum Memorial Cancer Hospital & Research Centre, Lahore Pakistan

Noreen Akhtar

Shaukat Khanum Memorial Cancer Hospital & Research Centre, Lahore Pakistan

Iftikhar Ali Rana

Shaukat Khanum Memorial Cancer Hospital & Research Centre, Lahore Pakistan

Raza Muhammad

Shaukat Khanum Memorial Cancer Hospital & Research Centre, Lahore Pakistan
Keywords:
Endometrial carcinoma, Lymphovascular invasion, MELF, Myoinvasive pattern
Abstract
Objective: To assess the patterns of myoinvasion of endometrial endometrioid adenocarcinoma, their frequencies in our hospital and to correlate these patterns with survival.
Study Design: Retrospective observational study.
Place and Duration of Study: Department of Pathology, Shaukat Khanum Memorial Cancer Hospital & Research Centre, Lahore, from Aug 2019 to Apr 2020.
Methodology: All cases of endometrial endometrioid adenocarcinoma between 2015 and 2017 were retrieved from the archives, independently reviewed by two researchers, all key reporting parameters recorded in addition to the pattern of myoinvasion as per their operational definitions described by Cole and Quick. The follow-up of 3-5 years was obtained from archives and through telephonic contact for outside hospital patients. Disease free survival and relapse-associated mortality were represented through Kaplan-Meier curves.
Results: Eighty cases of myoinvasive endometrial endometrioid adenocarcinoma were reviewed. We found that infiltrating irregular gland pattern was the most frequent in all the age groups. Thirty-five (43.75%) cases showed this type of invasion, followed by broad front pattern 23 (28.75%), Microcystic Elongated and Fragmented (MELF) pattern 15 (18.75%) and adenomyotic pattern 6 (7.5%). One case showed a combination of the last two patterns, whereas adenoma malignum pattern was not seen. Follow-up of these patients showed 8 (10%) patients with relapse related mortality including 5 (62.5%) infiltrating irregular glands, 2 (25%) adenomyosis-like and 1 (12.5%) broad front pattern of myoinvasion. Seventy-two (90%) patients had recurrence free survival.
Conclusion: Frequency of infiltrating irregular pattern of myoinvasion in endometrial endometrioid adenocarcinoma is high and associated with recurrence related mortality. Recognition....................
Downloads
Download data is not yet available.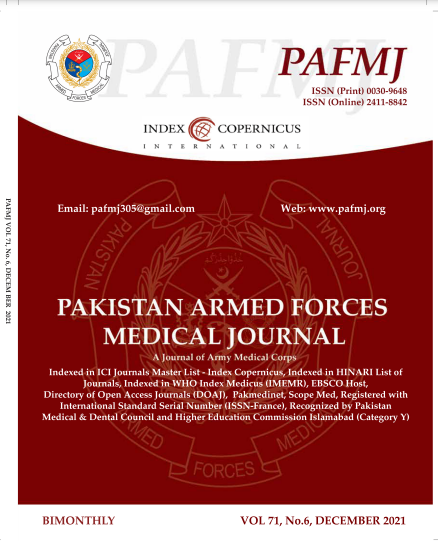 How to Cite
Shakeel, M., Mushtaq, S., Akhtar, N., Rana, I., & Muhammad, R. (2022). PATTERNS OF MYOINVASION IN ENDOMETRIOID ADENOCARCINOMA OF ENDOMETRIUM. PAFMJ, 71(6), 2211-15. https://doi.org/10.51253/pafmj.v71i6.5147
Section
Original Articles