INDIGENCE OF FORENSIC ODONTOLOGY IN LEGAL PRACTICE OF PAKISTAN
Forensic Odontology
Hashim Bin Mansoor

Armed Forces Institute of Dentistry/National University of Medical Sciences (NUMS) Rawalpindi Pakistan

Usman Zafar Kayani

Armed Forces Institute of Dentistry/National University of Medical Sciences (NUMS) Rawalpindi Pakistan

Reeja Khatoon

Margala Dental College, Rawalpindi Pakistan

Erum Idrees

Armed Forces Institute of Dentistry/National University of Medical Sciences (NUMS) Rawalpindi Pakistan

Hira Zafar Kayani

Margala Dental College, Rawalpindi Pakistan

Ayesha Aslam

Armed Forces Institute of Dentistry/National University of Medical Sciences (NUMS) Rawalpindi Pakistan
Keywords:
Forensic Dentistry, Criminal Lawyer, Dentistry
Abstract
Objective: To assess and interpret the utility and need of forensic dentistry in current judicial system of Pakistan.
Study Design: Cross sectional study.
Place and Duration of Study: Twin cities of Rawalpindi and Islamabad, in the month of Jun, 2020.
Methodology: This questionnaire based cross-sectional study was conducted in a 1-month time frame, and a sample of 100 lawyers was recruited using snowball sampling technique and only criminal lawyers were included which had a minimum of 5 years of experience. Data was analyzed using SPSS-24.
Results: The results were quite significant, 81% (81 lawyers) of the population recognized the relationship of forensic dentistry with criminal litigation (p-value=0.006). Furthermore 86% (86 lawyers) believed that there are a limited number of practicing forensic dentists and a massive 96% (96 lawyers) of the population was not able to acquire the expertise of a forensic dentist.
Conclusion: There is a major lack of trained forensic odontologists and training institutes in Pakistan, which has a significant effect on the legal practices of Pakistan. Furthermore, it defines the lack of specialization trend in forensic odontology.
Downloads
Download data is not yet available.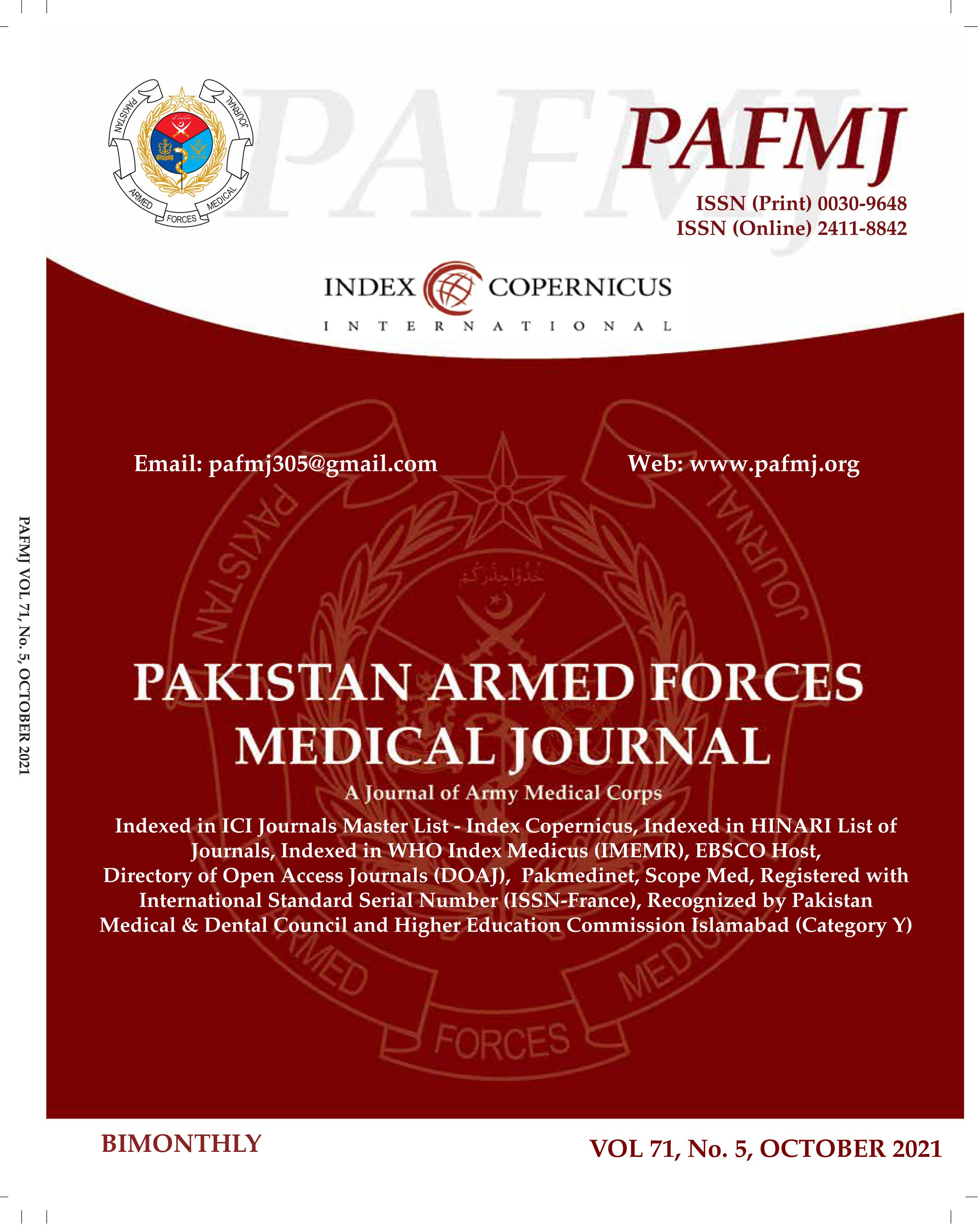 How to Cite
Mansoor, H., Kayani, U., Khatoon, R., Idrees, E., Kayani, H., & Aslam, A. (2021). INDIGENCE OF FORENSIC ODONTOLOGY IN LEGAL PRACTICE OF PAKISTAN. PAFMJ, 71(5), 1709-12. https://doi.org/10.51253/pafmj.v71i5.5044
Section
Original Articles