THE IMPACT OF ISOLATED OLIGOHYDRAMNIAS AT TERM ON PERINATAL OUTCOME: A COMPARATIVE STUDY
Bushra Zafar

Pak Emirates Military Hospital/National University of Medical Sciences (NUMS) Rawalpindi Pakistan

Nadia Arif

Combined Military Hospital Okara/National University of Medical Sciences (NUMS) Pakistan

Ayesha Arif

Combined Military Hospital Murree/National University of Medical Sciences (NUMS) Pakistan

Raja Qaseem Ahmed

Combined Military Hospital Okara/National University of Medical Sciences (NUMS) Pakistan

Farrukh Shahzad

Pak Emirates Military Hospital/National University of Medical Sciences (NUMS) Rawalpindi Pakistan
Keywords:
Cesarean section, Meconium stained liquor, Oligohydramnias, Perinatal outcome
Abstract
Objective: To study the impact of isolated oligohydramnios at term on mode of delivery and perinatal outcome.
Study Design: Prospective comparative study.
Place and Duration of Study: Combined Military Hospital Okara, from Aug 2019 to Aug 2020.
Methodology: A total of 250 patients were recruited in the study. They were divided in 2 groups. In group A there was 123 patients, with isolated oligohydramnias at term, amniotic fluid index of ≤5cm, while in group B 127 patients, with normal liquor volume were included through lottery method. Demographic parameters, Intrauterine fetal demise, mode of delivery, perinatal out comes like meconium stained amniotic fluid, low birth weight, APGAR score at 1 and 5 minutes, of two groups were compared.
Results: A total of 57 (46.3%) patients in group A delivered through cesarean section and 27 (21.3%) in group B. Meconium staining of liquor was in 56 (45.5%) in group A versus 13 (10.2%) in group B. As compared to group B the patients in group A lower birth weight babies 2.6 ± 0.34 kg versus 3.0 ± 0.33 kg were delivered. Mortality in group A, intrauterine fetal demise was 4 (3.3%) and still birth was 2.3%. There were no perinatal mortality in controlled group B.
Conclusion: Isolated oligohydramnias at term is not associated with adverse perinatal outcome. Umbilical cord compression, potential utero-placental insuffiency and increased incidence of meconium stained liquor possibly explains the increased perinatal morbidity. The delivery should be routinely advocated as in otherwise uncomplicated pregnancy with appropriately grown fetus.
Downloads
Download data is not yet available.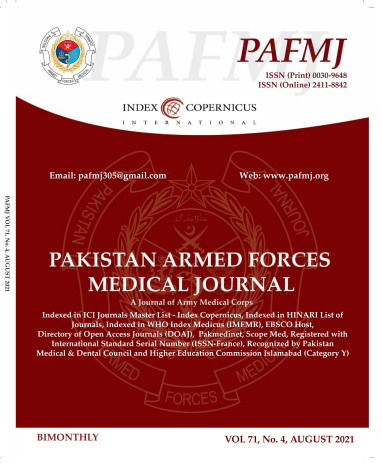 How to Cite
Zafar, B., Arif, N., Arif, A., Ahmed, R., & Shahzad, F. (2021). THE IMPACT OF ISOLATED OLIGOHYDRAMNIAS AT TERM ON PERINATAL OUTCOME: A COMPARATIVE STUDY. PAFMJ, 71(4), 1274-77. https://doi.org/10.51253/pafmj.v71i4.5030
Section
Original Articles