HIGH-RESOLUTION CT (HRCT) CHEST FINDINGS IN PCR POSITIVE PATIENTS OF COVID19 AT COMBINED MILITARY HOSPITAL RAWALPINDI
Javed Ahmad Khan

Combined Military Hospital/National University of Medical Sciences (NUMS) Rawalpindi Pakistan

Faryal Asmat

Fauji Foundation Hospital, Rawalpindi Pakistan

Fuad Ahmad Siddiqi

Combined Military Hospital/National University of Medical Sciences (NUMS) Rawalpindi Pakistan

Tariq Bashir Tareen

Combined Military Hospital/National University of Medical Sciences (NUMS) Rawalpindi Pakistan

Fayyaz Hassan

Combined Military Hospital/National University of Medical Sciences (NUMS) Rawalpindi Pakistan

Sobia Mehreen

Combined Military Hospital/National University of Medical Sciences (NUMS) Rawalpindi Pakistan

Ayesha Sultan

Combined Military Hospital/National University of Medical Sciences (NUMS) Rawalpindi Pakistan

Amen Ejaz

Combined Military Hospital/National University of Medical Sciences (NUMS) Rawalpindi Pakistan
Keywords:
High Resolution Computed Tomography, Polymerase Chain Reaction, Covid 19
Abstract
Objective: To study High resolution computed tomography chest findings in polymerase chain reaction (PCR) positive patients of COVID-19.
Study Design: Cross sectional study.
Place and Duration of Study: Combined Military Hospital Rawalpindi, from May to Jun 2020.
Methodology: Study included high resolution computed tomography chest of 200 patients admitted to COVID ward who were polymerase chain reaction positive. Patients having previously diagnosed Interstitial lung disease were excluded. Informed consent from patients were taken. Different findings on High resolution computed tomography chest were summarized as percent of total cases. British society of thoracic imaging (BSTI) classification was used to classify high resolution computed tomography chest patterns of COVID-19 pneumonia.
Results: Out of 200 patients included in study, 7 had previous changes on their chest imaging and were excluded. 193 patients (145 males and 48 females) enrolled had a median age of 52 years. One hundred and two patients (52.9%) showed classical pattern for COVID-19, 81 patients (41.9%) had indeterminate changes, 3 patients (1.6%) had atypical changes while 7 (3.6%) had normal high resolution computed tomography chest. Four had pleural effusions while 5 had mediastinal lymphadenopathy. One hundred and eight nine (97.9%) patients had bilateral lung involvement, 145 (75.1%) had central and peripheral while 48 (24.9%) had peripheral invol-vement only. One hundred and forteen (59%) patients had ground glass opacities while 70 (36.3%) had ground glass opacities with consolidation. Nine (4.7%) patients presented with consolidation only.
Conclusion: High resolution computed tomography chest and COVID polymerase chain reaction done at the same time.........
Downloads
Download data is not yet available.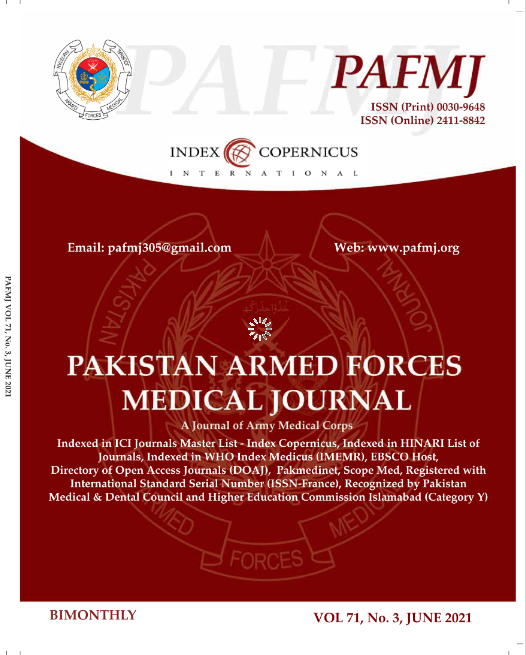 How to Cite
Khan, J., Asmat, F., Siddiqi, F., Tareen, T., Hassan, F., Mehreen, S., Sultan, A., & Ejaz, A. (2021). HIGH-RESOLUTION CT (HRCT) CHEST FINDINGS IN PCR POSITIVE PATIENTS OF COVID19 AT COMBINED MILITARY HOSPITAL RAWALPINDI. PAFMJ, 71(3), 951-54. https://doi.org/10.51253/pafmj.v71i3.5017
Section
Original Articles