SELF-PERCEIVED COMPETENCE OF NEW DENTAL GRADUATES IN PAKISTAN – A MULTIINSTITUTION STUDY
Competence of new dental graduates
Haroon Shahid Qazi

Islamabad Medical and Dental College, Islamabad Pakistan

Kamran Ali

University of Plymouth Peninsula Dental School, United Kingdom

Josephine Cockerill

University of Plymouth Peninsula Dental School, United Kingdom

Daniel Zahra

University of Plymouth Peninsula Dental School, United Kingdom

Ulfat Bashir Raja

Islamic International Dental College, Riphah International Unversity Islamabad Pakistan

Khurram Ataullah

Fatima Memorial Hospital College of Medicine and Dentistry Lahore Pakistan
Keywords:
Competence, Dental, House officers, Preparedness
Abstract
Objective: To investigate the self-perceived competence of house-officers from three dental institutions in Pakistan.
Study Design: Cross-sectional study.
Place and Duration of Study: Islamabad Dental Hospital, Fatima Memorial Dental Hospital and Islamic International Dental Hospital, from Jan to Dec 2018.
Methodology: House-officers from three dental institutions were invited to participate in a cross-sectional study. A previously validated preparedness assessment scale was used to gauge the perceptions and experiences of the participants on a range of clinical, cognitive and affective skills. The results were compared to data from Dental Foundation Trainees in the UK.
Results: In total 128 house-officers responded to the online questionnaire (18 participants were excluded due to missing data). All but four participants were in the 20-25 years age group (96.4%). The mean overall score of participants was 70/100 (SD ± 11.71). Self-perceived competence was reported to be low for clinical skills in radiography, crowns, cast-partial dentures and endodontics on multi-rooted teeth.
Conclusions: This study investigated self-perceived competence amongst new graduates and provides information for comparison with data from Foundation Dentists in the UK. Pakistani House-Officers felt less prepared than Dental Foundation Trainees in 49/50 attributes. Several areas were identified where graduates from both countries may benefit from further education, training and consolidation. The findings may be of interest to dental educators and other stakeholders.
Keywords: , , ,
Downloads
Download data is not yet available.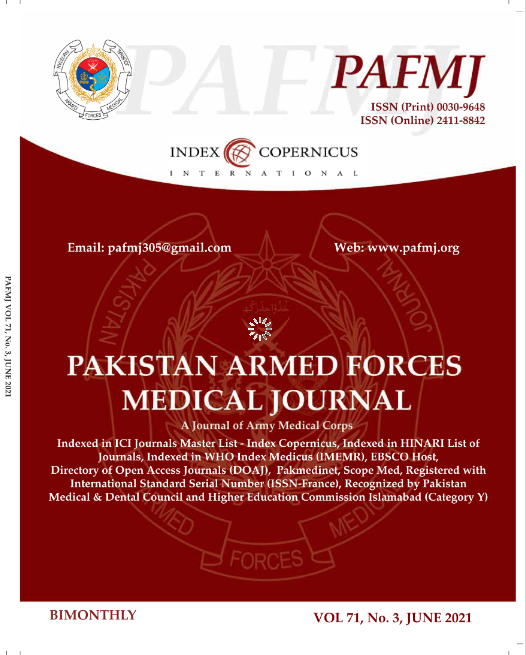 How to Cite
Qazi, H., Ali, K., Cockerill, J., Zahra, D., Raja, U., & Ataullah, K. (2021). SELF-PERCEIVED COMPETENCE OF NEW DENTAL GRADUATES IN PAKISTAN – A MULTIINSTITUTION STUDY. PAFMJ, 71(3), 739-43. https://doi.org/10.51253/pafmj.v71i3.5012
Section
Original Articles