Impact of Obstetric Cholestasis on Fetomaternal Outcome
Rabiah Anwar

Pakistan Naval ship Shifa Hospital, Karachi Pakistan

Kashif Razzaq

Pakistan Naval ship Shifa Hospital, Karachi Pakistan

Nusrat Noor

Pakistan Naval ship Shifa Hospital, Karachi Pakistan

Asma Ansari

Pakistan Naval ship Shifa Hospital, Karachi Pakistan

Ayesha Imran

Pakistan Naval ship Shifa Hospital, Karachi Pakistan
Keywords:
Meconium stained amniotic fluid, Obstetric cholestasis, Pregnancy outcome
Abstract
Objective: To evaluate the impact of obstetric cholestasis on maternal and fetal outcomes.
Study Design: Comparative cross-sectional study.
Place and Duration of Study: Department of Gynaecology and Obstetrics, Pakistan Naval Ship Shifa Hospital Karachi Pakistan, from Jan to Dec 2019.
Methodology: All pregnant women with no comorbid and ladies with symptoms and signs of obstetric cholestasis were included during the study period. Antenatal complications and perinatal outcomes of women having obstetric cholestasis were compared with those of pregnant ladies having no comorbid.
Results: Out of 6932 obstetric patients, 90 (1.29%) had obstetric cholestasis. The cholestatic group had significantly high levels of aminotransferases and alkaline phosphatase. There was higher occurrence of preterm prelabour rupture of membrane (11.11% vs 3.33%, p=0.044), preterm delivery (26.66% vs 4.44%, p<0.001), prelabor rupture of membrane (31.11% vs 13.33%, p=0.004) and emergency cesarean section (16.66% vs 4.44%, p=0.008) in obstetric cholestatic group as compared to control. No difference in the occurrence of postpartum haemorrhage was observed in both groups. Meconium stained amniotic fluid (42.22% vs 8.88%, p<0.001) and neonatal intensive care unit admission (23.33% vs 7.77%, p=0.004) were significantly high in the
study group as compared to the control. Whereas occurrences of abnormal cardiotocography, APGAR score at 5 minutes, and intrauterine growth restriction in both groups had no significant difference.
Conclusion: Women with obstetric cholestasis are at increased risk of preterm labour, PPROM, emergency LSCS, and poor neonatal outcome (low APGAR, macrosomia, NICU admission), burdening the health care system; hence early diagnosis with careful clinical examination...
Downloads
Download data is not yet available.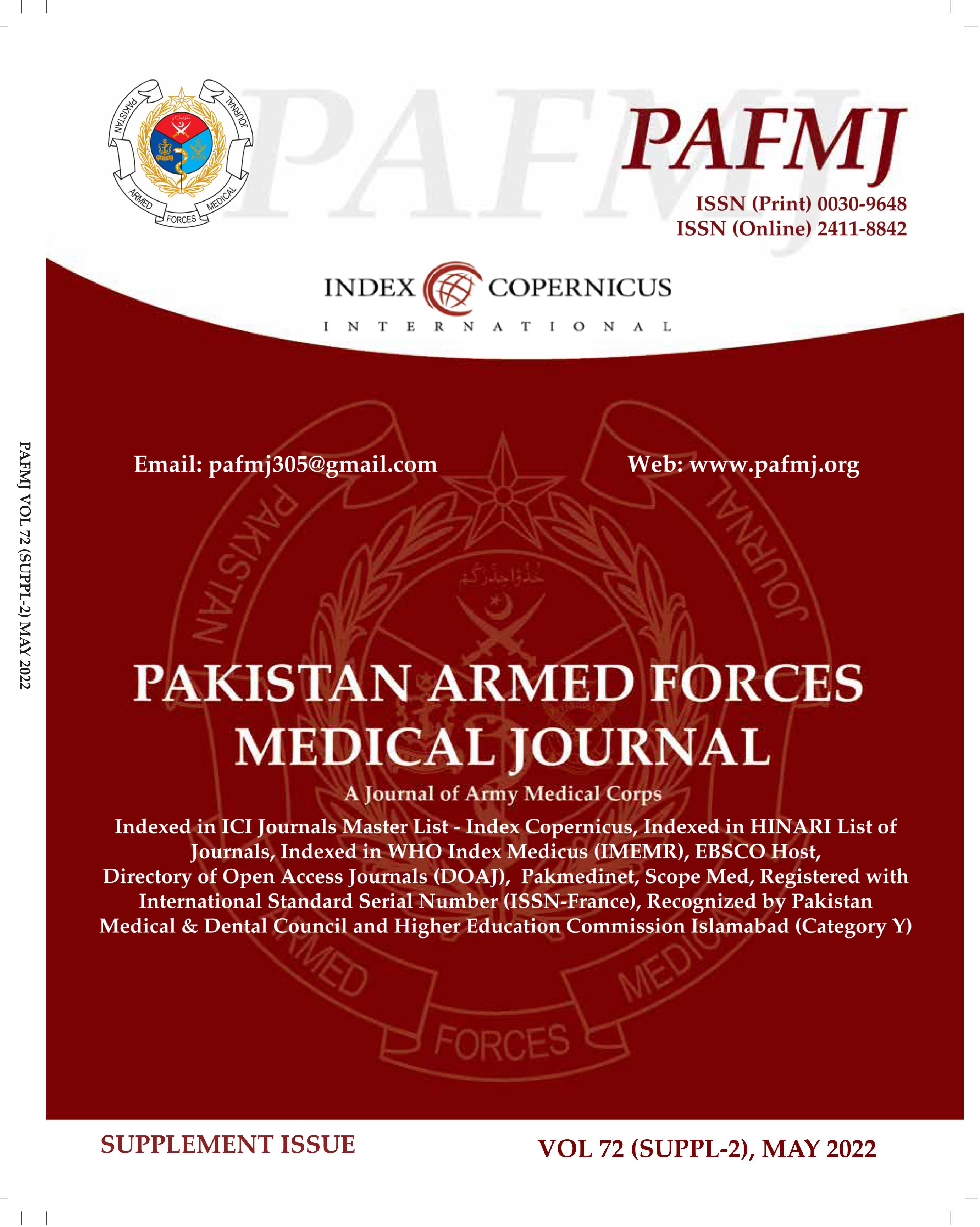 How to Cite
Anwar, R., Razzaq, K., Noor, N., Ansari, A., & Imran, A. (2022). Impact of Obstetric Cholestasis on Fetomaternal Outcome. Pakistan Armed Forces Medical Journal, 72(SUPPL-2), S379-83. https://doi.org/10.51253/pafmj.v72iSUPPL-2.4954
Section
Original Articles