DELAYED ORAL FEEDING IN PATIENTS OF SALVAGE LARYNGECTOMY AND ITS EFFECT ON DEVELOPMENT OF PHARYNGOCUTANEOUS FISTULA
Keywords:
Early feed, delayed feed, Laryngeal cancer, Pharyngocutaneous fistula, Salvage laryngectomy
Abstract
Objective: Pharyngocutaneous fistula (PCF) is a complication of post radiotherapy total laryngectomy. Early post operative feeding is a risk factor for development of PCF. Delayed oral feeding (DOF) and inserting a nasogastric tube has been considered a safe practice among head and neck surgeons, and there is no general agreement on the timing of initiation of the oral intake. This study compared the effect of EOF and DOF on PCF formation.
Study Design: Prospective case-controlled trial.
Place and Duration of Study: Combined Military Hospital Rawalpindi, from Apr 2019 to Jul 2020.
Methodology: Non-probability convenience sampling was done for both groups. The patients were not matched and were assigned to either EOF or DOF alternately. EOF was defined as feeding at seventh post operative day and DOF criterion was feeding on fourteenth post operative day. The primary outcome was development of PCF within the 30th post operative day. A total of 20 patients with prior radiotherapy for laryngeal cancer who presented with recurrence of carcinoma were included in the study. Same technique closure of neopharynx was done in all cases of laryngectomy.
Results: Overall PCF frequency was 20% (4/20). In EOF group, 30% (3/10) of patients developed PCF whereas 10% (1/10) of patients in DOF developed PCF. However, the difference in outcome of two groups was not statistically significant.
Conclusion: DOF in cases of Salvage total laryngectomy is a safe practice and it might help to reduce the frequency of pharyngocutaneous fistula.
Downloads
Download data is not yet available.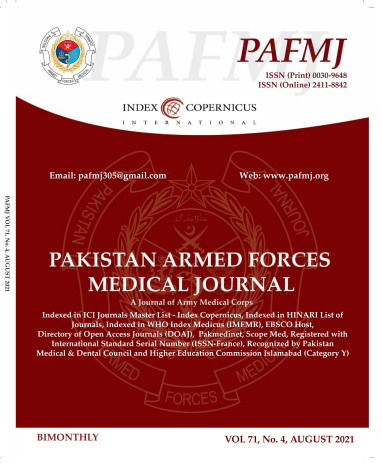 Downloads
How to Cite
Mushahid, U., Raza, S. N., Akbar, F., Hakim, A., & Gohar, S. (2021). DELAYED ORAL FEEDING IN PATIENTS OF SALVAGE LARYNGECTOMY AND ITS EFFECT ON DEVELOPMENT OF PHARYNGOCUTANEOUS FISTULA. Pakistan Armed Forces Medical Journal, 71(Suppl-3), S467–70. https://doi.org/10.51253/pafmj.v1i1.4953
Section
Original Articles