A COMPARATIVE STUDY OF HIGH SENSITIVITY C-REACTIVE PROTEIN (HS-CRP) AND GLYCEMIC MARKERS IN TYPE 2 DIABETES MELLITUS
High Sensitivity C-Reactive Protein and Glycemic Markers
Shehar Bano Imran

Fatima Memorial Hospital, Lahore Pakistan

Shabnam Dildar

National Institute of Blood Disease and Bone Marrow Transplantation, Karachi Pakistan

Sadia Taj

Fatima Memorial Hospital, Lahore Pakistan

Afshan Khanum

Fatima Memorial Hospital, Lahore Pakistan

Qasim Ahmed

Fatima Memorial Hospital, Lahore Pakistan
Keywords:
High-sensitivity C-reactive protein, Diabetes mellitus, HbA1c, Metabolic syndrome
Abstract
Objective: To determine the relationship between high sensitivity CRP (hs-CRP) and glycemic markers in samples of individuals with diabetes.
Study Design: Cross sectional study.
Place and Duration of Study: Fatima Memorial Hospital Lahore, from Feb to Aug 2019.
Methodology: Consecutive patients aged 18-65 years coming for screening of diabetes mellitus (DM) were included. Blood sample for plasma glucose and glycated hemoglobin (HbA1c), high sensitivity CRP (hs-CRP) were analyzed.
Results: Total 93 subjects were included, out of which 42 (45.2%) were males and 51 (54.8%) were females with the mean age of 48.3 ± 12 years and 42.6 ± 14 years respectively. Median concentration of hs-CRP in males and females was 0.7 (IQR1.2) mg/L and 0.6 (IQR1.4) mg/L (p-value=0.844) respectively. A significant positive correlation was observed between hs-CRP levels, HBA1c with r=0.205 (p=0.05) and fasting plasma glucose (FPG) with r=0.225 (p=0.03). However, no significant relationship was found between hs-CRP and age, BMI, waist circumference and systolic blood pressure (SBP) and diastolic blood pressure (DBP), cholesterol, LDL-cholesterol, triglycerides (TG), HDL-cholesterol.
Conclusion: HbA1c and fasting plasma glucose is significantly associated with hs-CRP. This implies a significant relation between inflammation and glycemic markers. This leads to the conclusion that patients with diabetes and high hs-CRP need further evaluation, follow-up and therapy for inflammation compared to those with low hs-CRP.
Downloads
Download data is not yet available.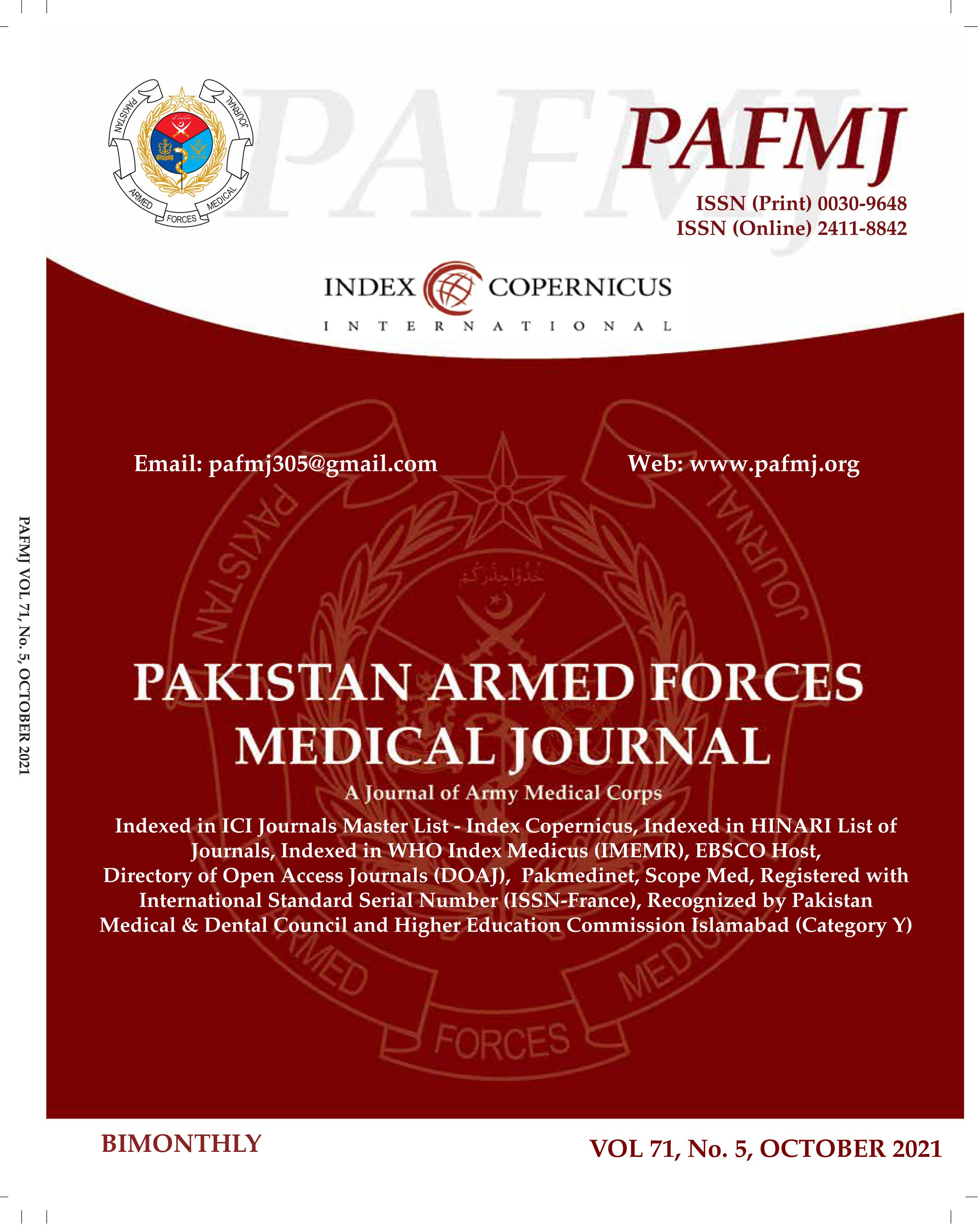 How to Cite
Imran, S., Dildar, S., Taj, S., Khanum, A., & Ahmed, Q. (2021). A COMPARATIVE STUDY OF HIGH SENSITIVITY C-REACTIVE PROTEIN (HS-CRP) AND GLYCEMIC MARKERS IN TYPE 2 DIABETES MELLITUS. PAFMJ, 71(5), 1651-55. https://doi.org/10.51253/pafmj.v71i5.4918
Section
Original Articles