PATTERN OF COAGULATION PARAMETERS IN PATIENTS WITH COVID-19 - A SINGLE CENTRE BASED STUDY
Keywords:
Activated Partial Thromboplastin Time (APTT), Coronavirus Disease - 2019 (COVID-19), Domain- dimer (D-dimer), Prothrombin Time (PT)
Abstract
Objective: To determine prognostic significance of coagulation parameters in patients with COVID-19.
Study Design: A prospective comparative study.
Place and Duration of Study: Department of Haematology, Army Medical College, Pak Emirates Military Hospital, Rawalpindi, from Apr to May 2020.
Methodology: A total of 248 patients diagnosed with COVID-19 of all ages irrespective of gender were enrolled. Their coagulation parameters were assessed and comparisons were made between patients with mild/moderate (non-critical) disease against those with severe/critically ill (critical).Performa was designed and data was analyzed using SPSS 26.
Results: Patients in the critical group revealed constantly elevated levels of Domain-dimer (D-dimer, ng/ml -73.7% vs. 50.5%, 89.5% vs. 39%, 78.9 vs. 41.9%, 77.8% vs. 42%), increased activated partial thromboplastin time (APTT - 34.68 vs. 32.17 sec, 38.84 vs. 32.40 sec, 37.58 vs. 32.50 sec , 37.94 vs. 32.61 sec) and prothrombin time (PT - 14.26 vs. 14.20 sec, 14.79 vs. 14.08 sec, 14.68 vs. 14.10 sec, 15 vs. 14.25 sec) compared to noncritical group (p<0.05). Moreover, higher fibrinogen levels were associated with severe disease (296.32 vs257.92 mg/dl, 280.53 vs. 262.64 mg/dl, 274.74 vs. 264.42 mg/dl, 270.56 vs. 263.10 mg/dl).
Conclusion: Deranged coagulation parameters were observed in patients with COVID-19 and significantly higher in those with severe cases. Regular monitoring of D-dimer, fibrinogen, APTTand PT can provide good accuracy in predicting the severity of disease.
Downloads
Download data is not yet available.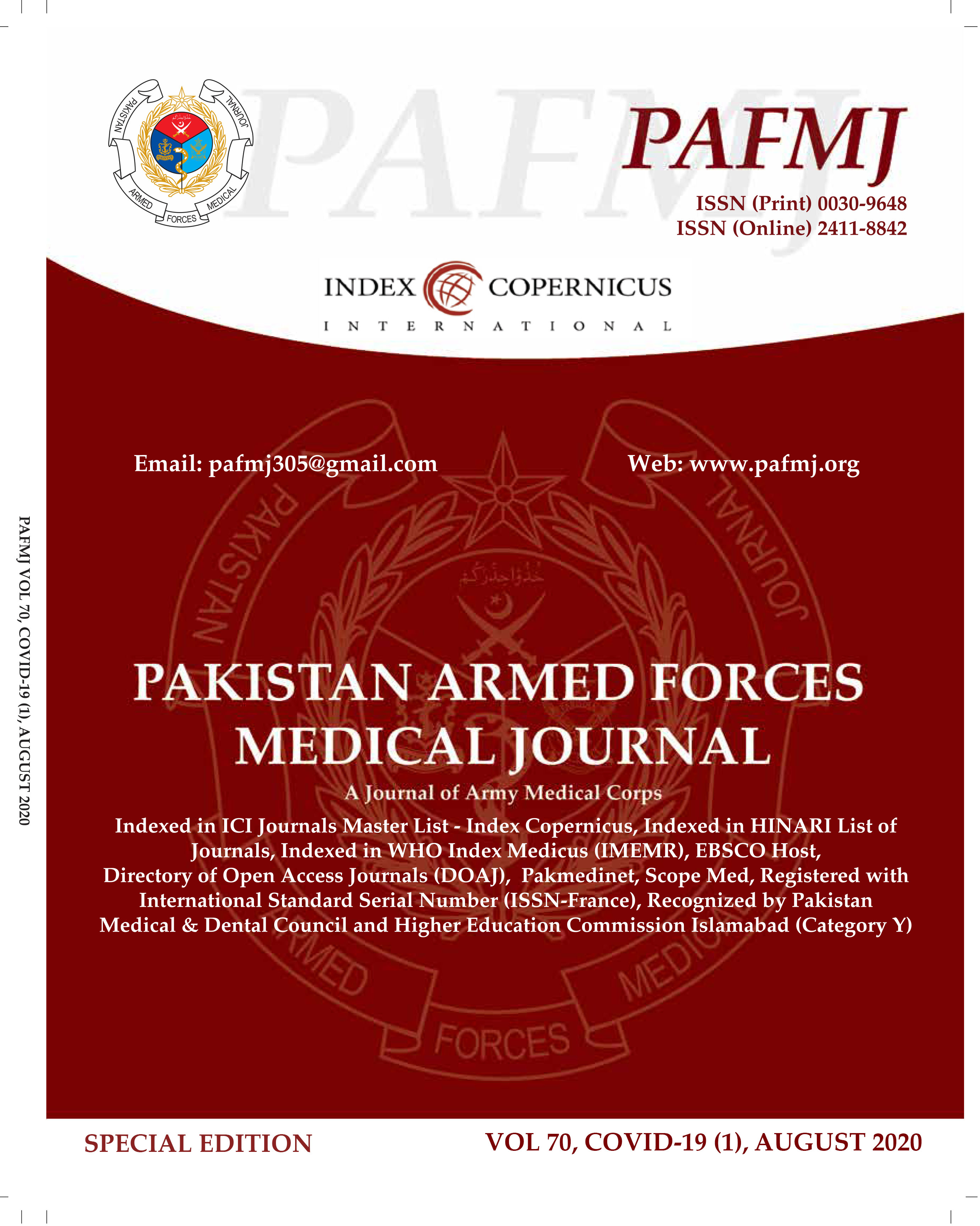 Downloads
How to Cite
Anwar, N., Akhtar, F., Tashfeen, S., Hassan, K., Din, H. U., & Usman, J. (2020). PATTERN OF COAGULATION PARAMETERS IN PATIENTS WITH COVID-19 - A SINGLE CENTRE BASED STUDY. Pakistan Armed Forces Medical Journal, 70(1), S285–91. Retrieved from https://pafmj.org/index.php/PAFMJ/article/view/4890
Section
Original Articles