ENDOSCOPIC FINDINGS IN PATIENTS PRESENTING WITH DYSPEPSIA AND ASSOCIATION OF AGE AND GENDER WITH ORGANIC DYSPEPSIA
Safia Batool

Combined Military Hospital Jhelum/National University of Medical Sciences (NUMS) Pakistan

Muhammad Usman Sajid

Combined Military Hospital Jhelum/National University of Medical Sciences (NUMS) Pakistan

Jamal Waris

Combined Military Hospital Jhelum/National University of Medical Sciences (NUMS) Pakistan

Shahzeb Ahmed Satti

Combined Military Hospital Quetta/National University of Medical Sciences (NUMS) Pakistan

Fayyaz Hassan

Combined Military Hospital/National University of Medical Sciences (NUMS) Rawalpindi Pakistan

Faisal Aziz

Combined Military Hospital Jhelum/National University of Medical Sciences (NUMS) Pakistan
Keywords:
Dyspepsia, Endoscopy, Functional, Organic
Abstract
Objective: To determine frequency of general and specific endoscopic findings in patients diagnosed with dyspepsia and to determine association of age and gender with organic dyspepsia.
Study Design: Cross sectional study.
Place and Duration of Study: Gastroenterology department, Combined Military Hospital, Kharian, from Jul to Dec 2018.
Methodology: A total of 180 patients participated in the study after being selected through non probability consecutive sampling. Age, gender and history of dysphagia, weight loss, gastrointestinal bleeding, and smoking were recorded. All underwent standard electronic video upper gastrointestinal endoscopy. Abnormal findings of inflammation, narrowing, strictures, furrowing, erosions, ulcers, atrophy, nodularity, polyps, masses and malignancy were recorded. The abnormal findings were presented as frequency and percentages. On the basis of endoscopic findings the sample was divided into two groups of functional (normal endoscopy) and organic dyspepsia. Chi-square test was selected to compare the frequencies of organic and functional dyspepsia with age and gender.
Results: Majority 99 (55%) of the patients with dyspepsia had a normal endoscopic finding while in organic dyspepsia, reflux esophagitis 41 (22.8%) was the most common finding followed by gastritis 16 (8.9%), duodenal ulcer 12 (6.7%) and gastric ulcer 9 (5%). Three patients with organic dyspepsia had malignancy. Most common specific findings were non erosive esophagitis 25(30.8%). Age above 40 years and male gender was found to be statistically significantly associated with organic dyspepsia (p<0.01).
Conclusion: Majority of the patients with dyspepsia have a normal endoscopic finding. There is a higher incidence of organic dyspepsia in males and in patients..................
Downloads
Download data is not yet available.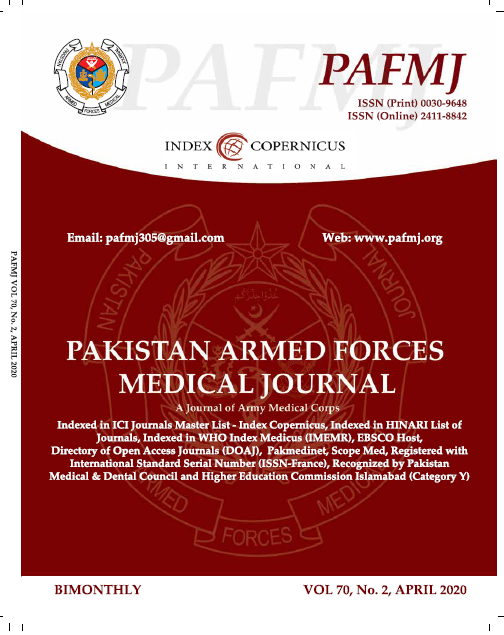 How to Cite
Batool, S., Sajid, M., Waris, J., Satti, S., Hassan, F., & Aziz, F. (2021). ENDOSCOPIC FINDINGS IN PATIENTS PRESENTING WITH DYSPEPSIA AND ASSOCIATION OF AGE AND GENDER WITH ORGANIC DYSPEPSIA. Pakistan Armed Forces Medical Journal, 71(2), 567-70. https://doi.org/10.51253/pafmj.v71i2.4860
Section
Original Articles