Outcomes of Patients with Stage I Germ Cell Tumour; Adjuvant Chemotherapy vs Surveillance; A Single Institutional Experience
Shafquat Ali Khan

Shaukat Khanum Memorial Cancer Hospital and Research Centre, Lahore-Pakistan

Musa Azhar

Shaukat Khanum Memorial Cancer Hospital and Research Centre, Lahore-Pakistan

Muhammad Rashid Hanif

Shaukat Khanum Memorial Cancer Hospital and Research Centre, Lahore-Pakistan

Abdul Wahab

Shaukat Khanum Memorial Cancer Hospital and Research Centre, Lahore-Pakistan

Ishaq Raza

Shaukat Khanum Memorial Cancer Hospital and Research Centre, Lahore-Pakistan

Samia Yasmeen

Shaukat Khanum Memorial Cancer Hospital and Research Centre, Lahore-Pakistan

Neelam Siddiqui

Shaukat Khanum Memorial Cancer Hospital and Research Centre, Lahore-Pakistan

Rizwan Masood Sheikh

Shaukat Khanum Memorial Cancer Hospital and Research Centre, Lahore-Pakistan

M Abu Baker

Shaukat Khanum Memorial Cancer Hospital and Research Centre, Lahore-Pakistan
Keywords:
Chemotherapy, Germ cell tumour, Non-seminoma, Seminoma, Surveillance
Abstract
Objective: To determine five-year survival and stratify risk factors for disease relapse in the clinical stage I germ cell tumour post orchiectomy.
Study Design: Retrospective longitudinal study.
Place and Duration of Study: Shaukat Khanum Memorial Cancer Hospital and Research Centre Lahore Pakistan, from 2008 to 2013.
Methodology: We analyzed overall survival and disease-free survival in patients with stage 1 Germ cell tumours who either received chemotherapy or were kept on active surveillance after higher orchiectomy. In addition, risk factor stratification for recurrence was determined using the clinical, radiological and histopathological parameters.
Results: Of 88 patients, 51 (58%) received chemotherapy, while 37 (42%) patients were kept on surveillance post orchiectomy for stage I germ cell tumours, including seminoma and non-seminoma histologies. Five-year overall survival and disease-free survivals were 99% and 92%, respectively, for all patients with stage 1 Germ cell tumours. Subgroup analysis showed that DFS was better in the adjuvant chemotherapy arm than the surveillance arm in both subtype histologies; however, five-year overall survival was comparable. Lymph vascular invasion and tumour size (T) was identified as risk factor for disease relapse.
Conclusion: This institutional report suggests that while identifying risk factors, active surveillance post orchiectomy can be an effective treatment option for clinical stage I germ cell tumours and is comparable with adjuvant chemotherapy. Two important factors determining survival in our study were Lymph vascular invasion and T staging.
Downloads
Download data is not yet available.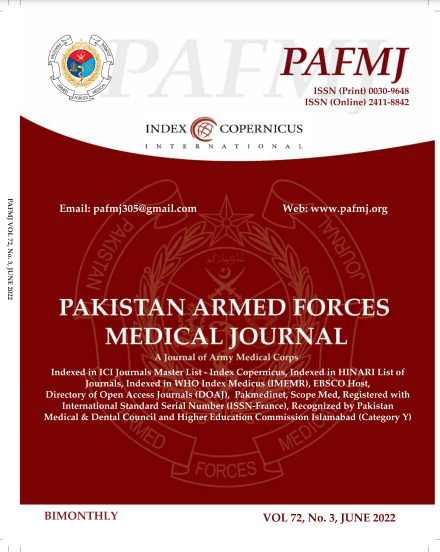 How to Cite
Khan, S. A., Azhar, M., Hanif, M. R., Wahab, A., Raza, I., Yasmeen, S., Siddiqui, N., Sheikh, R. M., & Baker, M. (2022). Outcomes of Patients with Stage I Germ Cell Tumour; Adjuvant Chemotherapy vs Surveillance; A Single Institutional Experience. PAFMJ, 72(3), 871-75. https://doi.org/10.51253/pafmj.v72i3.4840
Section
Original Articles