FREQUENCY AND ETIOLOGY OF MIDLINE DIASTEMA IN ORTHODONTIC PATIENTS REPORTING TO ARMED FORCES INSTITUTE OF DENTISTRY RAWALPINDI
Etiology of Midline Diastema in Orthodontic Patients
Col Hameed Ullah Jan

Armed Forces Institute of Dentistary

Sadia Naureen

Armed Forces Institute of Dentistary

Ayesha Anwar

Armed Forces Institute of Dentistary
Keywords:
Maxillary midline diastema, deep bite, increased overjet
Abstract
Objective: To determine the frequency and etiology of maxillary midline diastema (MMD) in local settings.
Study Design: Descriptive study.Place and duration of study: The study was carried out on orthodontic patients reporting to Armed Forces Institute of Dentistry Rawalpindi (AFID) from 2001 to 2007 at the Department of Orthodontics, Armed Forces Institute of Dentistry Rawalpindi.
Patients and Methods: A total of 1800 cases of malocclusions, were collected from orthodontic dept of AFID Rawalpindi, during research period. Sample purification resulted in a research sample of 1747 patients.The data of all patients was analysed as regards to age, gender, occlusal traits, and relevant disatema findings.
Results: The frequency of MMD turned out to be 12.59%. No single etiological factor was found responsible for MMD, however increased over jet was the most frequently (56.56%) occurring factor related to MMD, followed by high frenum attachment(33.03%) and finally deep bite, 31.6%.
Conclusion: Maxillary midline diastema is a common entity associated with multifactorial etiology.
Focusing on symptomatic treatment rather than addressing the cause oriented approach will lead to relapse of the already existing problem. Permanent retention should be considered in most cases.
Downloads
Download data is not yet available.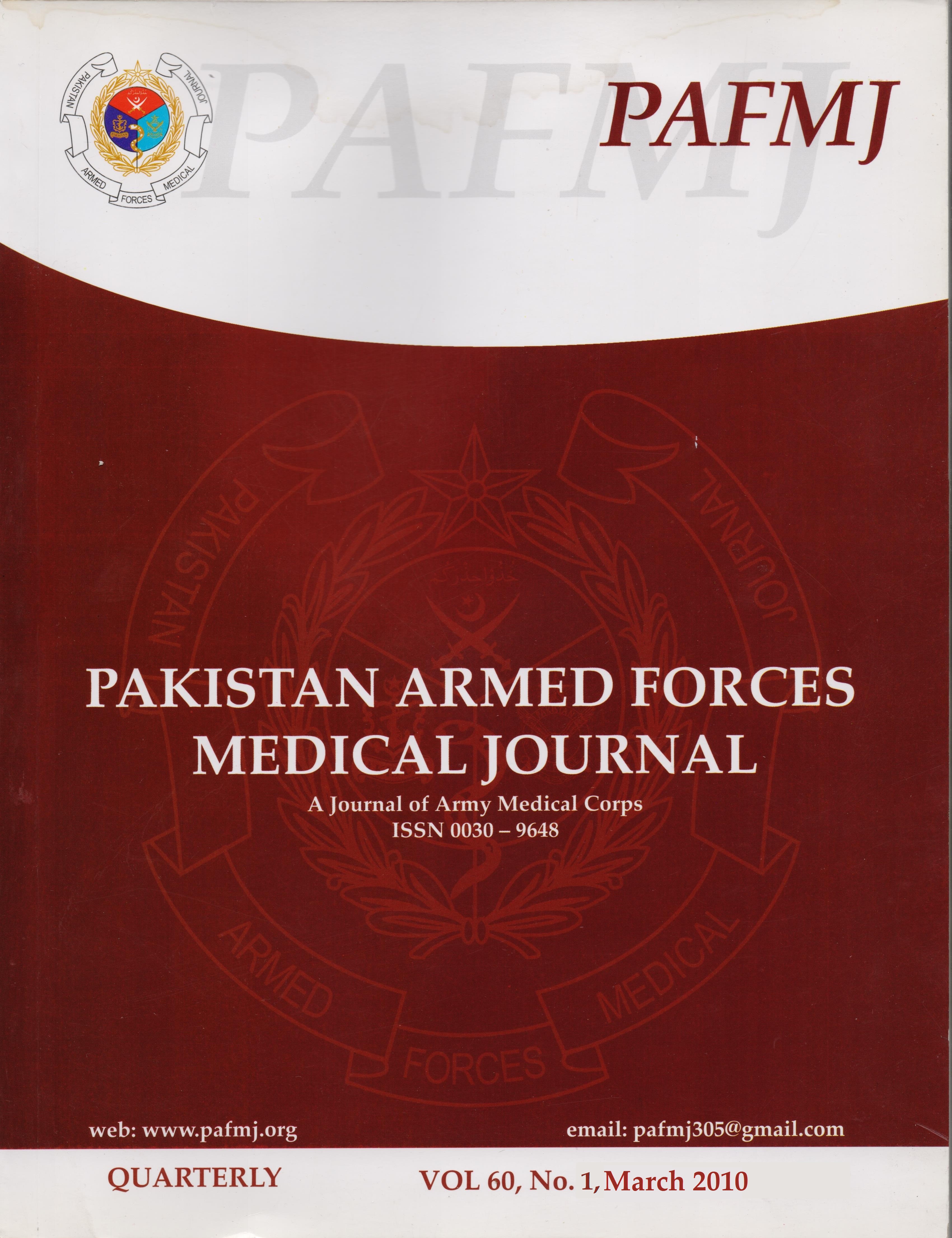 How to Cite
Jan, C. H., Naureen, S., & Anwar, A. (2010). FREQUENCY AND ETIOLOGY OF MIDLINE DIASTEMA IN ORTHODONTIC PATIENTS REPORTING TO ARMED FORCES INSTITUTE OF DENTISTRY RAWALPINDI. Pakistan Armed Forces Medical Journal, 60(1), 126-8. Retrieved from https://pafmj.org/index.php/PAFMJ/article/view/484
Section
Original Articles