Comparison of Frequency of Sore Throat and Cough after Prophylactic Lignocaine and Beclomethasone in Adults
Ahsan Ali

Combined Military Hospital Lahore/National University of Medical Sciences (NUMS) Pakistan

Niaz Ahmed

Combined Military Hospital Malir Cantt/National University of Medical Sciences (NUMS) Pakistan

Huda Shafqat

Combined Military Hospital Lahore/National University of Medical Sciences (NUMS) Pakistan

Aftab Hussain

Combined Military Hospital Lahore/National University of Medical Sciences (NUMS) Pakistan

Muhsan Sultan

Combined Military Hospital Peshawar/National University of Medical Sciences (NUMS) Pakistan

Muhammad Akram

Combined Military Hospital Lahore/National University of Medical Sciences (NUMS) Pakistan
Keywords:
Beclomethasone, Cough, Lignocaine, Sore throat, Tracheal intubation
Abstract
Objective: To compare the frequency of sore throat and cough after prophylactic Lignocaine versus Beclomethasone in adults undergoing tracheal intubation.
Study Design: Prospective longitudinal study.
Place and Duration of Study: Anesthesia Department, Combined Military Hospital, Lahore Pakistan, from Jun to Sep 2019.
Methodology: A total of 180 patients of both gender scheduled for elective surgery under general anaesthesia with endo-tracheal intubation were recruited for this study. Ninety patients of Group-A received Lignocaine, while 90 patients of Group-B received Beclomethasone. After 24 hours of the procedure, sore throat and cough were assessed from both groups and noted.
Results: The age range in this study was from 18 to 50 years, with a mean age of 34.22±5.31 years in Group -A while 36.57±7.22 years in Group-B. Sore throat was seen in 22(24.4%) patients in Lignocaine-Group (Group-A) as compared to 9(10.0%) patients in Beclomethasone-Group (Group-B) (p=0.010). Cough was seen in 18(20.0%) patients in the Lignocaine-Group as compared to 5(5.6%) patients in the Beclomethasone-Group (p=0.003).
Conclusion: This study concluded that spraying Beclomethasone on the endotracheal tube reduces the frequency and severity of postoperative sore throat and cough in patients given general anaesthesia with endotracheal intubation.
Downloads
Download data is not yet available.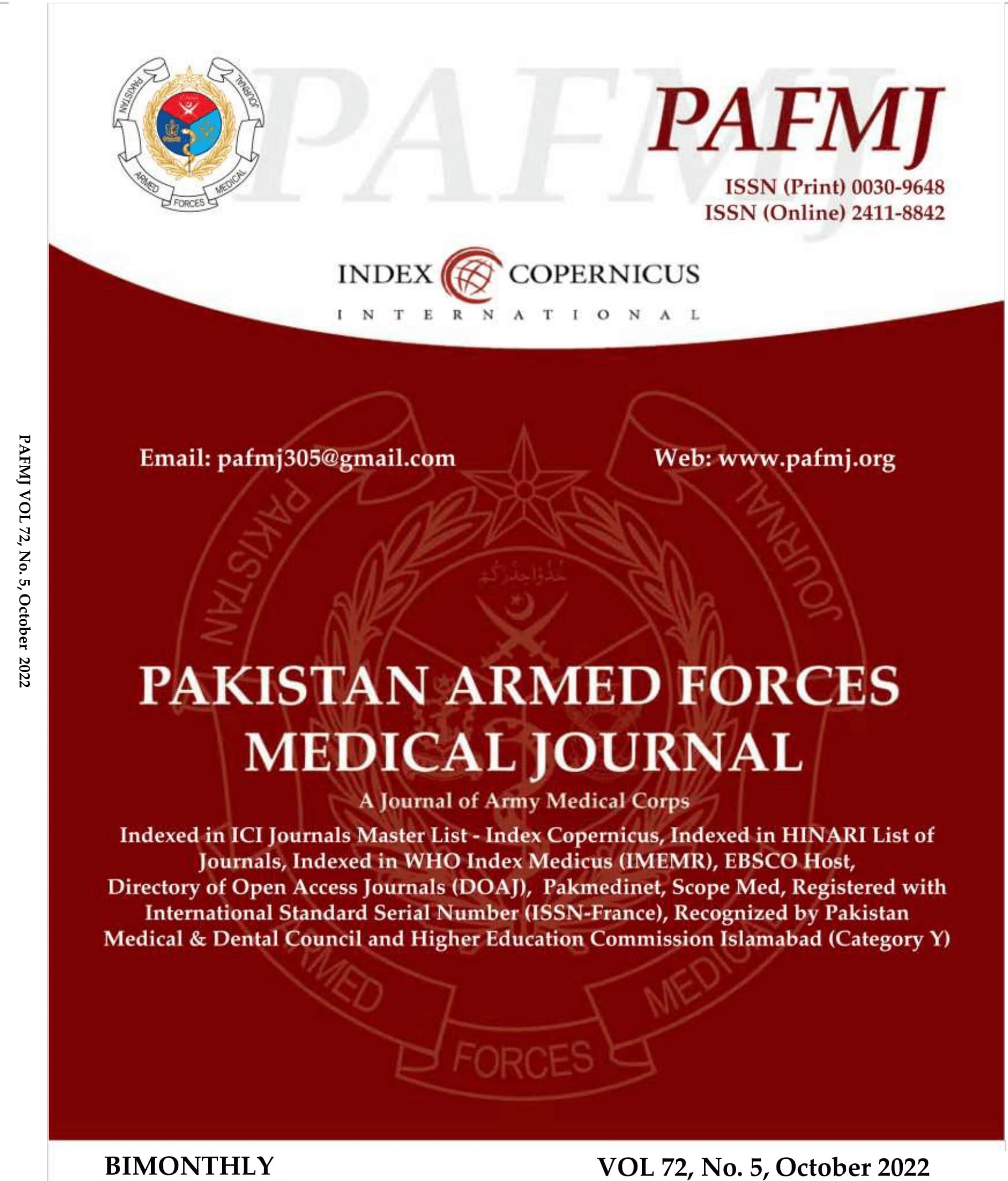 How to Cite
Ali, A., Ahmed, N., Shafqat, H., Hussain, A., Sultan, M., & Akram, M. (2022). Comparison of Frequency of Sore Throat and Cough after Prophylactic Lignocaine and Beclomethasone in Adults. Pakistan Armed Forces Medical Journal, 72(5), 1585-88. https://doi.org/10.51253/pafmj.v72i5.4816
Section
Original Articles