TABOOS AND MYTHS REGARDING BREASTFEEDING PRACTICES IN PREGNANT POPULATION
Breastfeeding Practices
Faiza Ibrar

Fauji foundation hospital

Naila Khursheed

Foundation University, Islamabad Campus

Saima Qamar

CMH Lahore Medical College

https://orcid.org/0000-0002-1935-1930

Atikka Masud

Bushra Ifthikhar

Seema Gul
Keywords:
Breast feeding, Myths, Taboos, Exclusive breast feeding, Pregnancy
Abstract
Objective: To determine the taboos and myths regarding breastfeeding practices in our pregnant population.
Study Design: Cross-sectional study.
Place and Duration of Study: Obstetrics and Gynecology Department, Fauji Foundation Hospital, Rawalpindi Pakistan, from May to Oct 2018.
Methodology: A total of 100 pregnant women attending antenatal clinics were included in the study using non-probability purposive sampling technique. Taboos and myths regarding breast feeding practices were determined using self-administered questionnaire on 2-point Likert scale (1=agree & 2=disagree).
Results: A total of 100 pregnant women participated in the study. Mean parity was 2.89 ± 1.75 and gravidity was 4.17 ± 2.04. Most of the mothers (90%) were house wives and received information regarding breast feeding from family members (81%). Mothers were aware of the nutritious value of breast milk as compared to formula milk. However, there were myths that were not evidence based. These include: breasts sag with breast feeding (48%), it is not necessary to breast feed the baby during night time (43%), breast milk alone was not sufficient to satisfy the child (51%), small size breast produce insufficient milk (27%).
Conclusion: Participants of this study are aware of the importance of breast feeding. However, there are certain taboos and myths prevailing in our population which are not proven scientifically.
Downloads
Download data is not yet available.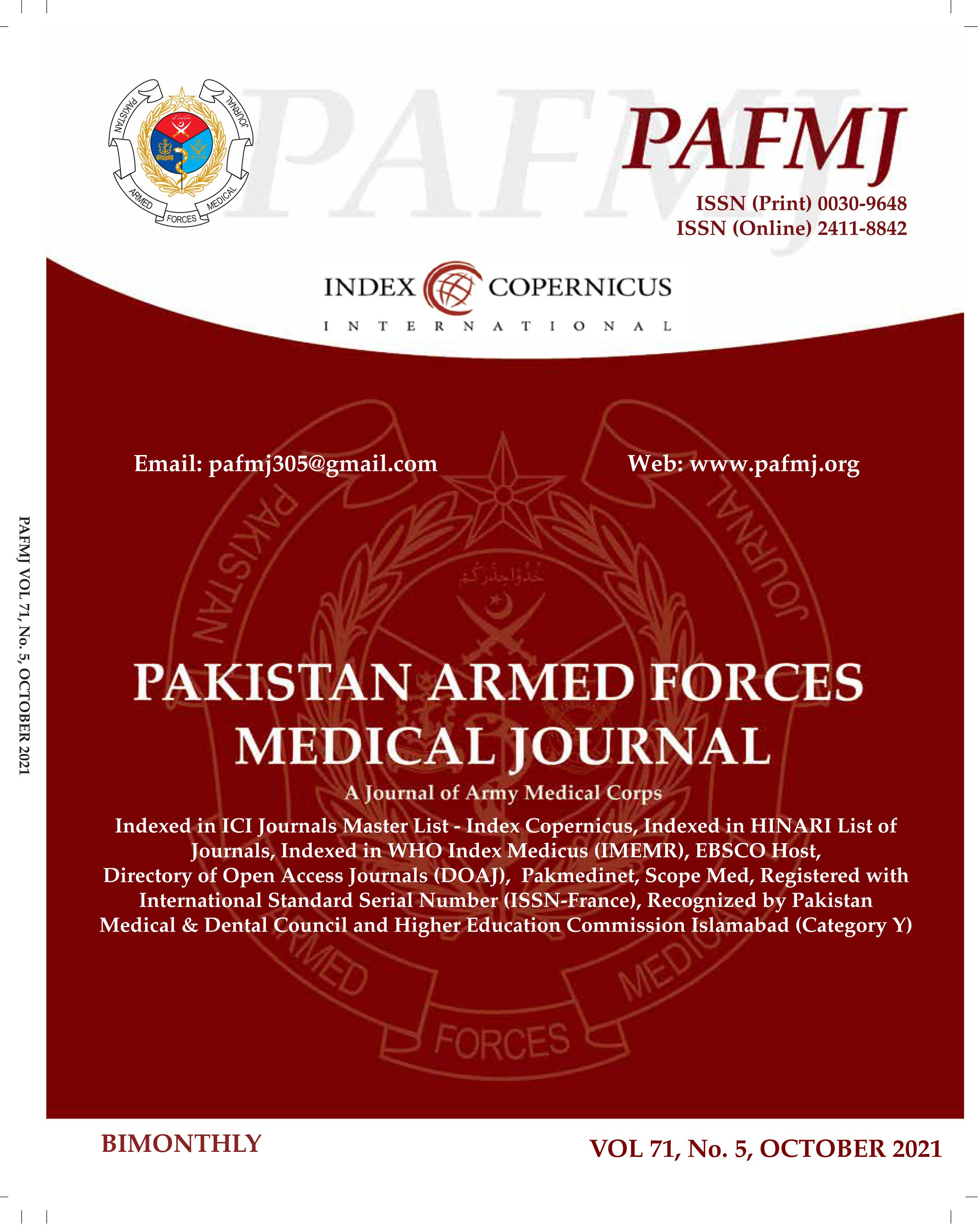 How to Cite
Ibrar, F., Khursheed, N., Qamar, S., Masud, A., Ifthikhar, B., & Gul, S. (2021). TABOOS AND MYTHS REGARDING BREASTFEEDING PRACTICES IN PREGNANT POPULATION. PAFMJ, 71(5), 1647-50. https://doi.org/10.51253/pafmj.v71i5.4765
Section
Original Articles