FREQUENCY OF SYMPTOMATIC SPONTANEOUS BACTERIAL PERITONITIS AND ASSOCIATED CLINICAL PARAMETERS IN PATIENTS WITH LIVER CIRRHOSIS
Bacterial Peritonitis in Liver Cirrhosis
Syed Fayyaz Mehmood Gilani

Combined Military Hospital Kharian/National University of Medical Sciences (NUMS) Pakistan

Fayyaz Hassan

Combined Military Hospital/National University of Medical Sciences (NUMS) Rawalpindi Pakistan

Fuad Ahmad Siddiqui

Combined Military Hospital/National University of Medical Sciences (NUMS) Rawalpindi Pakistan

Syed Anees Ahmed Gardezi

Combined Military Hospital Kharian/National University of Medical Sciences (NUMS) Pakistan
Keywords:
Ascites, Bilirubin, Cirrhosis, Creatinine, Encephalopathy
Abstract
Objective: To study association between spontaneous bacterial peritonitis and clinical symptoms in liver cirrhosis.
Study Design: cross-sectional study.
Place and Duration of Study: Combined Military Hospital Kharian, from Jul 2019 to Apr 2020.
Methodology: A total of 122 patients of liver cirrhosis (irrespective of aetiology), presented with various clinical symptoms such as fever, pain abdomen and hepatic encephalopathy were randomly selected. Patients between 18-80 years of age, were included in the study. Asymptomatic patients, with ascites other than liver cirrhosis were excluded. Spontaneous Bacterial Peritonitis was defined as positive ascitic fluid culture and/or ascitic polymorphonuclear leukocyte ≥250 cells/mm3 in ascitic fluid.
Results: Of the 122 randomly selected patients, the mean age was 56.5 ± 20.2 years. Forty-Five (46.8%) were male and 67 (54.2%) patients were female. Chronic Hepatitis C was the commonest cause of liver cirrhosis (92%). The frequency of spontaneous bacterial peritonitis was 37.7%. Majority, (83%) of the culture positive ascitic isolate was Gram negative bacilli and E.coli (72%) being the commonest organism isolated. Severe ascites, high International Normalized Ratio (INR), hepatic encephalopathy, fever, low ascetic fluid protein count, high serum bilirubin and creatinine were considered to be independent predictor of Spontaneous Bacterial Peritonitis.
Conclusion: Clinical symptoms of fever, hepatic encephalopathy, severe ascites, International Normalized ratio high and deranged renal profile was highly suggestive of Spontaneous Bacterial Peritonitis in cirrhotic patients.
Downloads
Download data is not yet available.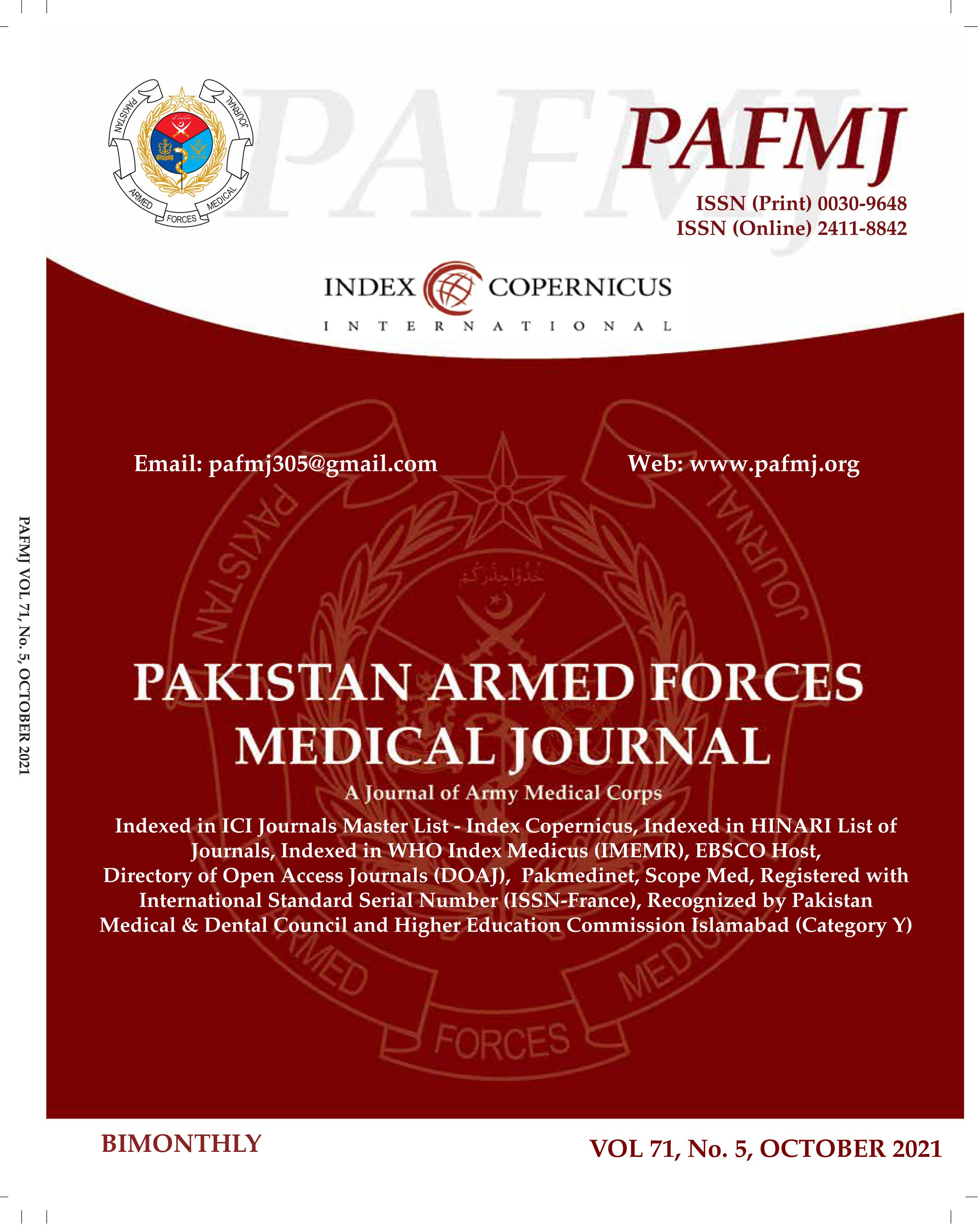 How to Cite
Gilani, S. F., Hassan, F., Siddiqui, F., & Gardezi, S. A. (2021). FREQUENCY OF SYMPTOMATIC SPONTANEOUS BACTERIAL PERITONITIS AND ASSOCIATED CLINICAL PARAMETERS IN PATIENTS WITH LIVER CIRRHOSIS. Pakistan Armed Forces Medical Journal (PAFMJ), 71(5), 1598-1602. https://doi.org/10.51253/pafmj.v71i5.4758
Section
Original Articles