A RARE CASE REPORT OF PARATESTICULAR RHABDOMYOSARCOMA IN AN ADULT PATIENT
Mussadique Ali

Shaukat Khanum Memorial Cancer Hospital and Research Centre, Lahore Pakistan

Chandumal .

Shaukat Khanum Memorial Cancer Hospital and Research Centre, Lahore Pakistan

Manzoor Khan

Shaukat Khanum Memorial Cancer Hospital and Research Centre, Lahore Pakistan

Jhanzeb Iftikhar

Shaukat Khanum Memorial Cancer Hospital and Research Centre, Lahore Pakistan

Samia Yasmeen

Shaukat Khanum Memorial Cancer Hospital and Research Centre, Lahore Pakistan

Umm e Kalsoom Awan

Shaukat Khanum Memorial Cancer Hospital and Research Centre, Lahore Pakistan
Keywords:
Paratesticular, Remission, Rhabdomyosarcoma
Abstract
Rhabdomyosarcoma is a malignancy of mesenchymal tissue origin typically occurring in childhood and adolescence, with an incidence rate of of 4.3 patients per million population per anum. Primary rhabdomyosarcoma of para-testicular origin is an infrequent condition, making up to 7% of all the cases of rhabdomyosarcoma tumors in children and adolescents. Here we describe a case of a 25 years old man with left paratesticular solid mass. He underwent left sided orchiectomy with histopathology revealing paratesticuler embryonal rhabdomyosarcoma. He underwent definitive chemo-radiotherapy and orchidopexy with complete remission and is on active surveillance for 4 years.
Downloads
Download data is not yet available.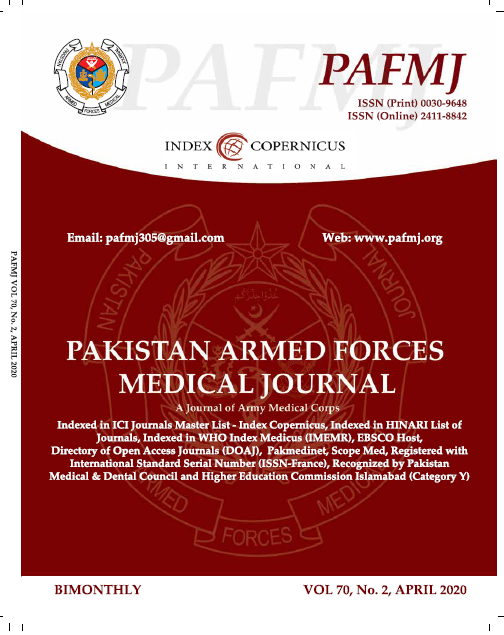 How to Cite
Ali, M., ., C., Khan, M., Iftikhar, J., Yasmeen, S., & Kalsoom Awan, U. (2021). A RARE CASE REPORT OF PARATESTICULAR RHABDOMYOSARCOMA IN AN ADULT PATIENT. Pakistan Armed Forces Medical Journal, 71(2), 719-21. https://doi.org/10.51253/pafmj.v71i2.4743