EFFICACY OF METHOTREXATE VERSUS LEFLUNOMIDE VERSUS COMBINATION OF BOTH IN ACTIVE RHEUMATOID ARTHRITIS
Keywords:
Efficacy, Leflunomide, Methotrexate, Rheumatoid arthritis
Abstract
Objective: To determine the efficacy of Methotrexate versus Leflunomide versus combination of both among patients managed at Pak Emirates Military Hospital with active rheumatoid arthritis.
Study Design: Prospective comparative study.
Place and Duration of Study: Rheumatology/General Medicine Department, Pak Emirates Military Hospital Rawalpindi, from May 2019 to June 2020.
Methodology: Patient of active rheumatoid arthritis who fulfilled American college of rheumatology criteria of 1997 were included in the study. They were randomly divided into three groups with group A receiving Methotrexate, group B receiving Leflunomide while group C received the combination of both Methotrexate and Leflunomide. Disease activity was assessed by using the Disease Activity Score-28 in all the three groups after three months of treatment.
Results: Mean age of the study participants was 36.919 ± 6.85 years. One hundred and fifty (83.3%) patients were female while 30 (16.7%) were male. Out of 160 (88.9%) patients achieved remission according to Disease Activity Score-28 score at the end of three months while 20 (11.1%) did not achieve remission. Pearson chi-square test revealed that none of the factors studied including the treatment option had any statistically significant relationship with presence of remission among the target population (p-value 0.386, 0.815, 0.194 and 0.145 for age, gender, duration of symptoms and type of treatment respectively).
Conclusion: Remission rate among the rheumatoid arthritis patients in response to treatment was overall good in the study. In terms of efficacy for symptoms of rheumatoid arthritis and achieving remission, after three months of treatment all the three options..................
Downloads
Download data is not yet available.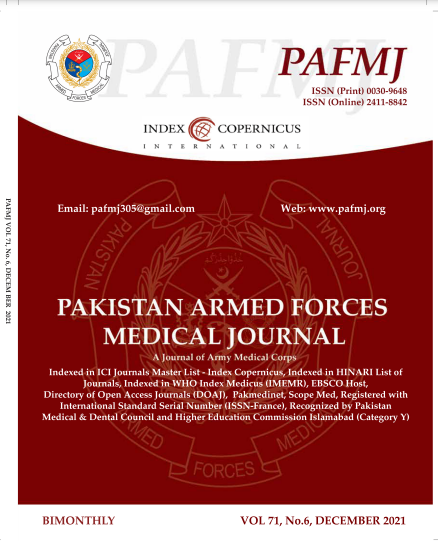 Downloads
How to Cite
Tirmizi, S. H., Fakhr, A., Amer, A., Sajjad, K., Nawaz, K. H., & Sharif, A. (2021). EFFICACY OF METHOTREXATE VERSUS LEFLUNOMIDE VERSUS COMBINATION OF BOTH IN ACTIVE RHEUMATOID ARTHRITIS. Pakistan Armed Forces Medical Journal, 71(6), 1916–19. https://doi.org/10.51253/pafmj.v6i6.4646
Section
Original Articles