Patterns of Cytopenias Associated with Methotrexate Treated Rheumatoid Arthritis Patients
Mohsin Shakoor Malik

Pak Emirates Military Hospital/National University of Medical Sciences (NUMS) Rawalpindi Pakistan

Amer Fakhr

Pak Emirates Military Hospital/National University of Medical Sciences (NUMS) Rawalpindi Pakistan

Farzana Hakim

Foundation University Medical College, Islamabad Pakistan

Ahsan Amer

Foundation University Medical College, Islamabad Pakistan
Keywords:
Cytopenia, Methotrexate, Rheumatoid arthritis
Abstract
Objective: To determine the frequency of various patterns of cytopenias with Methotrexate-treated rheumatoid arthritis patients and the correlation of pancytopenia with various factors.
Study Design: Cross-sectional study.
Place and Duration of Study: Rheumatology/General Medicine Department, Pak Emirates Military Hospital Rawalpindi from May 2019 to Mar 2020.
Methodology: Patients with rheumatoid arthritis who were managed with Methotrexate for more than six months were included in the study. Full blood counts were performed for all the patients from the laboratory of the hospital. The frequency of monocytopenia, bi-cytopenia and pancytopenia were calculated.
Results: Mean age of the study participants was 37.41±5.72 years. One hundred and sixty-eight 168(84%) patients had the presence of any cytopenia, while 32 (16%) did not show the presence of any cytopenia on full blood count. The advancing age and use of polypharmacy had a statistically significant association with cytopenias among patients with rheumatoid arthritis managed with Methotrexate (p-value <0.05).
Conclusion: The presence of cytopenia emerged as a relatively common finding among rheumatoid arthritis patients managed with Methotrexate. Advanced age of the patient and patients who required more than one medication to control the symptoms of RA were found at a higher risk for developing pancytopenia while being managed with Methotrexate for rheumatoid arthritis.
Downloads
Download data is not yet available.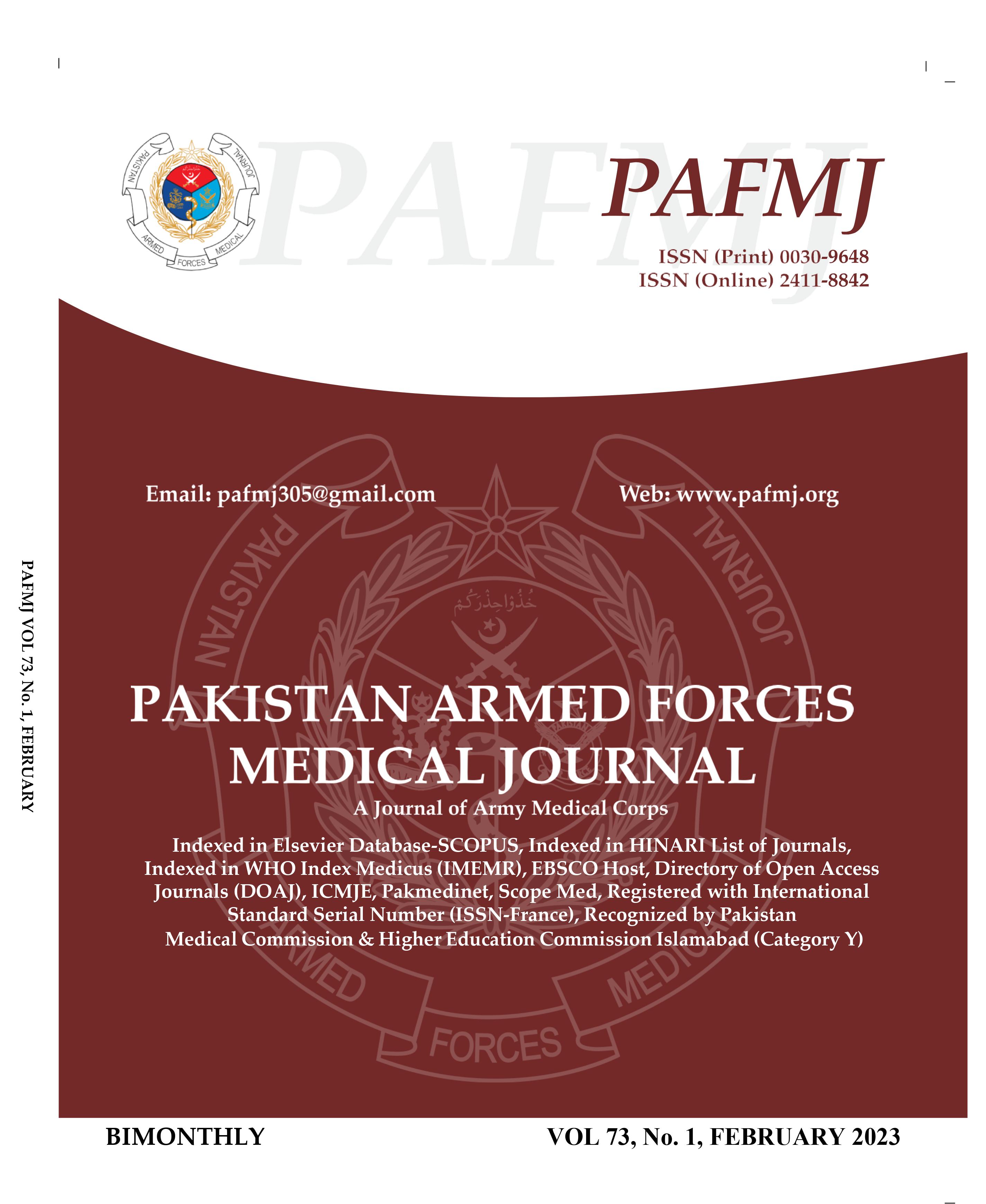 How to Cite
Malik, M., Fakhr, A., Hakim, F., & Amer, A. (2023). Patterns of Cytopenias Associated with Methotrexate Treated Rheumatoid Arthritis Patients. Pakistan Armed Forces Medical Journal, 73(2), 325-28. https://doi.org/10.51253/pafmj.v73i2.4643
Section
Original Articles