NEGATIVE APPENDECTOMIES ARE MORE COMMON IN FEMALES OF REPRODUCTIVE AGE GROUP
Zahid Ali

Liaquat University of Medical and Health Sciences, Hyderabad Pakistan

Muhammad Rahil Khan

Liaquat University of Medical and Health Sciences, Hyderabad Pakistan

Riyasat Ahmed Memon

Liaquat University of Medical and Health Sciences, Hyderabad Pakistan

Ikram Din Ujjan

Liaquat University of Medical and Health Sciences, Hyderabad Pakistan

Fida Hussain

Liaquat University of Medical and Health Sciences, Hyderabad Pakistan

Zainab Nisar

Liaquat University of Medical and Health Sciences, Hyderabad Pakistan
Keywords:
Acute appendicitis, Appendectomy, Negative appendectomy
Abstract
Objective: To compare the negative appendectomy in the females of reproductive and non-reproductive age groups.
Study Design: Cross-sectional study.
Place and Duration of Study: Department of Pathology, Diagnostic and Research Laboratory, Liaquat University of Medical and Health Sciences, Hyderabad, Pakistan, from January 2018 to December 2019.
Methodology: A total of 1126 appendectomy specimens were enrolled irrespective of age and gender. The biodata of patients was retrieved from the database. Statistical analysis was done using SPSS version 22.
Results: Out of total 1126 reported cases, 787 (69.9%) were males and 339 (30.1%) were females. The mean age was calculated to be 24.43 ± 12.42 years ranging from 2-94 years. Histopathological examination revealed cases of acute appendicitis 374 (33.2%), acute appendicitis with peri-appendicitis 478 (42.5%), fibrous obliteration 28 (2.5%) and parasitic infestation 7 (0.6%). Overall negative appendectomies were 219 (19.4%) and were prominent in females 100 (29.5%) than males 119 (15.1%). Also it was higher in females of reproductive age group 77 (30.4%) than in non-reproductive age group 23 (27.9%).
Conclusion: In our study negative appendectomy in females of reproductive age groups was found to be higher than expected. Clinical scoring systems, biochemical markers, imaging modalities, and second opinion from other specialties like internal medicine, gynae and obstetric have been introduced to substantiate the diagnosis of acute appendicitis and thereby decreases the negative appendectomy.
Downloads
Download data is not yet available.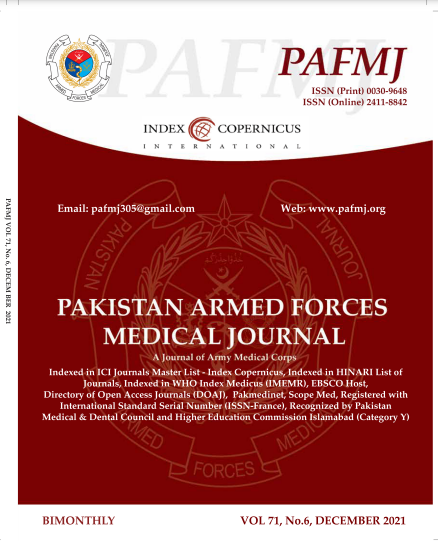 How to Cite
Ali, Z., Khan, M. R., Memon, R. A., Ujjan, I. D., Hussain, F., & Nisar, Z. (2021). NEGATIVE APPENDECTOMIES ARE MORE COMMON IN FEMALES OF REPRODUCTIVE AGE GROUP. PAFMJ, 71(6), 2011-14. https://doi.org/10.51253/pafmj.v6i6.4630
Section
Original Articles