PERCEPTION OF ALTERED SMILE ESTHETIC AMONG DENTISTS, STUDENTS AND LAYPERSONS USING DIGITAL PHOTOGRAPHS: A COMPARATIVE STUDY
Erum Amin

Armed Forces Institute of Dentistry/National University of Medical Sciences (NUMS) Rawalpindi Pakistan

Mehwish Khan

Armed Forces Institute of Dentistry/National University of Medical Sciences (NUMS) Rawalpindi Pakistan

Mohmmad Omer Siddiqui

Armed Forces Institute of Dentistry/National University of Medical Sciences (NUMS) Rawalpindi Pakistan

Adnan Babar

Armed Forces Institute of Dentistry/National University of Medical Sciences (NUMS) Rawalpindi Pakistan

Fatima Hassan

Armed Forces Institute of Dentistry/National University of Medical Sciences (NUMS) Rawalpindi Pakistan

Wajeeha Ejaz

Armed Forces Institute of Dentistry/National University of Medical Sciences (NUMS) Rawalpindi Pakistan
Keywords:
Buccal corridors, Esthetic, Perception, Smile
Abstract
Objective: To investigate whether there is any difference in the perception of altered smile esthetics among dentist, students and layperson.
Study Design: Comparative cross sectional study.
Place and Duration of Study: Armed Forces Institutes of Dentistry Rawalpindi, from Jan to Jun 2019.
Methodology: A total of 120 individuals were selected among which 40 were dentists, 40 were students and 40 lay persons to evaluate smile on given questioner. An individual was photographed in frontal posed smile using a digital camera at natural head position. The photograph was digitally manipulated with minor changes and only desired area of face was framed using Adobe Photoshop CC 2018 software to generate a control and ideal smile. Series of photographs were generated by doing modifications to evaluate five variables including Smile arc, Gingival display, Buccal corridor, Midline shift and Midline diastema. The each group was also asked to rate attractiveness each picture on 5 points Visual Analog Scale (VAS) from 1- Most attractive to 5- Least attractive.
Results: The p-value was for midline diastema and midline shift was <0.01. Most of the study population was females 75 (62.5%) and the mean age of participants was 27.51 ± 5.42. Significant difference was observed at VAS in flat smile arc, nil buccal corridor, mid-line shift and midline diastema by study groups.
Conclusion: Perception of midline diastema and midline shift differs significantly among dentists, students and lay persons.
Downloads
Download data is not yet available.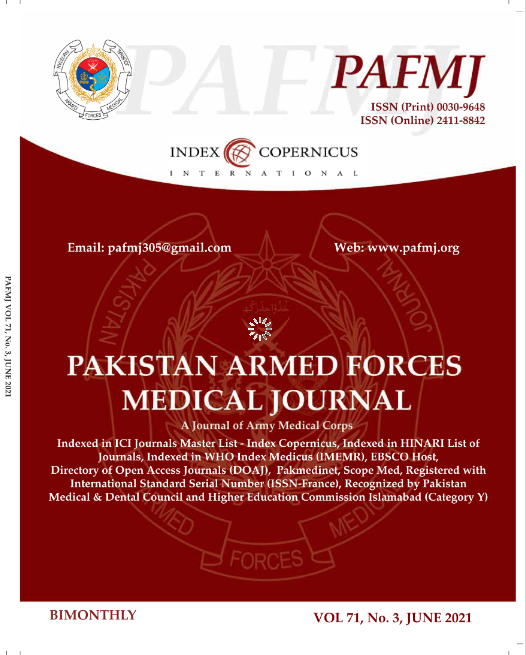 How to Cite
Amin, E., Khan, M., Siddiqui, M., Babar, A., Hassan, F., & Ejaz, W. (2021). PERCEPTION OF ALTERED SMILE ESTHETIC AMONG DENTISTS, STUDENTS AND LAYPERSONS USING DIGITAL PHOTOGRAPHS: A COMPARATIVE STUDY. PAFMJ, 71(3), 875-79. https://doi.org/10.51253/pafmj.v71i3.4592
Section
Original Articles