COMPARATIVE EFFICACY OF ORAL FLUCONAZOLE AND ORAL ITRACONAZOLE IN PITYRIASIS VERSICOLOR
Muhammad Rizwan

Combined Military Hospital Lahore/National University of Medical Sciences (NUMS) Pakistan

Naeem Raza

Pak Emirates Military Hospital/National University of Medical Sciences (NUMS) Rawalpindi Pakistan

Ayesha Anwar

Pak Emirates Military Hospital/National University of Medical Sciences (NUMS) Rawalpindi Pakistan

Ayesha Khokhar

Pak Emirates Military Hospital/National University of Medical Sciences (NUMS) Rawalpindi Pakistan
Keywords:
Efficacy, Fluconazole, Itraconazole, Pityriasis versicolor
Abstract
Objective: To compare the efficacy of oral fluconazole and oral itraconazole in the treatment of Pityriasis
versicolor.
Study Design: Comparative prospective study.
Methodology: Total 72 patients of both genders with Pityriasis versicolor were included. Patients were randomly allocated into two treatment groups with 36 patients in each group: group A and group B by lottery method. Patients in group A received Cap Fluconazole 150 mg bi- weekly for two consecutive weeks while those in group B received two doses of 400 mg of itraconazole once weekly for two weeks. Patients were asked to follow-up after 4 weeks skin scrapings for microscopy using 10% KOH mount was done at follow-up. Efficacy was assessed in terms of negative fungal hyphae on microscopy.
Results: In this study, age ranged from 18 to 40 years with mean age of 33.52 ± 4.12 years in group A, whereas
35.055 ± 4.18 years in group B. Mean duration of disease was 4.66 ± 1.51 months in group A and 5.27 ± 1.70
months in group B. Efficacy was seen in 77.8% of group A patients as compared to 50% in group B patients
(p=0.014).
Conclusion: Oral Fluconazole two doses of 150 mg/week (total 300mg/week) for two consecutive weeks was
found more effective than oral itraconazole.
Downloads
Download data is not yet available.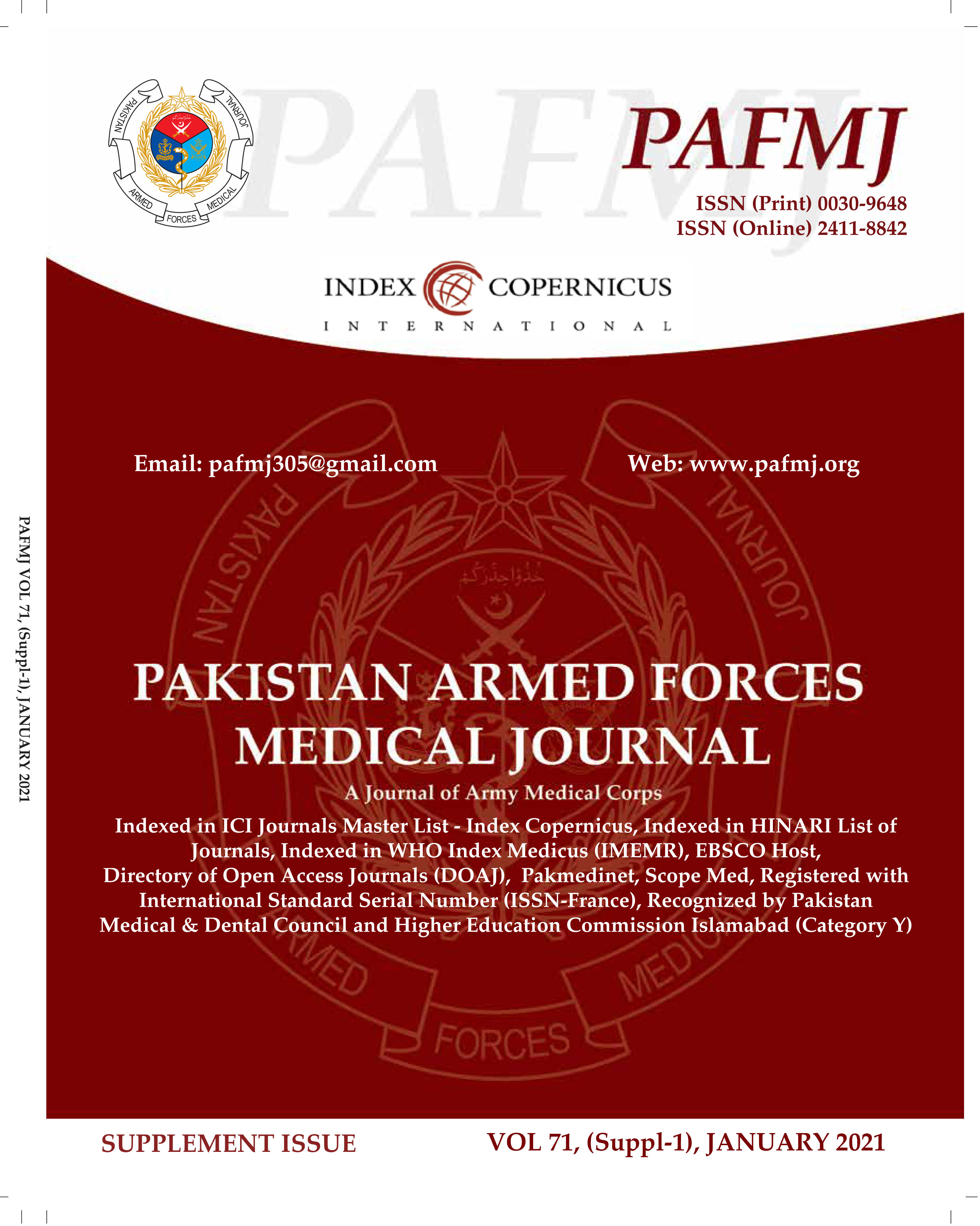 How to Cite
Rizwan, M., Raza, N., Anwar, A., & Khokhar, A. (2021). COMPARATIVE EFFICACY OF ORAL FLUCONAZOLE AND ORAL ITRACONAZOLE IN PITYRIASIS VERSICOLOR. PAFMJ, 71(Suppl-1), S273-76. https://doi.org/10.51253/pafmj.v71iSuppl-1.4555
Section
Original Articles