Association of Malabsorption and Anaemia in Adults in Tertiary Care Hospital
Altaf Hussain

Pak Emirates Military Hospital (PEMH)/National University of Medical Science (NUMS) Rawalpindi Pakistan

Muhammad Hafeez

Pak Emirates Military Hospital (PEMH)/National University of Medical Science (NUMS) Rawalpindi Pakistan

Muhammad Naveed

Pak Emirates Military Hospital (PEMH)/National University of Medical Science (NUMS) Rawalpindi Pakistan

Syed Umer Shah

Pak Emirates Military Hospital (PEMH)/National University of Medical Science (NUMS) Rawalpindi Pakistan

Muhammad Shahid Khan

HITEC Institute of Medical Sciences, Taxila/National University of Medical Science (NUMS) Pakistan

Ahmed Ammar Cheema

Pak Emirates Military Hospital (PEMH)/National University of Medical Science (NUMS) Rawalpindi Pakistan
Keywords:
Anemia, Celiac disease, Malabsorption
Abstract
Objective: To determine the association of malabsorption in celiac disease with anaemia and other sociodemographic factors at a tertiary care hospital in Pakistan.
Study Design: Cross sectional study
Place and Duration of Study: Department of General Medicine Military Hospital Rawalpindi from Jul to Dec 2019.
Methodology: A total of 300 adults were included in the study, 150 cases were patients with the diagnosis of celiac disease, and the other 150 were controls without celiac disease. Celiac disease was diagnosed based on biopsy findings by a consultant gastroenterologist. Defined was defined based on haemoglobin levels. In addition, the relationship between age, gender, anaemia, and the presence of comorbidities was assessed with the presence of celiac disease among the adults included in the study.
Results: Out of 300 cases and controls, 116 (38.7%) patients were males, and 184 (61.3%) were females. One hundred and forty-eight (49.3%) did not show the presence of anaemia, while one hundred and fifty-two (50.7%) showed the presence of anaemia. we found a statistically significant difference in cases and controls regarding the presence of comorbidities and the presence of anaemia (p<0.05).
Conclusion: Patients with celiac disease showed a greater frequency of anaemia as compared to those who were not having celiac disease. Therefore, patients with celiac disease are at high risk for developing anaemia, or patients with anaemia should be screened for malabsorption problems. In addition, patients with celiac disease were also at high risk for acquiring other systemic disorders.
Downloads
Download data is not yet available.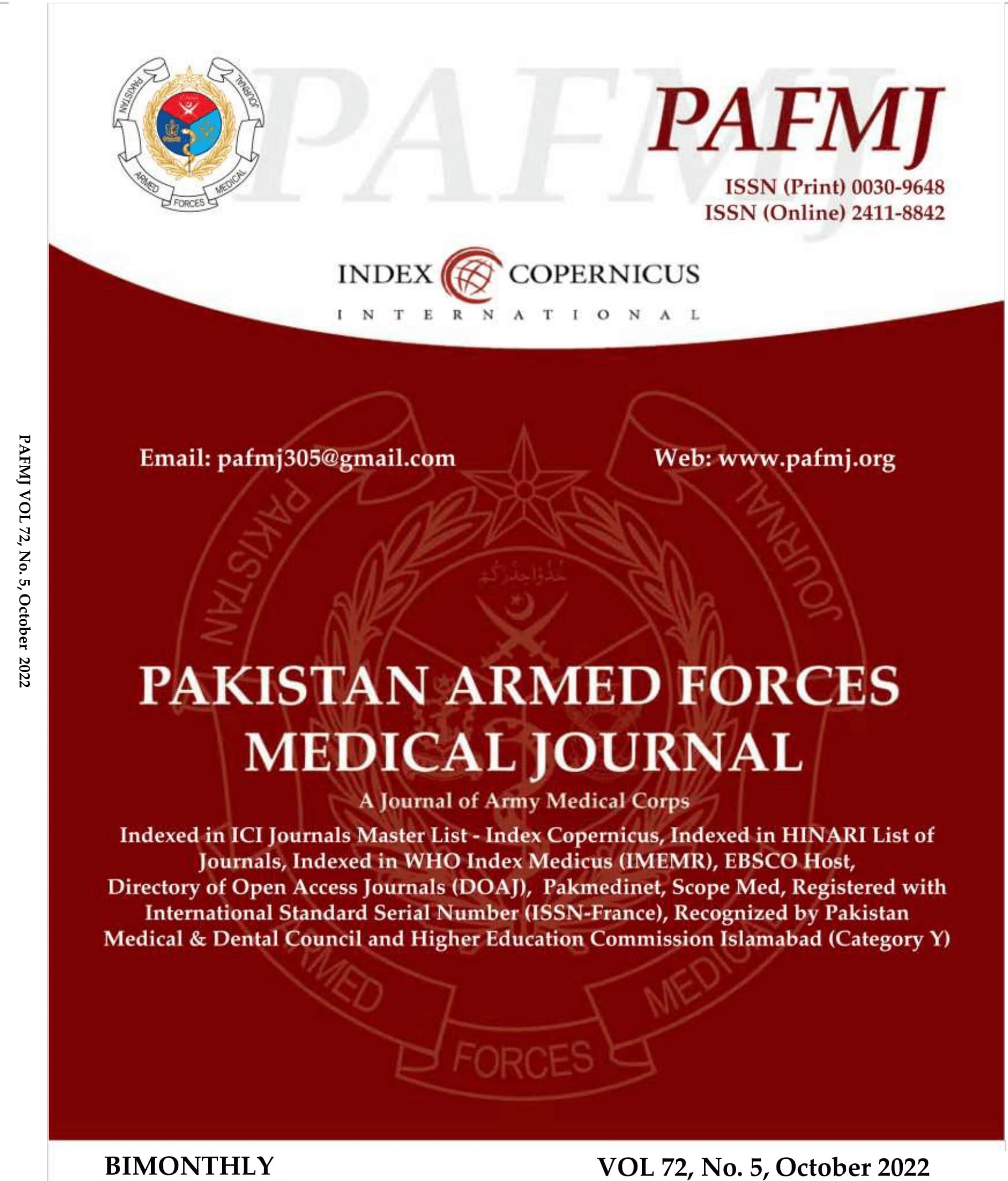 How to Cite
Hussain, A., Hafeez, M., Naveed, M., Shah, S., Khan, M., & Cheema, A. (2022). Association of Malabsorption and Anaemia in Adults in Tertiary Care Hospital. Pakistan Armed Forces Medical Journal, 72(5), 1506-09. https://doi.org/10.51253/pafmj.v72i5.4554
Section
Original Articles