Thrombocytopenia and its Relationship with Bleeding Manifestations in Dengue Patients-A Tertiary Care Hospital Experience
Mahtab Shabir

Pak Emirates Military Hospital/National University of Medical Sciences (NUMS) Rawalpindi Pakistan

Shazia Nisar

National University of Medical Sciences (NUMS) Rawalpindi Pakistan

Zobia Urooj

Pak Emirates Military Hospital/National University of Medical Sciences (NUMS) Rawalpindi Pakistan

Mohina Sohail

Avalon University School of Medicine, Willemstad, Curaçao

Muhammad Shahid Khan

Heavy Industries Taxila Education City Institute of Medical Sciences, Taxila/National University of Medical Sciences (NUMS) Pakistan

Danish Hassan Khan

National University of Medical Sciences (NUMS) Rawalpindi Pakistan
Keywords:
Bleeding, Blood platelet count, Dengue hemorrhagic fever, Dengue infection, Thrombocytopenia
Abstract
Objective: To explore the extent of bleeding among three different groups of patients based on their blood platelet count and identify the frequency of specific types of bleeding manifestations among the study groups.
Study Design: Comparative prospective study.
Place and Duration of Study: Pak-Emirates Military Hospital, (PEMH) Rawalpindi Pakistan, from Jul to Dec 2019.
Methodology: One hundred patients hospitalized with dengue fever and platelet count of less than 100,000 per microliter of blood were enrolled in the study. They were divided into three groups based on platelet count, i.e., <20,000 (Group-1), 20,000- 50,000 (Group-2), and >50,000 (Group-3) per microliter of blood and observed for different types of bleeds and were also categorized as no bleed, single-site bleed and multiple-site bleed.
Results: Group comparisons revealed that no patient from Group-1 versus 3(10.3%), patients from Group-2 whereas 11(19.3%) patients from Group-3 experienced single site bleed (p=0.05). In addition, patients belonging to Group-1 experienced significantly more petechiae as compared to Groups 2 and 3 (92.8% vs 65.5% vs 19.2%, p<0.001). Similarly, gum bleeding and purpura were more commonly observed in Group-1 than in two other groups (50% vs 44.8% vs 14.0%, p 0.001; 85.7% vs 44.8% vs 3.5%, p<0.001, respectively).
Conclusion: Bleeding complications among dengue patients has a positive relationship with platelet count, but some specific bleeds, e.g., melena, hematemesis, hemoptysis and per vaginal bleed, cannot be directly correlated with the number of platelets circulating in the blood.
Downloads
Download data is not yet available.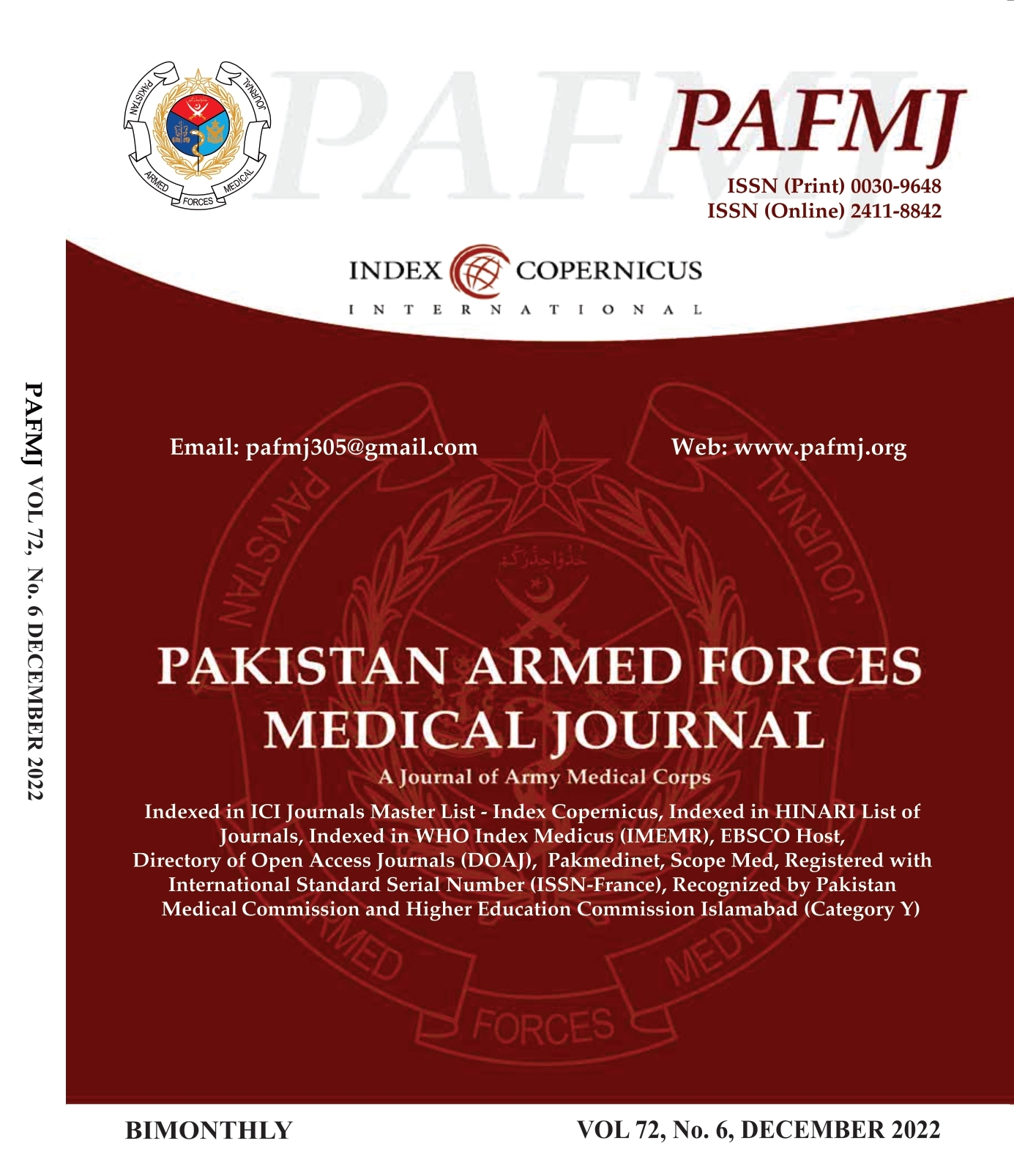 How to Cite
Shabir, M., Nisar, S., Urooj, Z., Sohail, M., Khan, M. S., & Khan, D. H. (2022). Thrombocytopenia and its Relationship with Bleeding Manifestations in Dengue Patients-A Tertiary Care Hospital Experience. Pakistan Armed Forces Medical Journal, 72(6), 2021-24. https://doi.org/10.51253/pafmj.v72i6.4553
Section
Original Articles