Association of Type 2 Diabetes Mellitus with Fatty Liver
Syed Umer Shah

umerlispro@gmail.com

Muhammad Hafeez

Pak Emirates Military Hospital/National University of Medical Sciences (NUMS) Rawalpindi Pakistan

Muhammad Naveed

Pak Emirates Military Hospital/National University of Medical Sciences (NUMS) Rawalpindi Pakistan

Altaf Hussain

Pak Emirates Military Hospital/National University of Medical Sciences (NUMS) Rawalpindi Pakistan

Muhammad Shahid Khan

Heavy Industries Taxila Education City Institute of Medical Sciences, Taxila/National University of Medical Sciences (NUMS) Pakistan

Shanzah Shahbaz

Fauji Foundation Hospital, Rawalpindi Pakistan
Keywords:
Fatty liver, relationship, Type 2 diabetes
Abstract
Objective: To assess the association of fatty liver with type 2 diabetes and other socio-demographic factors among the patients at Pak Emirates military hospital Rawalpindi.
Study Design: Cross-sectional analytical Study.
Place and Duration of Study: Pak Emirates Military Hospital, Rawalpindi Pakistan from Aug 2019 to Jan 2020.
Methodology: This study was conducted on 300 patients of type 2 diabetes mellitus reporting for a routine checkup at the medical Outpatient department. Fatty liver was diagnosed on ultrasound by a consultant radiologist.
Results: Out of three hundred patients with diabetes mellitus included in the final analysis, 225(75.0%) were males, and 75(25.0%) were females. 176(58.6%) had fatty liver on ultrasound, while 124(41.4%) had no fatty liver on ultrasound examination at the time of the study. we found that increasing age, long duration of diabetes and poor control of illness had a statistically significant relationship with the presence of fatty liver among the target population (p<0.05).
Conclusion: Patients with type 2 diabetes had a high frequency of fatty liver on routine ultrasound examinations. In addition,patients with more age, long duration of diabetes mellitus and poor control of illness were at a high risk of developing fatty liver among the study participants.
Downloads
Download data is not yet available.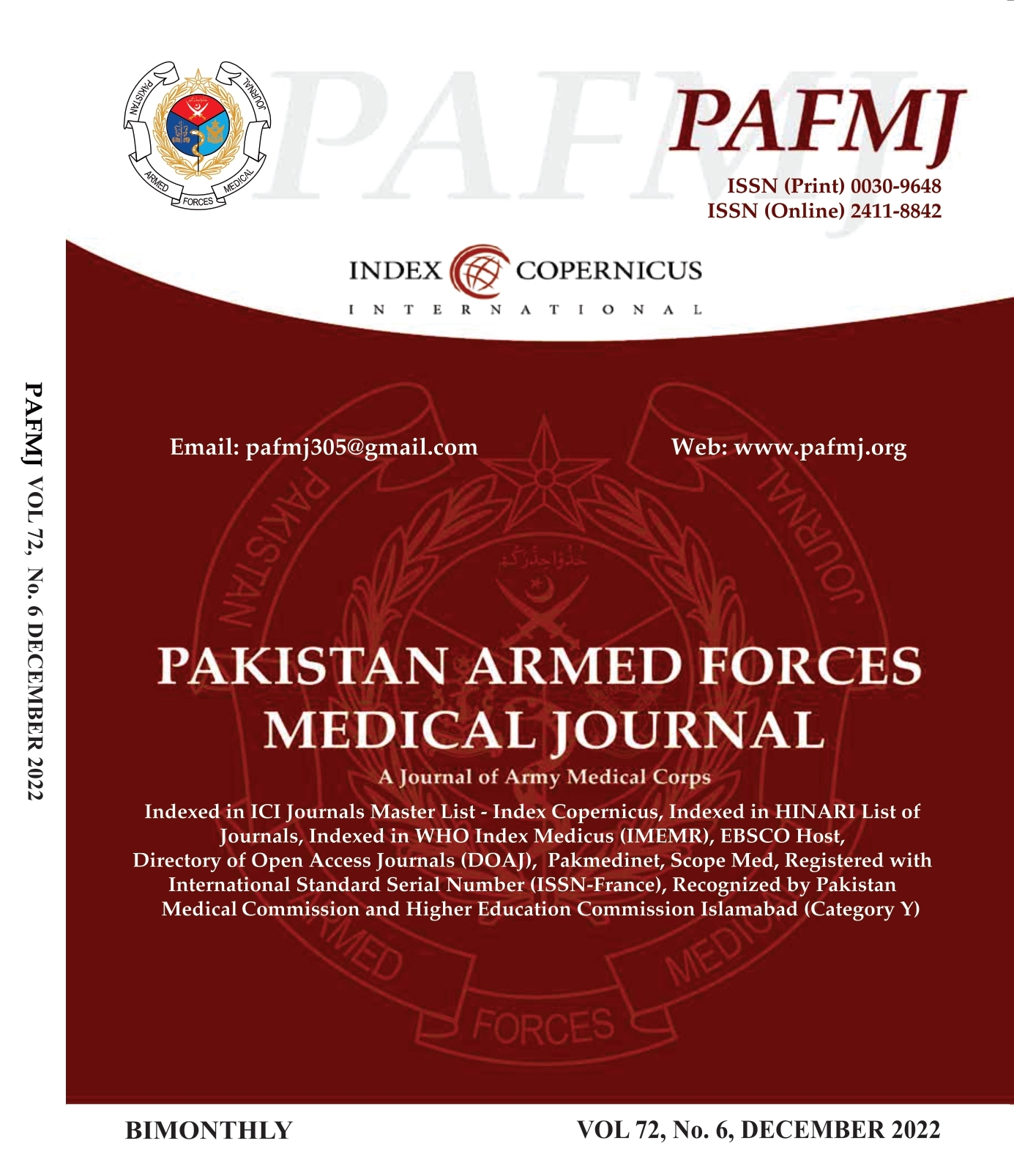 How to Cite
Shah, S., Hafeez, M., Naveed, M., Hussain, A., Khan, M. S., & Shahbaz, S. (2022). Association of Type 2 Diabetes Mellitus with Fatty Liver. Pakistan Armed Forces Medical Journal, 72(6), 2018-20. https://doi.org/10.51253/pafmj.v72i6.4551
Section
Original Articles