Outcome of Primigravida with Unengaged Fetal Head at Term or Onset of Labour
Keywords:
Labour, Primigravida, Unengaged fetal head
Abstract
Objective: To investigate the duration and course of labour, the need for intervention and feto-maternal outcome in a primigravida with an unengaged fetal head at term in labour.
Study Design: Prospective longitudinal study.
Place and Duration of Study: Department of Obstetrics and Gynaecology, Pak Emirates Military Hospital, Rawalpindi Pakistan, from Jun 2018 to Oct 2019.
Methodology: This study was carried out on 150 term primigravida women with an unengaged head in labour. Informed consent, detailed history and examination were made along with ultra-sonographic and pelvic assessment.
Results: Deflexed head was a frequent cause 49(32.67%), cephalopelvic disproportion 24(16%), and loop of cord around theneck 8(5.34%), however, no cause was found 54(36%) women with unengaged fetal head. Ninety three patients (62%)continued with spontaneous labour, while the rest had to be induced. Vaginal deliveries were 100(66.67%), while 50(33.34%) were delivered via Lower Segment Caesarean Section. Out of the 57patients who received induction of labour, 25(43.86%) had vaginal deliveries, while 32(56.14%) underwent Lower Segment Caesarean Section. Five (3.34%) went into a postpartum haemorrhage. Grade 3 perineal tears were seen in 3(2%) patients, and one had a wound infection. APGAR score at ten minutes was between 7 and at ten minutes in 115(76.67%) neonates.
Conclusion: In primigravida at the onset of labour with an unengaged fetal head at term gestation, vaginal delivery is possible with watchful expectancy and appropriate intervention. However, there is a need to ensure that all inductions are strongly indicated.
Downloads
Download data is not yet available.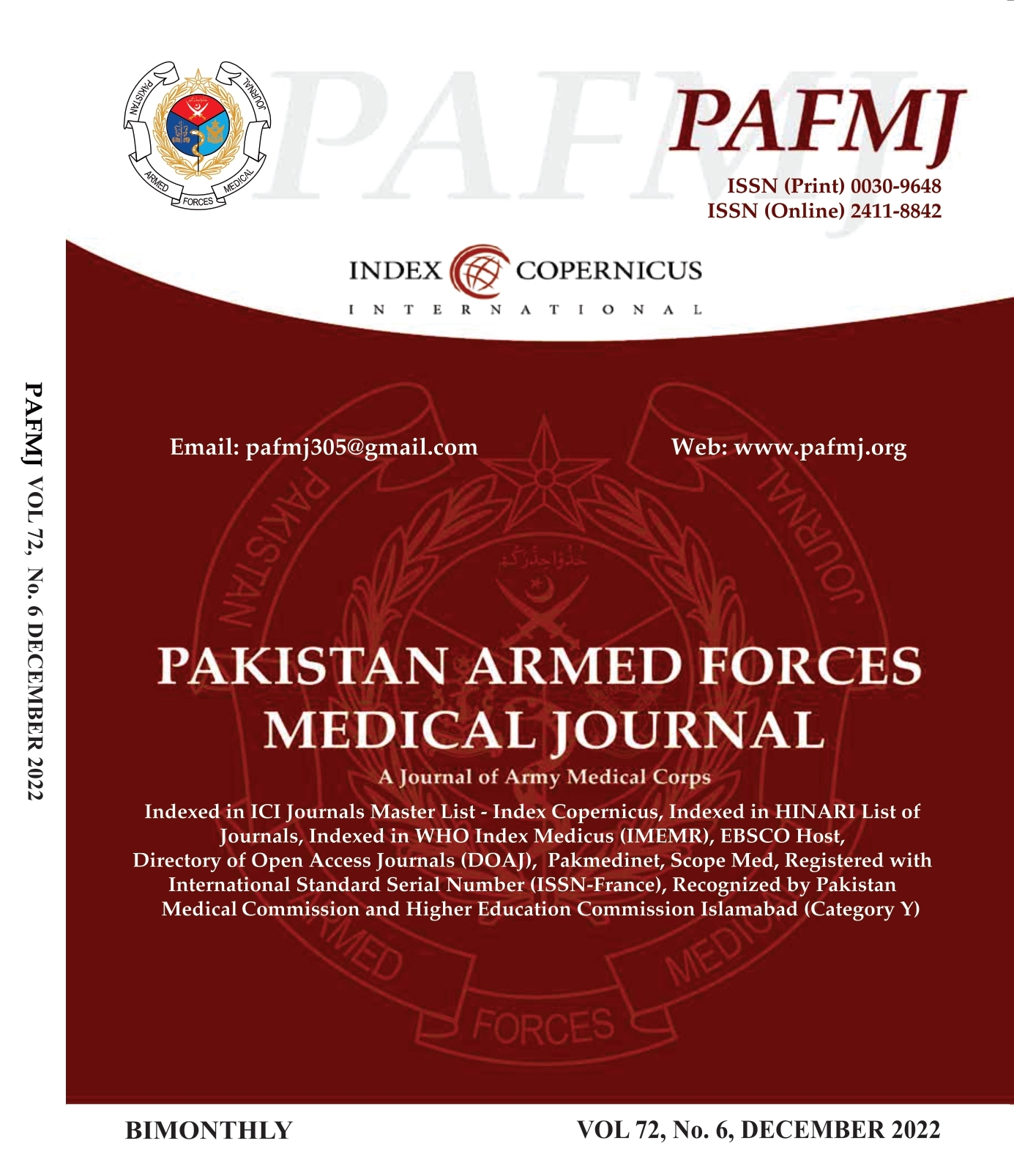 Downloads
How to Cite
Haroon, M., Baqai, S., Choudry, A., Gul, M., & Ahmed, M. (2022). Outcome of Primigravida with Unengaged Fetal Head at Term or Onset of Labour. Pakistan Armed Forces Medical Journal, 72(6), 1854–57. https://doi.org/10.51253/pafmj.v72i6.4541
Section
Original Articles