Clinical Course of SARS CoV-2 Infection in Hospitalized Pregnant Patients
Asma Ansari

Combined Military Hospital/National University of Medical Sciences (NUMS) Rawalpindi Pakistan

Asifa Siraj

Pak Emirates Military Hospital/National University of Medical Sciences (NUMS) Rawalpindi Pakistan

Sumaira Khan

Pak Emirates Military Hospital/National University of Medical Sciences (NUMS) Rawalpindi Pakistan

Rabiya Jalil

Combined Military Hospital/National University of Medical Sciences (NUMS) Rawalpindi Pakistan

Abeera Choudary

National University of Medical Sciences (NUMS) Rawalpindi Pakistan

Hafsa Khalil

Armed Force Institute of Cardiology/National Institute of Heart Disease (AFIC/NIHD)/National University of Medical Sciences (NUMS) Rawalpindi Pakistan
Keywords:
Clinical course, COVID-19, Neonatal, Pregnancy
Abstract
Objective: To determine the clinical course and outcome of hospitalized pregnant patients with laboratory confirmed SARS CoV-2 (COVID-19) infection
Study Design: Prospective longitudinal study
Place and Duration of Study: Obstetrics Units of Pak Emirates Military Hospital and Combined Military Hospital, Rawalpindi Pakistan, from May to Jun 2020.
Methodology: All patients reporting for childbirth were tested for SARS-CoV-2, and those testing positive were included. The primary outcome was virus clearance time and categorization according to the severity of the disease into asymptomatic,mild, moderate, severe and critical. Furthermore, a comparison was made between the presence of comorbid conditions and symptoms in the category of COVID-19. In addition, neonatal sample evaluation for SARS-CoV-2 was done.
Results: Out of the 881 women giving birth, 41(4.6%) tested positive for SARS Cov-2. Majority were asymptomatic 28(68.3%)followed by mild 8(19.5%), moderate 4(9.8%) and severe 1(2.4%) category. There was a significant association of the COVID categories with symptoms (p-value<0.005) and comorbid condition (p-value<0.001). The mean virus clearance time was 8.20±1.66 days. During hospital stay 34(82.9%) delivered. All 34(100%) delivered babies had no evidence of vertical transmission.
Conclusion: Pregnant women with COVID-19 infection have a nearly similar clinical course to non-COVID women in this study. There is also no evidence of vertical transmission to the neonate.
Downloads
Download data is not yet available.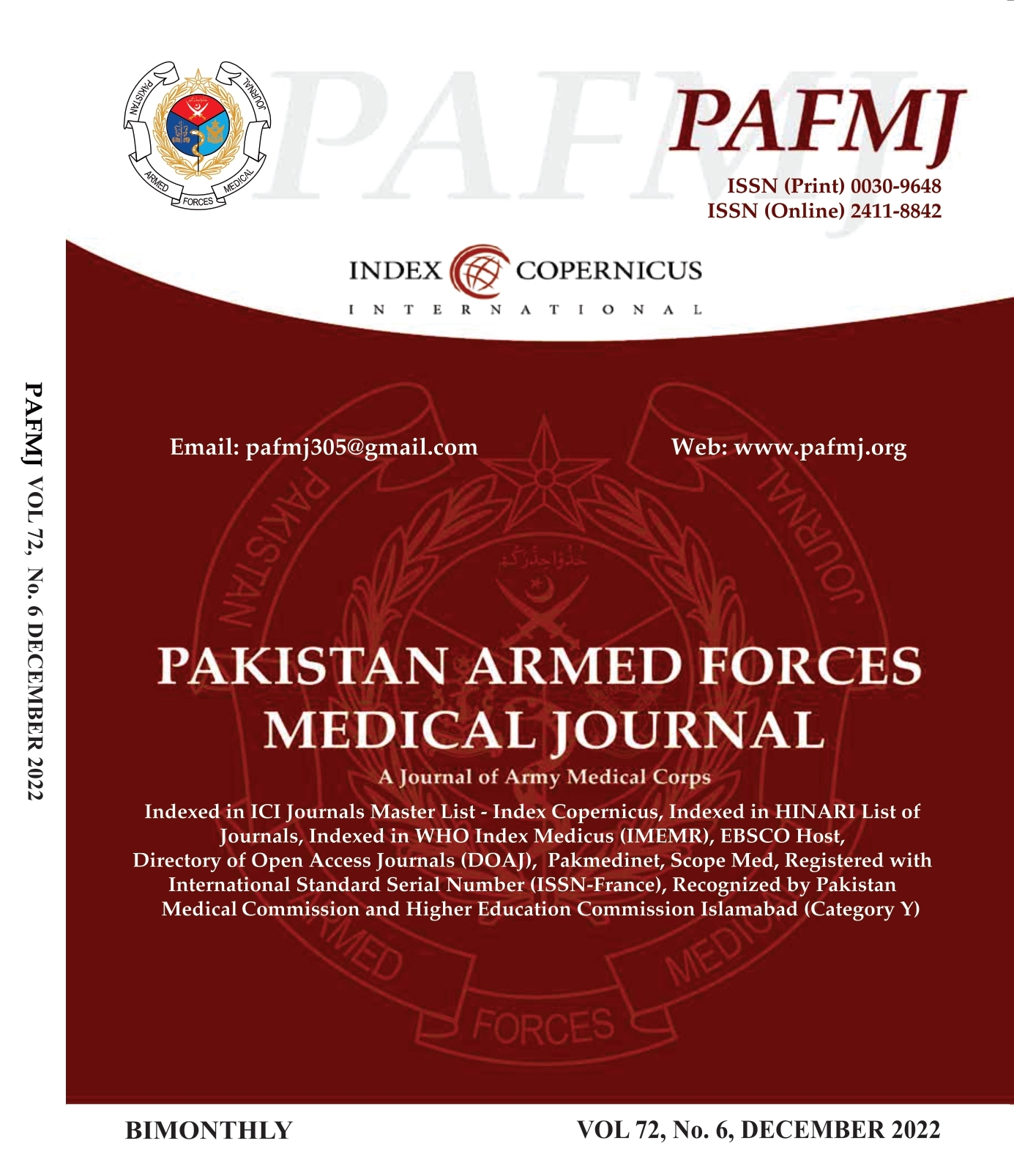 How to Cite
Ansari, A., Siraj, A., Khan, S., Jalil, R., Choudary, A., & Khalil, H. (2022). Clinical Course of SARS CoV-2 Infection in Hospitalized Pregnant Patients. Pakistan Armed Forces Medical Journal, 72(6), 1858-62. https://doi.org/10.51253/pafmj.v72i6.4512
Section
Original Articles