Effect of Patient Understanding of Diabetes Self-Care on Glycemic ControlA Hospital Based Cross Sectional Analytical Study
Keywords:
Diabetes self-care, Glycemic control, Understanding of self-care
Abstract
Objective: To study the effect of patient understanding of diabetes self-care on glycemic control.
Study Design: Hospital-based cross-sectional analytical study.
Place and Duration of Study: Department of Medicine, Pak Emirates Military Hospital, Rawalpindi Pakistan, from Jan to Jul 2019.
Methodology: A standardized questionnaire comprising nine questions to gauge understanding of diabetes self-care was applied to 216 patients with Diabetes Mellitus (DM) at Pak Emirates Military Hospital, Rawalpindi. Linear regression analysis was conducted to examine the effect of diabetes-related self-care understanding on glycemic control.
Results: 138 patients were males (64%) and 78 females (36%) with a mean age of 40 ± 8 years (range: 18-68 years). The mean duration of having diabetes mellitus was 12 ± 2 years. Patients with a high score on the self-care understanding questionnaire had better average glycemic control than those with lower scores.
Conclusion: Patients' understanding of self-care for diabetes has a significant impact on their glycemic control. This asks physicians to educate patients about their role in disease management for better clinical outcomes.
Downloads
Download data is not yet available.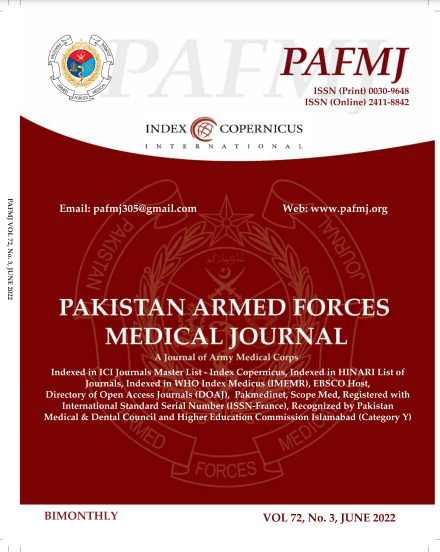 Downloads
How to Cite
Riaz, S., Nisar, S., Anwer, W., Palwa, A. R., Saeed, F., & Hussain, M. (2022). Effect of Patient Understanding of Diabetes Self-Care on Glycemic ControlA Hospital Based Cross Sectional Analytical Study. Pakistan Armed Forces Medical Journal, 72(3), 758–62. https://doi.org/10.51253/pafmj.v72i3.4471
Section
Original Articles