HEPATITIS B AND HEPATITIS C SEROPOSITIVE SURGICAL CASES AND ITS IMPACT ON PERIOPERATIVE BLOOD TRANSFUSION
Hepatitis B and C Seropositive Surgical Cases
Mobeen Ikram

Combined Military Hospital Okara/National University of Medical Sciences (NUMS) Pakistan

Saira Mahboob

Pakistan Naval Ship Shifa Hospital, Karachi Pakistan

Rizwan Yusuf

Combined Military Hospital Okara/National University of Medical Sciences (NUMS) Pakistan
Keywords:
Blood transfusion, Delay in surgery, Seropositive Hepatitis B, Seropositive Hepatitis C
Abstract
Objective: To evaluate the frequency of Hepatitis B and Hepatitis C on our surgical patients and its impact on operation theater delay, change of anesthesia plan and requirement of perioperative blood and blood products transfusion.
Study Design: Cross sectional, analytical study.
Place and Duration of Study: Department of Anesthesiology, Combined Military Hospital, Okara, from Apr to Sep 2019.
Methodology: After the approval of the hospital ethical review committee, 154 patients with either Hepatitis B or Hepatitis C undergoing various surgeries were included in our study. Data was analyzed using SPSS-20.
Results: The overall frequency of chronic liver disease was 154 (4.71%). A total of 23 (0.70%) were found to be seropositive as viral Hepatitis B and 127 (3.88%) as Hepatitis C; whereas 4 (0.12%) patients were diagnosed to have both virus serology positive. There was mean delay of 26.2 ± 8.29 minutes in 78 (52%) patients. The anesthetist had to change the plan of anesthesia for only 1 (0.7%) patient. There was also no difference in frequency of change of anesthesia plan (p=0.35); delay in surgery (p=0.16) and blood transfusion between the patients with Hepatitis B or Hepatitis C infection (p=0.72).
Conclusion: The frequency of Hepatitis B and Hepatitis C was lower (4.71%) in our surgical patients with no effect of Hepatitis B and Hepatitis C on blood loss, peri-operative transfusion, delay in surgery or change in anesthesia plan.
Downloads
Download data is not yet available.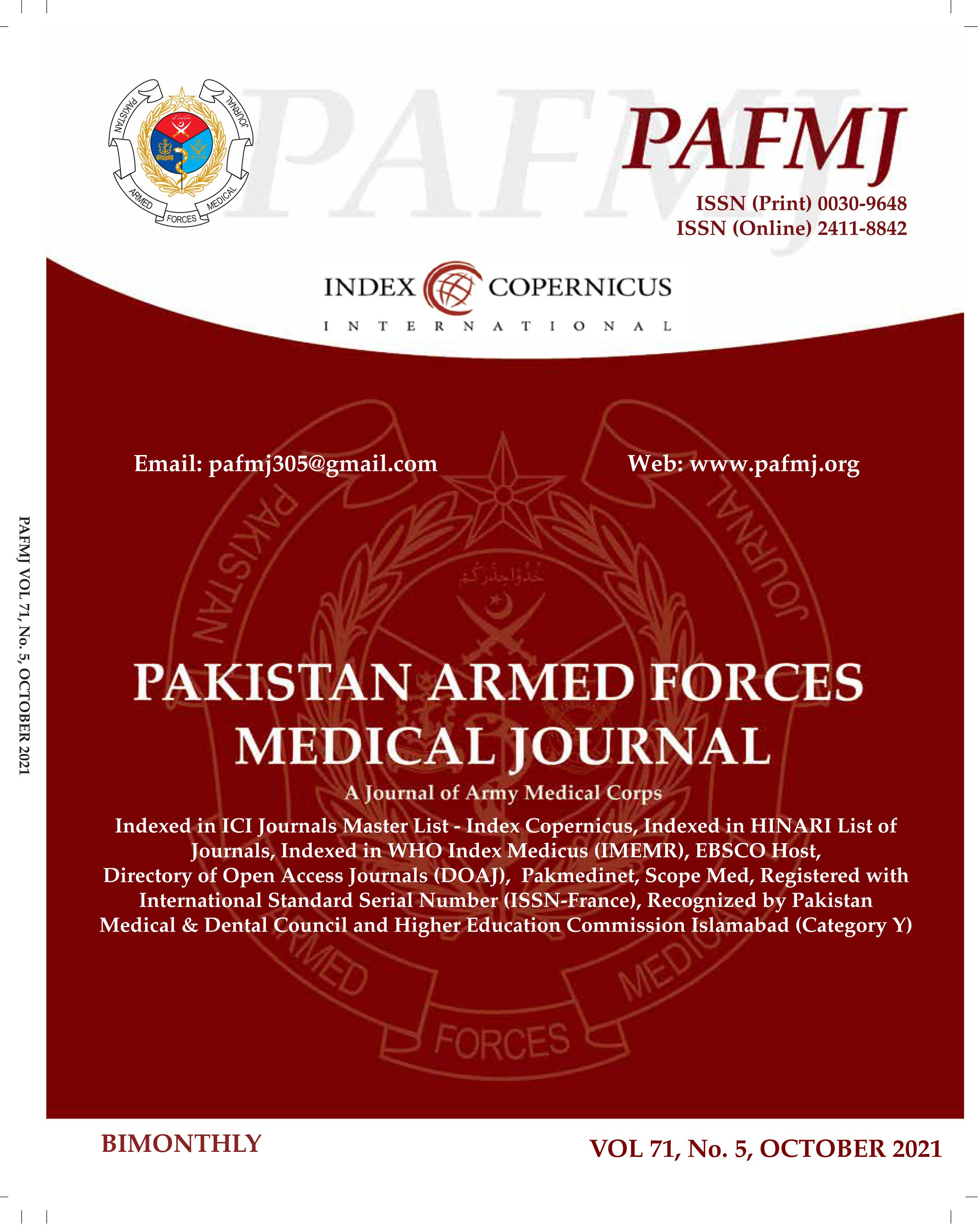 How to Cite
Ikram, M., Mahboob, S., & Yusuf, R. (2021). HEPATITIS B AND HEPATITIS C SEROPOSITIVE SURGICAL CASES AND ITS IMPACT ON PERIOPERATIVE BLOOD TRANSFUSION. PAFMJ, 71(5), 1594-97. https://doi.org/10.51253/pafmj.v71i5.4462
Section
Original Articles