Diagnostic Accuracy of Ultrasound for Small Bowel Obstruction in Paediatric Population Undergoing Laparotomy Keeping Surgical Findings as the Gold Standard
Keywords:
Intestinal obstruction, Intussusception, Small bowel, Ultrasound
Abstract
Objective: To analyze the diagnostic accuracy of ultrasound in small bowel obstruction in the paediatric population and compare it with surgical findings.
Study Design: Cross-sectional study.
Place and Duration of Study: Radiology Department, Pakistan Institute of Medical Sciences, Islamabad Pakistan from Jun 2018 to Jun 2019.
Methodology: This study enrolled 84 paediatric small bowel obstruction cases who underwent exploratory laparotomy at the Pakistan institute of medical sciences from Jun 2018 to Jun 2019. The clinically suspected cases of small bowel obstruction were referred by paediatric surgery to the Radiology department, where an ultrasound abdomen was performed by a senior resident, exclusively targeting the bowel. The clinical, sonological, and per-operative findings were recorded on a proforma.
Results: The mean age in our study was 3.5±2.7 years. A male gender predominance was noted. The most consistent greyscale feature favouring bowel obstruction was dilated bowel loops, found among 98.7% (76 out of 77) of surgically confirmed cases of bowel obstruction. The sensitivity, specificity, positive predictive value, negative predictive value and diagnostic accuracy of ultrasound were 98.7%, 71.4%, 97.4%, 83.4% and 94.6% respectively. The sonological cause of obstruction was readily demonstrated among 51 (67%) out of 76 true positive cases. The most common site of obstruction was the distal ileum, with intussusception being the leading cause found among 32% of true positive cases.
Conclusion: The overall diagnostic accuracy of ultrasound in revealing small bowel obstruction is high among the paediatric population.
Downloads
Download data is not yet available.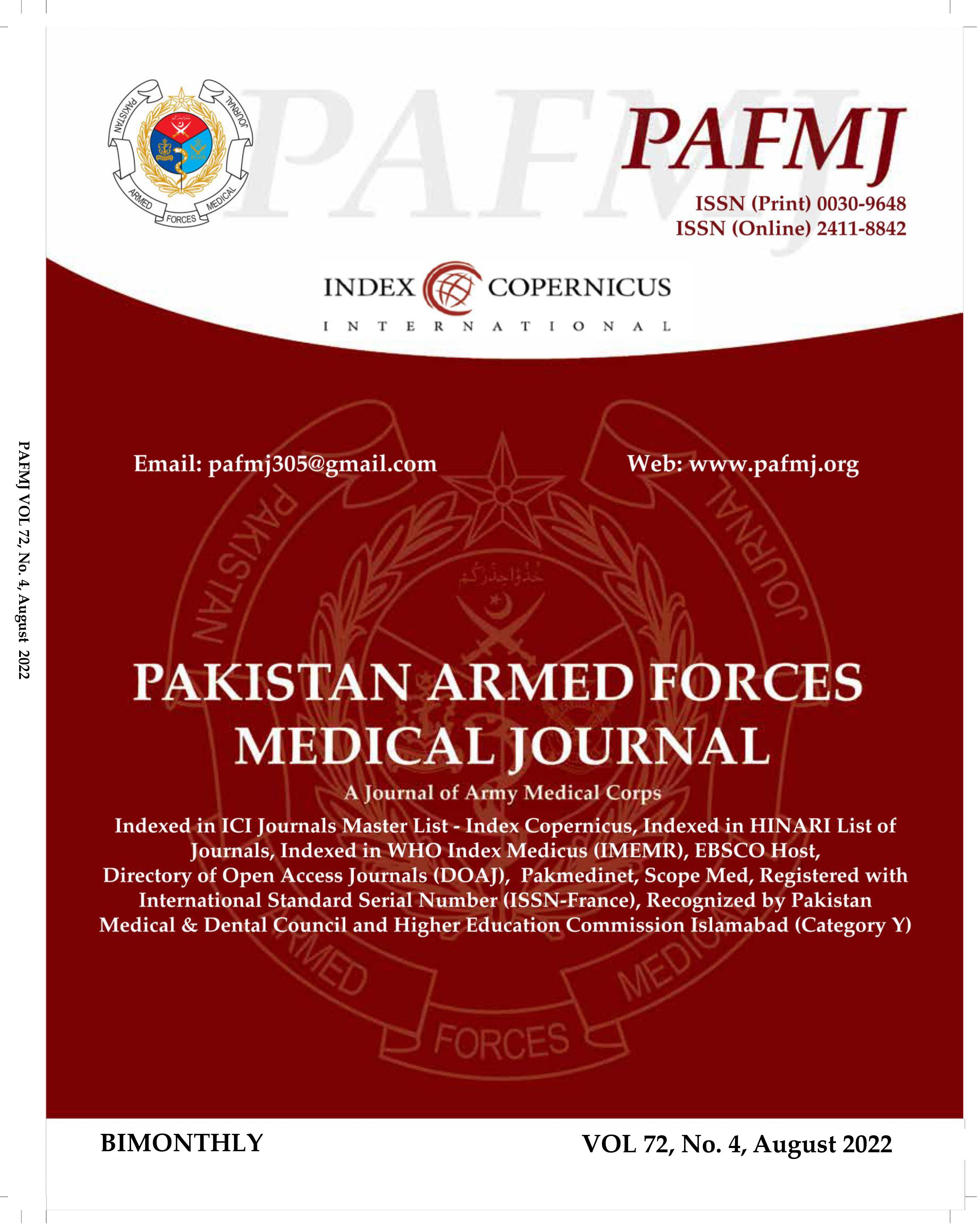 Downloads
How to Cite
Liaqat, R., Majeed, A. I., Liaqat, B., Shafi, A., Riaz, R., & Akhtar, S. (2022). Diagnostic Accuracy of Ultrasound for Small Bowel Obstruction in Paediatric Population Undergoing Laparotomy Keeping Surgical Findings as the Gold Standard. Pakistan Armed Forces Medical Journal, 72(4), 1351–54. https://doi.org/10.51253/pafmj.v72i4.4460
Section
Original Articles