Late Presentation of Anorectal Malformations - A Dilemma in Modern World: Cross-sectional Analysis from a Tertiary Care Hospital, Pakistan
Keywords:
Anorectal malformation, late presentation, Mortality
Abstract
Objective: To study the presentation age of children with anorectal malformation and its relationship with complications.
Study Design: Cross-sectional study.
Place and Duration of Study: Children Hospital and Institute of Child Health, Faisalabad, from Jan to Dec 2019.
Methodology: A total of 170 patients were included in the study. All the infants with a positive diagnosis of anorectal malformation from birth to 2 years of age were included in the study. Variables, including age at presentation, gender, diagnosis, length of stay and outcome in the form of discharge or mortality, were recorded.
Results: A mean age of presentation was 3.4 ± 2.1 days. Out of the total 170 patients, 110 (64.71%) were males, and 60 (35.29%) were females. The age of children extended from birth to 2 years of age. It was observed that only 10 (5.88%) infants presented within 48 hours of birth, 110 (64.71%) neonates presented between 48 to 72 hours, while 50 (29.41%) presented after 72 hours. A mortality rate of 3.53% was observed in the late-presentation group, i.e., after 72 hours of birth. The length of hospitalization was longer in groups with late presentation.
Conclusion: The present study reported that the majority of the infants with anorectal malformation were admitted to the hospital with a late presentation, i.e., after 72 hours of birth. Early and timely presentation of these infants can improve patient outcomes and reduce mortality among infants with anorectal malformations.
Downloads
Download data is not yet available.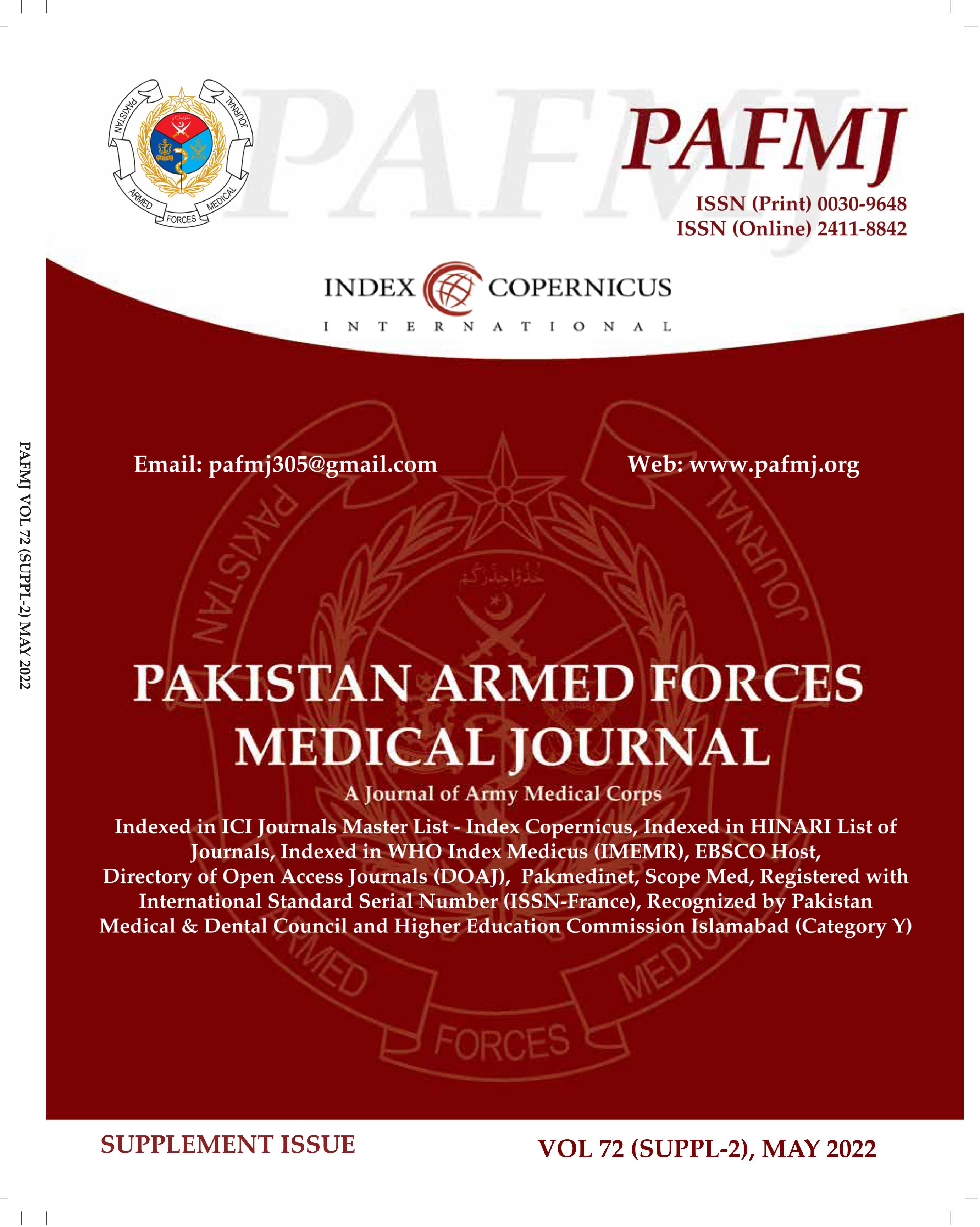 Downloads
How to Cite
Sohail, H., Nawaz, T., Mirza, M. A., Ara, J., Nawaz, M. A., Arif, A., & Ahmed, M. (2022). Late Presentation of Anorectal Malformations - A Dilemma in Modern World: Cross-sectional Analysis from a Tertiary Care Hospital, Pakistan. Pakistan Armed Forces Medical Journal, 72(SUPPL-2), S280–83. https://doi.org/10.51253/pafmj.v72iSUPPL-2.4426
Section
Original Articles