EFFICACY OF SALBUTAMOL DELIVERED THROUGH A METERED DOSE INHALER & SPACER IN CHILDREN WITH ACUTE EXACERBATION OF ASTHMA
Ali Mujtaba Tahir

Combined Military Hospital Zhob/National University of Medical Sciences (NUMS) Pakistan

Waqas Akhtar

Combined Military Hospital Chhor/National University of Medical Sciences (NUMS) Pakistan

Salah Ud Din Balooch

Combined Military Hospital Kharian/National University of Medical Sciences (NUMS) Pakistan

Waqas Ahmed

Combined Military Hospital Dera Ismail Khan/National University of Medical Sciences (NUMS) Pakistan

Ali Murtaza Samar

Salisbury District Hospital NHS Trust, England

Amina Sohail

Combined Military Hospital /National University of Medical Sciences (NUMS) Rawalpindi Pakistan
Keywords:
Asthma exacerbation, Clinical asthma score, Metered dose inhaler, Salbutamol, Spacer
Abstract
Objective: To assess efficacy of salbutamol delivered through metered dose inhaler (MDI) - spacer in paediatric patients with acute exacerbation of asthma.
Study Design: Prospective observational study.
Place and Duration of Study: Department of Paediatrics, Pakistan Naval Ship, Shifa Hospital, Karachi-Pakistan, from Jan to Dec 2018.
Methodology: Ninety Five patients aged ≥6 to ≤12 years, with acute asthma exacerbation were enrolled. Any patient with fever, clinical asthma score (CAS) >7, on home treatment with drugs delivered through nebulization or on oral steroids was excluded. Clinical asthma score recorded on presentation, followed with salbutamol via Metered Dose Inhaler & spacer at dose of 400 µgm (4 x puffs of 100 µgm). Clinical asthma score rechecked after 20 min. Response to salbutamol was then compared in relation to the presenting Clinical asthma score.
Results: Out of 95 children, 45 (47.9%) were male & 50 (52.1%) female with 67.4% having positive family history for asthma. Average premedication clinical asthma score was 2.44. Sixty nine (72.9%) patients had an adequate response as they exhibited clinical asthma score of 0 or fall in score of ≥2. Patients with adequate response had average clinical asthma score of 2.07 on presentation in contrast to 3.42 with inadequate response.
Conclusion: Salbutamol delivered via Metered Dose Inhaler & spacer at dose of 400 µgm is an effective medication for quick relief in children with acute exacerbation of asthma. Moreover, its administration at a point where exacerbation is not much severe steers us towards more favourable outcome.
Downloads
Download data is not yet available.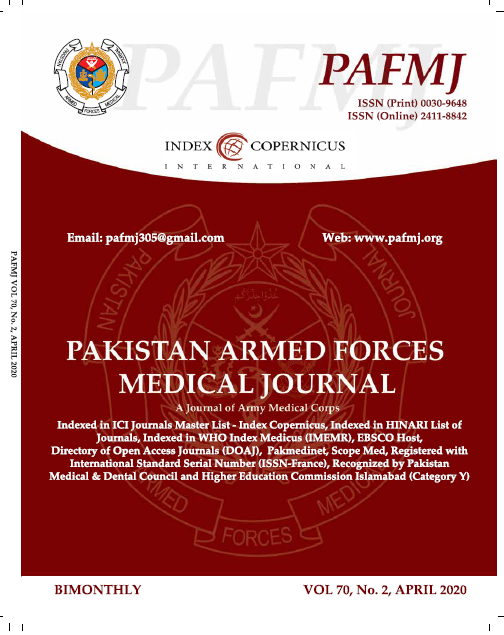 How to Cite
Tahir, A., Akhtar, W., Balooch, S., Ahmed, W., Samar, A., & Sohail, A. (2021). EFFICACY OF SALBUTAMOL DELIVERED THROUGH A METERED DOSE INHALER & SPACER IN CHILDREN WITH ACUTE EXACERBATION OF ASTHMA. Pakistan Armed Forces Medical Journal, 71(2), 438-41. https://doi.org/10.51253/pafmj.v71i2.4388
Section
Original Articles