Clinicopathological Study of Hysterectomy at PNS SHIFA Karachi
Rabiah Anwar

Bahria University Medical & Dental College, Karachi Pakistan

Aini Samreen

Bahria University Medical & Dental College, Karachi Pakistan

Sobia Anwar

Bahria University Medical & Dental College, Karachi Pakistan
Keywords:
Hysterectomy, Menstrual irregularities, Uterine histopathology
Abstract
Objectives: To analyses the clinical indication of abdominal hysterectomy with the histopathological findings.
Study Design: Cross-sectional study.
Place and Duration of Study: Department of Gynecology and Obstetrics, PNS Shifa, Karachi Pakistan, from Jul 2017 to Jun 2019.
Methodology: During the study period, we obtained data of patients' age, parity, presenting complaint, clinical features,indication and type of hysterectomy and histopathology reports of all hysterectomy specimens. A comparison between clinical indication and histopathological findings was made.
Results: During the study period, 180 hysterectomies were performed. Heavy menstrual bleeding due to fibroid uterus was seen in 76(42.22%) cases, followed by menstrual irregularities without organic pathology in 39(21.80%) cases. The commonest histopathological diagnosis was leiomyoma/fibroid in 78 cases (43.33%), followed by chronic cervicitis in 59 cases (32.77%).Preoperatively, 76 cases (42.22%) were diagnosed with fibroid uterus, but histopathology of 78(43.33%) showed fibroid uterus.Moreover, 39(21.80%) cases had a pre-operative diagnosis of abnormal uterine bleeding without organic pathology.However, histopathology confirmed only 22(12.22%) cases. Incidentally, on histopathology, we observed chronic cervicitis in 59(32.77%) cases.
Conclusion: The fibroid uterus is the most commonly identified pathology. 79.44% of cases confirmed the clinical diagnosis with histopathological diagnosis. The clinical and histopathological correlation was 100% in cases of leiomyoma, cervical and endometrial polyp.
Downloads
Download data is not yet available.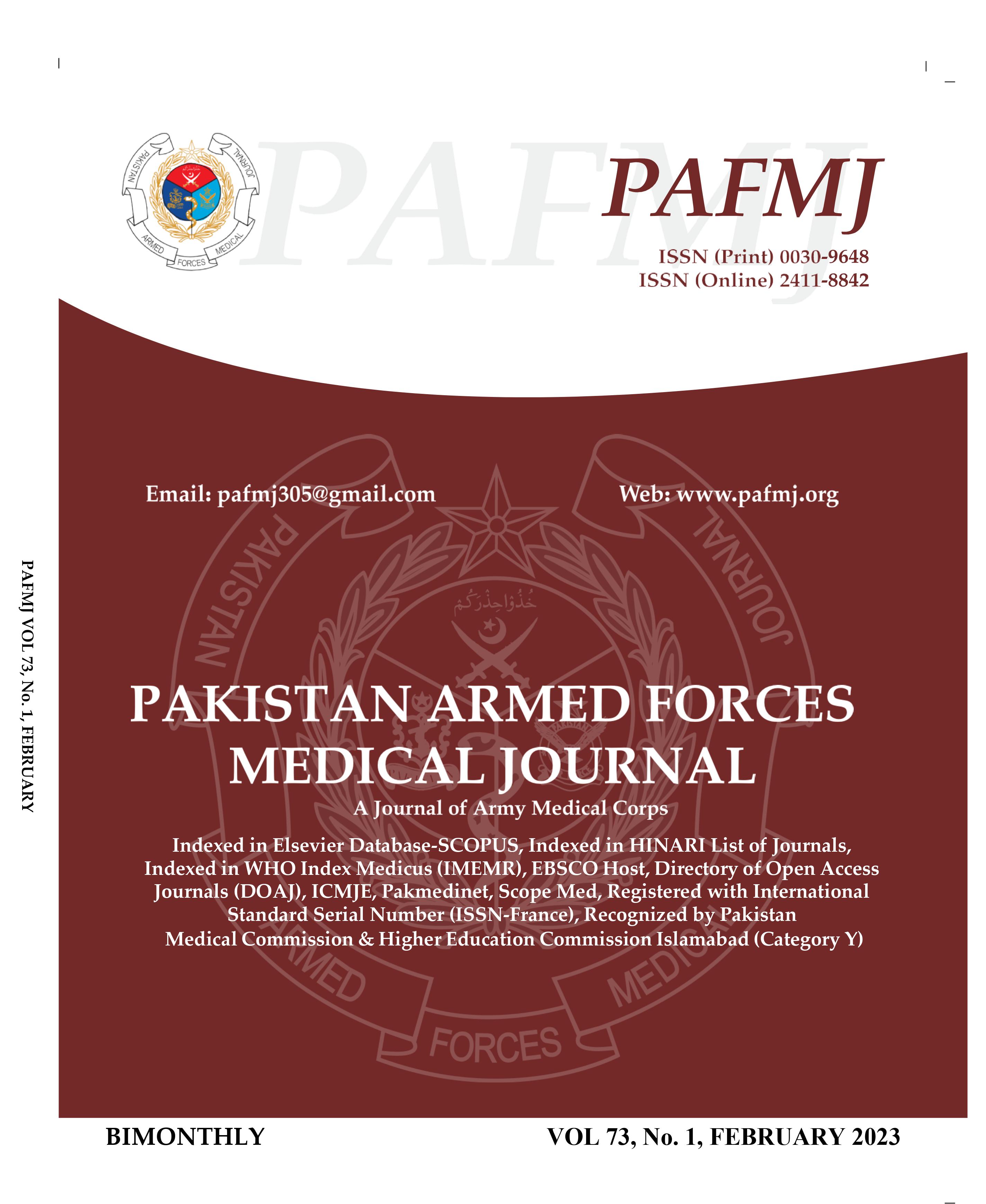 How to Cite
Anwar, R., Samreen, A., & Anwar, S. (2023). Clinicopathological Study of Hysterectomy at PNS SHIFA Karachi. Pakistan Armed Forces Medical Journal, 73(2), 382-85. https://doi.org/10.51253/pafmj.v73i2.4364
Section
Original Articles