PERCEPTIONS OF TRAINEES ABOUT USE OF SIMULATION IN GYNAECOLOGY AND OBSTETRICS
Keywords:
Clinical skills, Obstetrics and gynaecology, Simulation, Vacuum-assisted delivery
Abstract
Objective: To explore the perception of Obstetrics and Gynaecology (OB/GYN) postgraduates about the use of simulation in improving their clinical skills.
Study Design: Explanatory sequential mixed method design.
Place and Duration of Study: Obstetrics and Gynaecology department of Sharif Medical and Dental City (SMDC) Lahore Pakistan, from Jun to Oct 2019.
Methodology: By using a homogenous purposive sampling technique eight postgraduate residents from Obstetrics and Gynaecology department were recruited. The study had two phases: In the first phase, quantitative data was collected and analyzed while in the second phase qualitative data were collected by following the quantitative phase and then analyzed. This framework was tracked through the procedure of instrumental delivery with vacuum application in a real-life situation. A survey was conducted before and after the simulation training by using a researcher-developed Likert scale questionnaire. After that in-depth qualitative interviews were conducted. The improvement in clinical performance was evaluated by pairedsample t-test and thematic analysis.
Results: Significant performance improvement (p<0.001) after simulation training was reported. The thematic analysis revealed a lack of proficiency in clinical experience before simulation at behavioural and technical levels while enhancement in clinical experience after simulation at both levels. The perceived benefits of simulation with the major trends of simulation as time-friendly, as a source of deliberate practice, and as safe practice in the unthreatened environment were explored. The theme of suggestions was also explored.
Conclusion: The participants showed improvement in their clinical skills by describing the optimized benefits of simulation. Few of them are.......
Downloads
Download data is not yet available.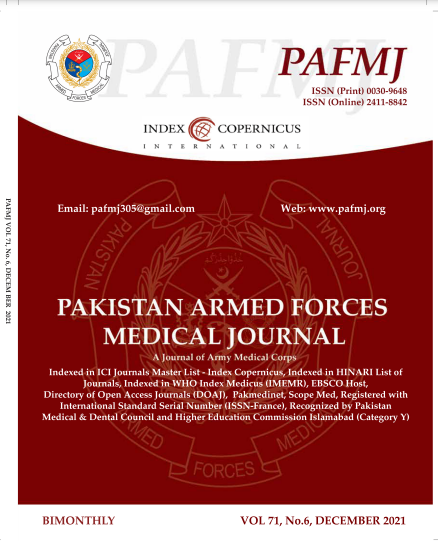 Downloads
How to Cite
Hafeez, M., Sohail, N., & Waqar, S. H. (2021). PERCEPTIONS OF TRAINEES ABOUT USE OF SIMULATION IN GYNAECOLOGY AND OBSTETRICS. Pakistan Armed Forces Medical Journal, 71(6), 2001–06. https://doi.org/10.51253/pafmj.v6i6.4277
Section
Original Articles