Healthcare Utilization, Induced Labour and Caesarean Section in the Pregnancy after Stillbirth: A Prospective Study
Urooj Hina

Combined Military Hospital, Quetta/National University of Medical Sciences (NUMS) Pakistan

Shehla Baqai

Combined Military Hospital, Lahore/National University of Medical Sciences (NUMS) Pakistan

Abeera Choudry

Pak Emirates Military Hospital/National University of Medical Sciences (NUMS) Rawalpindi Pakistan

Saira Saeed

Combined Military Hospital, Quetta/National University of Medical Sciences (NUMS) Pakistan

Uzma Urooj

Pak Emirates Military Hospital/National University of Medical Sciences (NUMS) Rawalpindi Pakistan
Keywords:
Caesarean section, Induced labour, Prenatal care, Stillbirth
Abstract
Objective: To measure the healthcare utilization, induced labour and frequency of C-sections in the pregnancy after stillbirth in the tertiary care setting.
Study Design: Comparative prospective study.
Place and Duration of Study: Pak Emirates Military Hospital, Rawalpindi Pakistan, from Sep 2018-Sep 2019.
Methodology: A total of 181 pregnant women were recruited and divided into two groups; Group-1=75pregnant women afterstillbirth and Group-2=106 pregnant women after live birth. Data regarding the healthcare utilization, induced labour, onset and mode of delivery and caesarean section was collected after the informed consent.
Results: Mean age of the study population (n=181) was 28.73±5.0 years (Range:19-40 years). Group-1 females had more antenatal visits (7.88±3.60) compared to women of Group-2 (6.18±2.90) (p-value=0.001). History of Induced labour and caesarean section were also more in Group-1 (Stillbirth-Group). Pregnant women in Group-1 were found to be significantly more worried about the pregnancy outcome in 53(70.7%) as compared to Group-2 in 5(4.7%) with a p-value of <0.001.
Conclusion: Pregnant women after stillbirth were significantly avid users of healthcare services and had more induced labour and caesarean section.
Downloads
Download data is not yet available.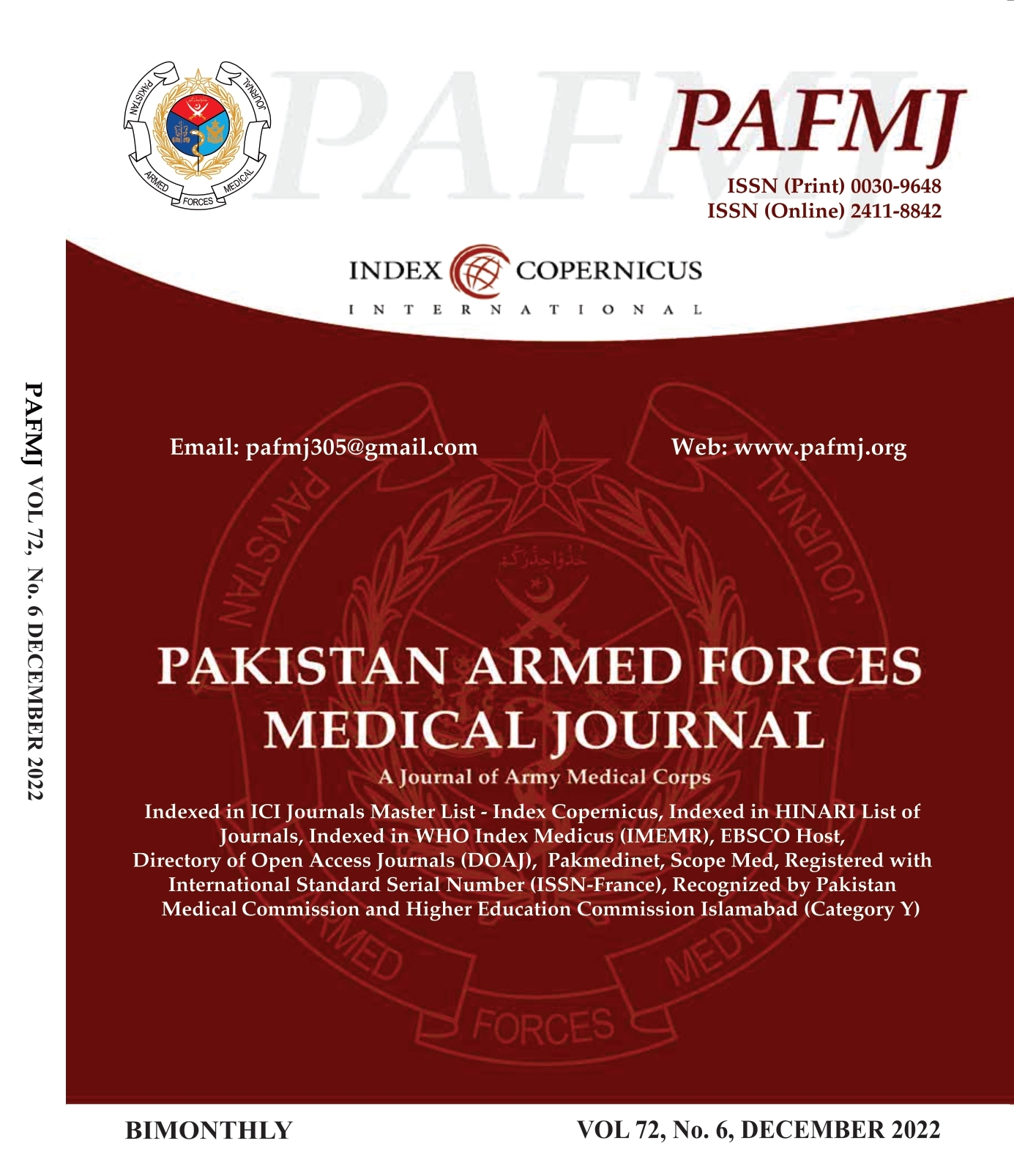 How to Cite
Hina, U., Baqai, S., Choudry, A., Saeed, S., & Urooj, U. (2022). Healthcare Utilization, Induced Labour and Caesarean Section in the Pregnancy after Stillbirth: A Prospective Study. Pakistan Armed Forces Medical Journal, 72(6), 1882-85. https://doi.org/10.51253/pafmj.v72i6.4271
Section
Original Articles