PRE-EMPTIVE EFFECT OF INTRAVENOUS PARACETAMOL VERSUS INTRAVENOUS KETOROLAC ON POST-OPERATIVE PAIN AND SHIVERING AFTER SEPTOPLASTY UNDER GENERAL ANESTHESIA: A COMPARATIVE STUDY
Sanum Kashif

Frontier Corps Hospital, Quetta Pakistan

M Nasir Kundi

Frontier Corps Hospital, Quetta Pakistan

Taimur Azam Khan

Frontier Corps Hospital, Quetta Pakistan
Keywords:
Ketorolac, Pain, Paracetamol, Pre-emptive, Shivering
Abstract
Objective: To observe the pre-emptive effect of intravenous paracetamol versus intravenous ketorolac in preventing postoperative shivering and pain after septoplasty in postoperative care unit.
Study Design: Prospective comparative study.
Place and Duration of Study: Main Operation Theatre of Frontier Corps Hospital Quetta, from Sep to Dec 2019.
Methodology: After ethical committee approval, 90 American Society of Anaesthesiologist (ASA-I patients, aged between 18-45 years, scheduled for septoplasty, were recruited and divided into three equal groups, Paracetamol (PA), Ketorolac (KE) and Placebo (PL) as per computer generated table. The paracetamol (PA) group (n=30) received 1gm intravenous paracetamol, ketorolac (KE) group (n=30) received 30mg intravenous ketorolac and group placebo (PL) received 100ml normal saline, 20 minutes before completion of surgery. Postoperative shivering and pain was assessed via four-point scale and visual analogue scale (VAS) respectively, in post-anesthesia care unit at 10 and 30 minutes post-extubation.
Results: Mean visual analog scale (VAS) score in paracetamol group was 2.7 ± 1.41, ketorolac group was 2.3 ± 1.24 and in placebo group was 3.6 ± 1.44, with a p-value of 0.002. Mean four point shivering score in paracetamol group was 0.3 ± 0.55, ketorolac was 0.7 ± 0.78 and placebo group was 1.4 ± 1.00, with a p-value of <0.001.
Conclusion: The effect of paracetamol is better than ketorolac in preventing pain and shivering after septoplasty under general anesthesia.
Downloads
Download data is not yet available.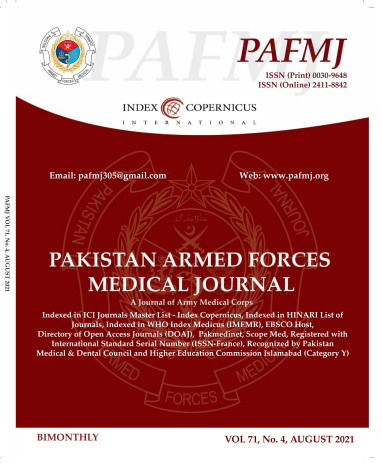 How to Cite
Kashif, S., Kundi, M. N., & Khan, T. (2021). PRE-EMPTIVE EFFECT OF INTRAVENOUS PARACETAMOL VERSUS INTRAVENOUS KETOROLAC ON POST-OPERATIVE PAIN AND SHIVERING AFTER SEPTOPLASTY UNDER GENERAL ANESTHESIA: A COMPARATIVE STUDY. PAFMJ, 71(4), 1179-82. https://doi.org/10.51253/pafmj.v71i4.4269
Section
Original Articles