THE ASSOCIATION OF PERIODONTAL DISEASES WITH TYPE 2 DIABETES MELLITUS AND DIABETES LINKED DYSLIPIDEMIA IN PAKISTANI POPULATION
Zara Khalid Khan

Army Medical College/National University of Medical Sciences (NUMS) Rawalpindi Pakistan

Muhammad Uzair Khan

City University Peshawar Pakistan

Amna Khalid Khan

Quaid-i-Azam University, Islamabad Pakistan

Rukhsana Muttee

Elite International School, Islamabad Pakistan

Rubeena Khalid

Quaid-i-Azam University, Islamabad Pakistan

Malik Muhammad Khalid Bashir Khan

Quaid-i-Azam University, Islamabad Pakistan
Keywords:
Age, Dyslipidemia, Gender, Oral health, Periodontal diseases, Type 2 diabetes mellitus
Abstract
Objective: To determine the development of dyslipidemia in type 2 diabetics with and without periodontal
diseases.
Study Design: Comparative cross-sectional study.
Place and Duration of Study: Fauji Foundation Hospital and Pak Emirates Military Hospital, Rawalpindi,
Pakistan, from Jan 2018 to Jan 2019.
Methodology: Total number of participated subjects (males and females) was 75, with age ranging from 23 to 72 years. Their tests included blood sugar, lipid profile, HbA1c and hepatitis screening. Oral health parameters were divided into two categories; type 2 diabetes mellitus with and without periodontitis.
Results: Out of 75 patients, males and females were 19 (25.3%) and 56 (74.7%). Females with periodontitis 20
(74.1%) and without periodontitis 36 (75%) possessed larger numbers. Mean ages [56.33 ± 10.88 years] had
a higher incline, along with significantly altered total cholesterol [5.41 ± 1.70 mmol/l], triglycerides [2.55 ± 1.46
mmol/l], low and high density lipoproteins [3.01 ± 1.22 mmol/l, 0.97 ± 0.48 mmol/l] in type 2 diabetes mellitus
with periodontitis. Patients of diabetes without periodontitis showed mild derangements for triglycerides [1.88 ± 1.22 mmol/l]. Patients of diabetes with dyslipidemia and periodontitis 16 (59.3%) were documented highest in
number, compared to other type 2 diabetes mellitus groups.
Conclusion: There was an overall significant association between type 2 diabetes mellitus related dyslipidemia
and periodontitis. Also, significant difference in age and gender of study subjects was noted that affected middle aged females more often than middle to late aged males.
Downloads
Download data is not yet available.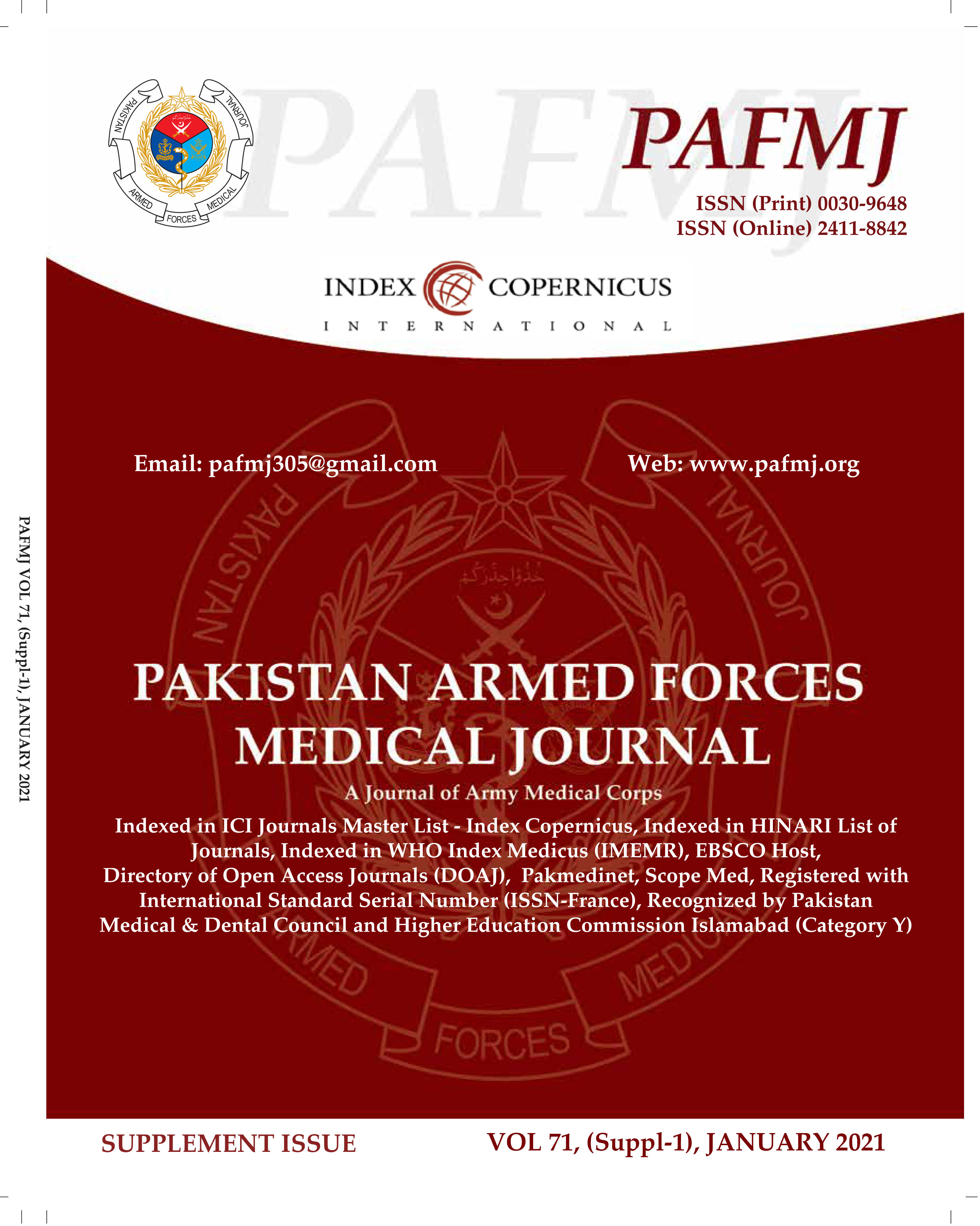 How to Cite
Khan, Z., Khan, M., Khan, A., Muttee, R., Khalid, R., & Khan, M. M. K. (2021). THE ASSOCIATION OF PERIODONTAL DISEASES WITH TYPE 2 DIABETES MELLITUS AND DIABETES LINKED DYSLIPIDEMIA IN PAKISTANI POPULATION. PAFMJ, 71(Suppl-1), S123-29. https://doi.org/10.51253/pafmj.v71iSuppl-1.4259
Section
Original Articles