ENDOSCOPIC ENDONASAL DACRYOCYSTORHINOSTOMY: EXPERIENCE OF HUNDRED CASES
Muhammad Shahid

Armed Forces Institute of Ophthalmology/National University of Medical Sciences (NUMS) Rawalpindi Pakistan

Muhammad Awais

Armed Forces Institute of Ophthalmology/National University of Medical Sciences (NUMS) Rawalpindi Pakistan

Amjad Akram

Armed Forces Institute of Ophthalmology/National University of Medical Sciences (NUMS) Rawalpindi Pakistan

Syed Abid Hassan Naqvi

Armed Forces Institute of Ophthalmology/National University of Medical Sciences (NUMS) Rawalpindi Pakistan

Omar Zafar

Armed Forces Institute of Ophthalmology/National University of Medical Sciences (NUMS) Rawalpindi Pakistan

Tahir Mumtaz Malik

Armed Forces Institute of Ophthalmology/National University of Medical Sciences (NUMS) Rawalpindi Pakistan
Keywords:
Chronic dacryocystitis, Endoscopic dacryocystorhinostomy, Mitomycin-C, Silicone stents
Abstract
Objective: To determine the success rate of Endonasal Endoscopic Dacryocystorhinostomy (Endo-DCR) in cases of chronic dacryocystitis secondary to primary acquired nasolacrimal duct obstruction (NLDO).
Study Design: Quasi-experimental study.
Place and Duration of Study: Department of Oculoplastic Surgery, Armed Forces Institute of Ophthalmology Rawalpindi, from Sep 2018 to Nov 2019.
Methodology: Endo-DCR under General Anaesthesia was performed on 100 patients of primary acquired nasolacrimal duct obstruction causing chronic dacryocystitis. Post-operatively these patients were checked on first post-op day, then on one week and finally four months after surgery. We removed silicone tubes of all the patients four months after surgery. To ensure patency of lacrimal passage, we did syringing and irrigation of lacrimal system of all cases, at conclusion of the study. We chose absence of epiphora and patent lacrimal system on syringing as indicators of successful procedure.
Results: Hundred patients (males 37; females 63) were recruited for this study. Mean age of our sample population was 51.1 ± 29 years. Right nasolacrimal duct obstruction cases were 56 whereas left nasolacrimal duct obstruction cases were 44. Subjective improvement i.e., absence of epiphora was found in 90% patients. We got successful irrigation of lacrimal passages (objective improvement) in 94% of patients.
Conclusion: Endo-DCR yields comparable results to external Dacryocystorhinostomy (Ex DCR). It offers additional benefits of esthetically better outcome, lesser complication rate and short surgery and patient recovery time.
Downloads
Download data is not yet available.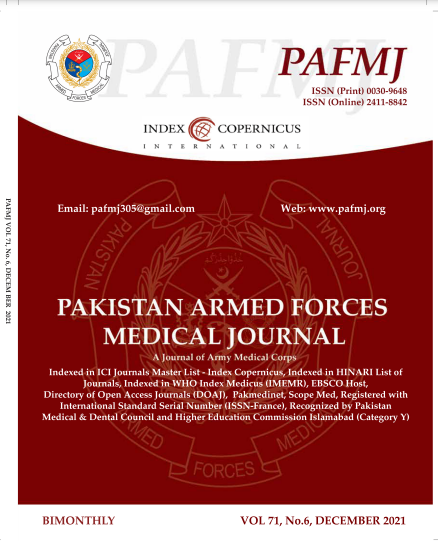 How to Cite
Shahid, M., Awais, M., Akram, A., Naqvi, S. A., Zafar, O., & Malik, T. (2021). ENDOSCOPIC ENDONASAL DACRYOCYSTORHINOSTOMY: EXPERIENCE OF HUNDRED CASES. Pakistan Armed Forces Medical Journal, 71(6), 2104-08. https://doi.org/10.51253/pafmj.v71i6.4251
Section
Original Articles