Diagnostic Accuracy of Anti-Mullerian Hormone for Polycystic Ovary Syndrome
Kulsoom Bahadur

Rehman Medical Institute, Peshawar Pakistan

Aamir Ijaz

Rehman Medical Institute, Peshawar Pakistan

Shehla Baqai

Combined Military Hospital, Lahore/National University of Medical Sciences (NUMS) Pakistan

Naveed Asif

Combined Military Hospital, Quetta/National University of Medical Sciences (NUMS) Pakistan
Keywords:
Anti-mullerian hormone, Disorders of endocrine, Hyperandrogenism, olycystic ovary syndrome (PCOS), Rotterdam criteria
Abstract
Objective: To determine the diagnostic accuracy of Anti-Mullerian Hormone in Polycystic ovary syndrome detection, keeping Rotterdam criteria as a gold standard.
Study Design: Cross-sectional study.
Place and Duration of Study: Armed Forces Institute of Pathology, Rawalpindi and Rehman Medical Institute, (RMI)Peshawar, Pakistan from Jul 2018 to Jun 2019.
Methodology: The study included one hundred and forty clinically suspected patients of polycystic ovary syndrome (PCOS) of 16-45 years of age. Blood samples were analyzed for serum Anti-Mullerian Hormone analysis on Architect ci 8200 System using the Chemiluminescent immunoassay technique. AMH was considered positive for Polycystic ovary syndrome at a threshold of 4.9ng/ml. In addition, AMH's diagnostic accuracy was evaluated, considering the Rotterdam criteria of PCOS as a gold standard.
Results: The mean age and mean BMI of the study subjects were 26.73±5.07 years and 30.43±4.83kg/m2, respectively. The mean follicle-stimulating and Luteinizing hormones were 4.34±0.68mIU/ml and 5.24±1.43mIU/ml, respectively. The mean Anti-Mullerian hormone of all patients was 7.79±4.62ng/ml. Sensitivity, specificity, positive predictive value (PPV), negative predictive value (NPV), the likelihood ratio of a positive test (LR+) and Likelihood ratio of a Negative Test (LR-) of AntiMullerian hormone were 91.8%, 74.7%, 73.7%, 92.2%, 3.63%, 0.11%, respectively and overall diagnostic accuracy was 82.1%.
Conclusion: Anti-Mullerian hormone can effectively determine the existence of Polycystic ovary syndrome among women of reproductive age and serve as a sensitive diagnostic tool for Polycystic ovary syndrome.
Downloads
Download data is not yet available.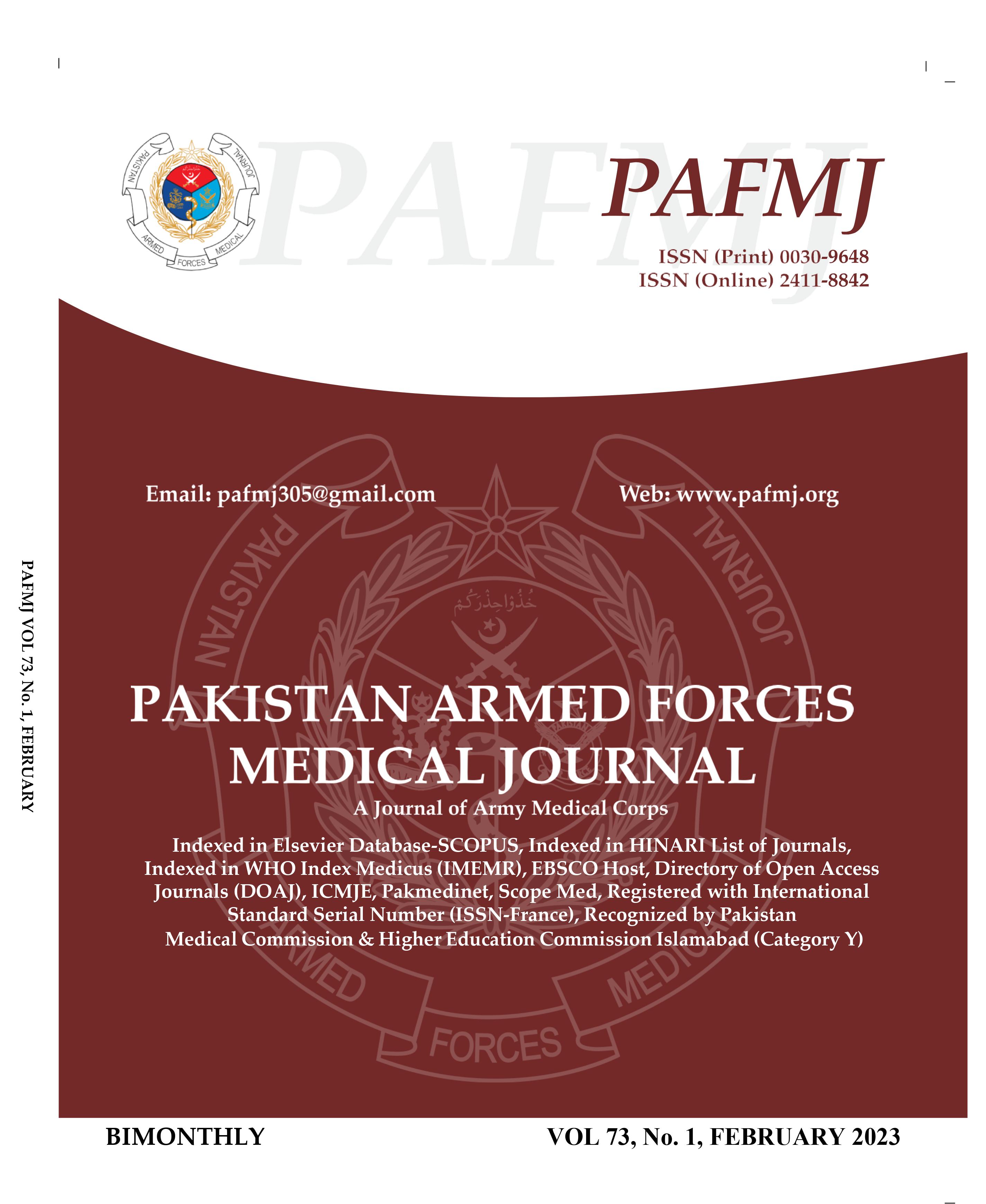 How to Cite
Bahadur, K., Ijaz, A., Baqai, S., & Asif, N. (2023). Diagnostic Accuracy of Anti-Mullerian Hormone for Polycystic Ovary Syndrome. Pakistan Armed Forces Medical Journal, 73(2), 329-32. https://doi.org/10.51253/pafmj.v73i2.4249
Section
Original Articles