EVALUATION OF ROOT CANAL CONFIGURATION OF MAXILLARY SECOND PREMOLAR IN ARMED FORCES INSTITUTE OF DENTISTRY RAWALPINDI
Syed Muzammil Hussain

Armed Forces Institute of Dentistry/National University of Medical Sciences (NUMS) Rawalpindi Pakistan

Hannan Humayun Khan

Armed Forces Institute of Dentistry/National University of Medical Sciences (NUMS) Rawalpindi Pakistan

Faisal Bhangar

Armed Forces Institute of Dentistry/National University of Medical Sciences (NUMS) Rawalpindi Pakistan

Mafaza Alam

Armed Forces Institute of Dentistry/National University of Medical Sciences (NUMS) Rawalpindi Pakistan

Ajmal Yousaf

Armed Forces Institute of Dentistry/National University of Medical Sciences (NUMS) Rawalpindi Pakistan

Aqeel Ibrahim

Armed Forces Institute of Dentistry/National University of Medical Sciences (NUMS) Rawalpindi Pakistan
Keywords:
Maxillary second premolar, Root canal morphology, Root canal treatment, Vertucci classification
Abstract
Objective: To investigate and compare the root canal morphology of maxillary second premolar in relation to quadrant and gender distribution in Pakistani population presenting to Armed Forces Institute of Dentistry Rawalpindi.
Study Design: Cross-sectional comparative study.
Place and Duration of Study: Department of Operative Dentistry, Armed Forces Institute of Dentistry Rawalpindi, from Jul 2018 to Dec 2018.
Methodology: Patients of either gender ranging from 21 to 70 years, seeking root canal treatment of maxillary second premolars of either quadrant presenting to out-patient department were studied. Two periapical radiographs were taken through paralleling technique and same lingual opposite buccal (SLOB) rule during the canal negotiation step with endodontic files inserted in the canals. The canal configuration and classification was noted. Chi square statistics were used to compare groups and results noted.
Results: Of the total 200 patients, 56.5% were males and 43.5% were females. Two canals system was found in 75% of the patients with type II classification accounting to 37.5%, followed by type IV (32%), type I (25%) and type V (5.5%).
Conclusion: In conclusion, maxillary second premolar canal morphology is complex and highly variable for different populations.
Downloads
Download data is not yet available.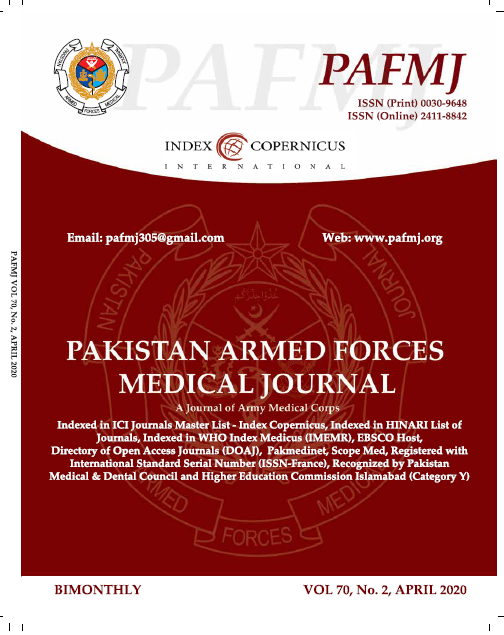 How to Cite
Hussain, S., Khan, H., Bhangar, F., Alam, M., Yousaf, A., & Ibrahim, A. (2020). EVALUATION OF ROOT CANAL CONFIGURATION OF MAXILLARY SECOND PREMOLAR IN ARMED FORCES INSTITUTE OF DENTISTRY RAWALPINDI. Pakistan Armed Forces Medical Journal, 70(2), 605-09. Retrieved from https://pafmj.org/index.php/PAFMJ/article/view/4241
Section
Original Articles