EFFICACY OF DIFFERENT PLACENTAL REMOVAL METHODS IN TERMS OF BLOOD LOSS DURING CAESAREAN SECTION
Shaista Kanwal

Combined Military Hospital Multan/National University of Medical Sciences (NUMS) Pakistan

Shanum Naseer Awan

Combined Military Hospital Multan/National University of Medical Sciences (NUMS) Pakistan

Tameem Ul Hassan

Combined Military Hospital Multan/National University of Medical Sciences (NUMS) Pakistan

Syed Sadiqa Batool

Combined Military Hospital Multan/National University of Medical Sciences (NUMS) Pakistan
Keywords:
Blood loss, Caesarean section, Placenta removal
Abstract
Objectives: This study compared efficacy of two methods of placental delivery at the time of cesarean section that is spontaneous and manual removal of placenta in terms of excessive blood loss during caesarean.
Study Design: Quasi-experimental study.
Place and Duration of Study: This study was conducted at the department of Gynaecology and Obstetrics, Combined Military Hospital Multan, from Nov 2016 to Apr 2017.
Methodology: Participants having similar demographic and clinical characteristics, were selected and divided into 2 groups. Group A underwent removal of placenta spontaneously, while group B underwent manual removal of placenta. The total amount of blood suctioned and sponges soaked during surgery were noted whereas, haemoglobin level at 6 hours post-operatively was noted for difference of ≥2 gm/dl as significant.
Results: In our study, mean maternal age and mean gestational age of study population was 26.77 ± 3.47 years and 36.96 ± 1.44 weeks respectively. Significant blood loss (>1000ml) was observed in 28 (20%) patients in group A, and in 47 (33.6%) patients of group B. Difference in pre-operative and post-operative haemoglobin levels of >2gm/dl was observed in 14 (10%) patients in group A and 28 (20%) patients in group B. Difference in number of patients having significant blood loss and significant decrease in haemoglobin levels between two groups was significant (p=0.01, p=0.019 respectively).
Conclusion: Manual removal of placenta was related to more blood loss as compared to spontaneous removal of placenta so spontaneous removal should be given preference on manual removal during caesarean section.
Downloads
Download data is not yet available.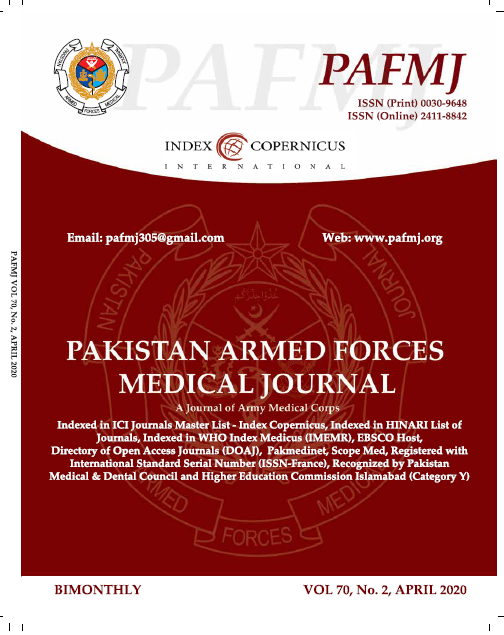 How to Cite
Kanwal, S., Awan, S., Hassan, T., & Batool, S. (2020). EFFICACY OF DIFFERENT PLACENTAL REMOVAL METHODS IN TERMS OF BLOOD LOSS DURING CAESAREAN SECTION. Pakistan Armed Forces Medical Journal, 70(2), 578-83. Retrieved from https://pafmj.org/index.php/PAFMJ/article/view/4236
Section
Original Articles